10 Bible Verses about Fasting
«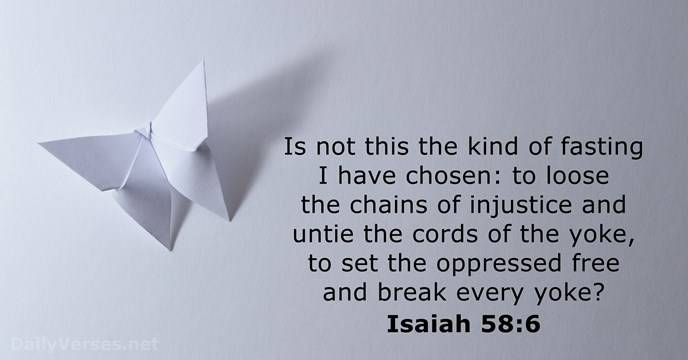 »
"Is not this the kind of fasting I have chosen:
to loose the chains of injustice
and untie the cords of the yoke,
to set the oppressed free
and break every yoke?"
When you fast, do not look somber as the hypocrites do, for they disfigure their faces to show others they are fasting. Truly I tell you, they have received their reward in full.
But when you fast, put oil on your head and wash your face, so that it will not be obvious to others that you are fasting, but only to your Father, who is unseen; and your Father, who sees what is done in secret, will reward you.
"Even now," declares the Lord,
"return to me with all your heart,
with fasting and weeping and mourning."
So after they had fasted and prayed, they placed their hands on them and sent them off.
I ate no choice food; no meat or wine touched my lips; and I used no lotions at all until the three weeks were over.
Where for forty days he was tempted by the devil. He ate nothing during those days, and at the end of them he was hungry.
While they were worshiping the Lord and fasting, the Holy Spirit said, "Set apart for me Barnabas and Saul for the work to which I have called them."
Moses was there with the Lord forty days and forty nights without eating bread or drinking water. And he wrote on the tablets the words of the covenant—the Ten Commandments.
Receive the Daily Bible Verse: