13 Bible Verses about Temptation
«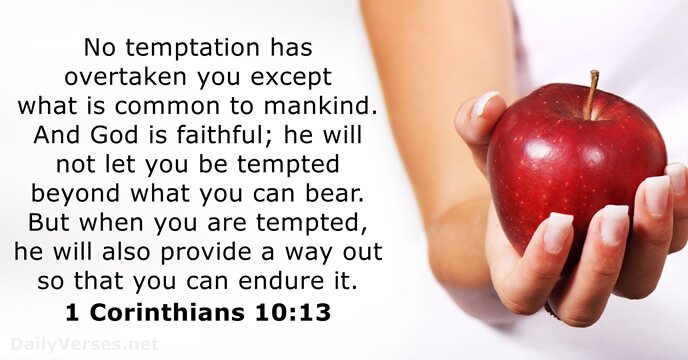 »
Translation
No temptation has overtaken you except what is common to mankind. And God is faithful; he will not let you be tempted beyond what you can bear. But when you are tempted, he will also provide a way out so that you can endure it.
Blessed is the one who perseveres under trial because, having stood the test, that person will receive the crown of life that the Lord has promised to those who love him.
Can a man walk on hot coals
without his feet being scorched?
He went on: "What comes out of a person is what defiles them. For it is from within, out of a person's heart, that evil thoughts come—sexual immorality, theft, murder, adultery, greed, malice, deceit, lewdness, envy, slander, arrogance and folly. All these evils come from inside and defile a person."
Watch and pray so that you will not fall into temptation. The spirit is willing, but the flesh is weak.
When tempted, no one should say, "God is tempting me." For God cannot be tempted by evil, nor does he tempt anyone.
All my longings lie open before you, Lord;
my sighing is not hidden from you.
Because you know that the testing of your faith produces perseverance.
Where for forty days he was tempted by the devil. He ate nothing during those days, and at the end of them he was hungry.
And lead us not into temptation,
but deliver us from the evil one.
Brothers and sisters, if someone is caught in a sin, you who live by the Spirit should restore that person gently. But watch yourselves, or you also may be tempted.
For we do not have a high priest who is unable to empathize with our weaknesses, but we have one who has been tempted in every way, just as we are—yet he did not sin.
The seed falling among the thorns refers to someone who hears the word, but the worries of this life and the deceitfulness of wealth choke the word, making it unfruitful.
Receive the Daily Bible Verse: