32 Bible Verses about Fear (2/2)
«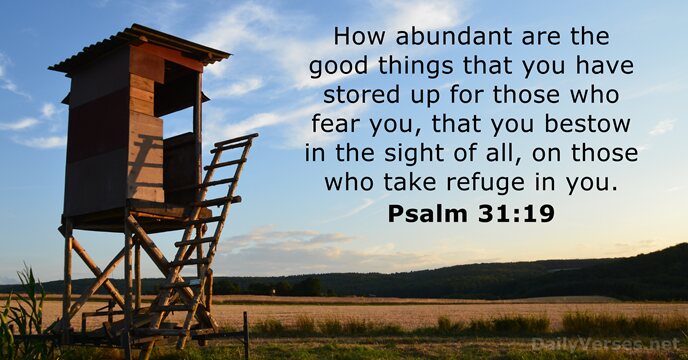 »
How abundant are the good things
that you have stored up for those who fear you,
that you bestow in the sight of all,
on those who take refuge in you.
Hearing this, Jesus said to Jairus, "Don't be afraid; just believe, and she will be healed."
I, even I, am he who comforts you.
Who are you that you fear mere mortals,
human beings who are but grass.
Are not five sparrows sold for two pennies? Yet not one of them is forgotten by God. Indeed, the very hairs of your head are all numbered. Don't be afraid; you are worth more than many sparrows.
A person's riches may ransom their life,
but the poor cannot respond to threatening rebukes.
But the angel said to them, "Do not be afraid. I bring you good news that will cause great joy for all the people."
Do not be afraid of those who kill the body but cannot kill the soul. Rather, be afraid of the One who can destroy both soul and body in hell.
Receive the Daily Bible Verse: