22 Bible Verses about Honesty
«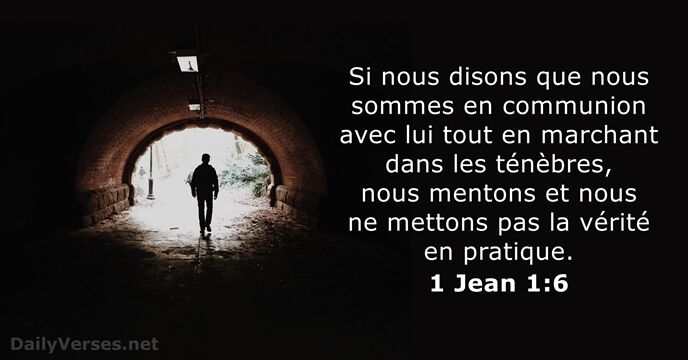 »
Little children, let us not love in word or talk but in deed and in truth.

Petits enfants, n'aimons pas en paroles et avec la langue, mais en actes et avec vérité.

The integrity of the upright guides them, but the crookedness of the treacherous destroys them.

L'intégrité des hommes droits est leur guide, mais les tromperies des traîtres causent leur ruine.

To do righteousness and justice is more acceptable to the L

ord

than sacrifice.

La pratique de la justice et de l'équité, voilà ce que l'Eternel préfère aux sacrifices.

If we say we have fellowship with him while we walk in darkness, we lie and do not practice the truth.

Si nous disons que nous sommes en communion avec lui tout en marchant dans les ténèbres, nous mentons et nous ne mettons pas la vérité en pratique.

Pay to all what is owed to them: taxes to whom taxes are owed, revenue to whom revenue is owed, respect to whom respect is owed, honor to whom honor is owed.

Rendez à chacun ce qui lui est dû: l'impôt à qui vous devez l'impôt, la taxe à qui vous devez la taxe, le respect à qui vous devez le respect, l'honneur à qui vous devez l'honneur.

Blessed are the pure in heart, for they shall see God.

Heureux ceux qui ont le cœur pur, car ils verront Dieu!

A dishonest man spreads strife, and a whisperer separates close friends.

L'homme pervers provoque des conflits et le critiqueur divise les amis.

Do your best to present yourself to God as one approved, a worker who has no need to be ashamed, rightly handling the word of truth.

Efforce-toi de te présenter devant Dieu comme un homme qui a fait ses preuves, un ouvrier qui n'a pas à rougir mais qui expose avec droiture la parole de la vérité.

Be still before the L

ord

and wait patiently for him; fret not yourself over the one who prospers in his way, over the man who carries out evil devices!

Garde le silence devant l'Eternel et espère en lui, ne t'irrite pas contre celui qui réussit dans ses entreprises, contre l'homme qui réalise ses méchants projets!

But the wisdom from above is first pure, then peaceable, gentle, open to reason, full of mercy and good fruits, impartial and sincere.

La sagesse d'en haut est tout d'abord pure, ensuite porteuse de paix, douce, conciliante, pleine de compassion et de bons fruits, elle est sans parti pris et sans hypocrisie.

Better is a little with righteousness than great revenues with injustice.

Mieux vaut peu, honnêtement gagné, que de grands revenus acquis injustement.

Do not withhold good from those to whom it is due, when it is in your power to do it.

Ne refuse pas un bienfait à ceux qui y ont droit quand tu as le pouvoir de l'accorder.

Treasures gained by wickedness do not profit, but righteousness delivers from death.

Les trésors acquis par la méchanceté ne sont d'aucun profit, mais la justice délivre de la mort.

But above all, my brothers, do not swear, either by heaven or by earth or by any other oath, but let your "yes" be yes and your "no" be no, so that you may not fall under condemnation.

Avant tout, mes frères et sœurs, ne jurez pas, que ce soit par le ciel, par la terre ou par une autre forme de serment. Mais que votre oui soit oui, et que votre non soit non, afin que vous ne tombiez pas sous le jugement.

It is well with the man who deals generously and lends; who conducts his affairs with justice.

Il est bon que l'homme fasse grâce et qu'il prête, qu'il règle ses affaires conformément au droit.

No one after lighting a lamp covers it with a jar or puts it under a bed, but puts it on a stand, so that those who enter may see the light.

Personne n'allume une lampe pour la couvrir d'un vase ou la mettre sous un lit, mais il la met sur un support, afin que ceux qui entrent voient la lumière.

Then you will understand righteousness and justice and equity, every good path.

Tu comprendras alors ce que sont la justice, l'équité, la droiture, toutes les routes qui mènent au bien.

Let your eyes look directly forward, and your gaze be straight before you.

Que tes yeux regardent bien en face et que tes paupières se dirigent droit devant toi.

For because of this you also pay taxes, for the authorities are ministers of God, attending to this very thing.

C'est aussi pour cela que vous payez des impôts, car les magistrats sont des serviteurs de Dieu qui s'appliquent entièrement à cette fonction.

Lying lips are an abomination to the L

ord

, but those who act faithfully are his delight.

Les lèvres mensongères font horreur à l'Eternel, tandis que ceux qui agissent avec fidélité lui sont agréables.

But Peter said, "Ananias, why has Satan filled your heart to lie to the Holy Spirit and to keep back for yourself part of the proceeds of the land? While it remained unsold, did it not remain your own? And after it was sold, was it not at your disposal? Why is it that you have contrived this deed in your heart? You have not lied to man but to God."

Pierre lui dit: «Ananias, pourquoi Satan a-t-il rempli ton cœur, au point que tu aies menti au Saint-Esprit et gardé une partie du prix du champ? S'il n'avait pas été vendu, ne te restait-il pas? Et, après l'avoir vendu, n'avais-tu pas le droit de disposer du prix? Comment as-tu pu former dans ton cœur un projet pareil? Ce n'est pas à des hommes que tu as menti, mais à Dieu.»

Nothing is covered up that will not be revealed, or hidden that will not be known.

Il n'y a rien de caché qui ne doive être découvert, ni de secret qui ne doive être connu.
Therefore be imitators of God, as beloved children.
And when you pray, do not heap up empty phrases as the Gentiles do, for they think that they will be heard for their many words.
Read more
Therefore be imitators of God, as beloved children.
Personal Bible reading plan
Create an account to configure your Bible read plan and you will see your progress and the next chapter to read here!
Read more...