Bible Verses about Idols
«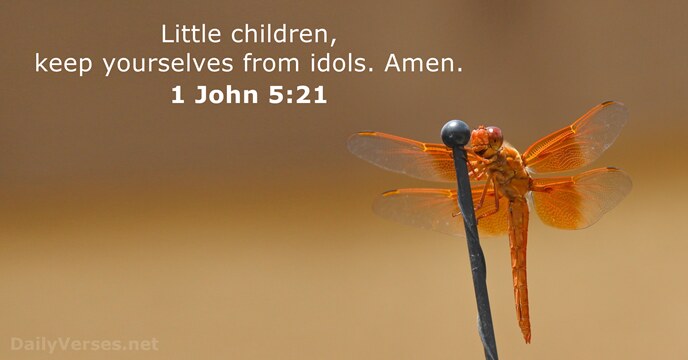 »
Little children, keep yourselves from idols. Amen.

Dear children, keep away from anything that might take God's place in your hearts.

Know ye not that the unrighteous shall not inherit the kingdom of God? Be not deceived: neither fornicators, nor idolaters, nor adulterers, nor effeminate, nor abusers of themselves with mankind, Nor thieves, nor covetous, nor drunkards, nor revilers, nor extortioners, shall inherit the kingdom of God.

Don't you realize that those who do wrong will not inherit the Kingdom of God? Don't fool yourselves. Those who indulge in sexual sin, or who worship idols, or commit adultery, or are male prostitutes, or practice homosexuality, or are thieves, or greedy people, or drunkards, or are abusive, or cheat people—none of these will inherit the Kingdom of God.

Ye shall walk after the L

ord

your God, and fear him, and keep his commandments, and obey his voice, and ye shall serve him, and cleave unto him.
Serve only the L

ord

your God and fear him alone. Obey his commands, listen to his voice, and cling to him.

Ye shall not make with me gods of silver, neither shall ye make unto you gods of gold.

Remember, you must not make any idols of silver or gold to rival me.

Know therefore this day, and consider it in thine heart, that the L

ord

he is God in heaven above, and upon the earth beneath: there is none else.
So remember this and keep it firmly in mind: The L

ord

is God both in heaven and on earth, and there is no other.

And have no fellowship with the unfruitful works of darkness, but rather reprove them. For it is a shame even to speak of those things which are done of them in secret.

Take no part in the worthless deeds of evil and darkness; instead, expose them. It is shameful even to talk about the things that ungodly people do in secret.

For the customs of the people are vain: for one cutteth a tree out of the forest, the work of the hands of the workman, with the axe. They deck it with silver and with gold; they fasten it with nails and with hammers, that it move not. They are upright as the palm tree, but speak not: they must needs be borne, because they cannot go. Be not afraid of them; for they cannot do evil, neither also is it in them to do good.

Their ways are futile and foolish. They cut down a tree, and a craftsman carves an idol. They decorate it with gold and silver and then fasten it securely with hammer and nails so it won't fall over. Their gods are like helpless scarecrows in a cucumber field! They cannot speak, and they need to be carried because they cannot walk. Do not be afraid of such gods, for they can neither harm you nor do you any good.

Mortify therefore your members which are upon the earth; fornication, uncleanness, inordinate affection, evil concupiscence, and covetousness, which is idolatry.

So put to death the sinful, earthly things lurking within you. Have nothing to do with sexual immorality, impurity, lust, and evil desires. Don't be greedy, for a greedy person is an idolater, worshiping the things of this world.

And if it seem evil unto you to serve the L

ord

, choose you this day whom ye will serve; whether the gods which your fathers served that were on the other side of the flood, or the gods of the Amorites, in whose land ye dwell: but as for me and my house, we will serve the L

ord

.
But if you refuse to serve the L

ord

, then choose today whom you will serve. Would you prefer the gods your ancestors served beyond the Euphrates? Or will it be the gods of the Amorites in whose land you now live? But as for me and my family, we will serve the L

ord

.
Yet I am the L

ord

thy God from the land of Egypt, and thou shalt know no god but me: for there is no saviour beside me.
I have been the L

ord

your God ever since I brought you out of Egypt. You must acknowledge no God but me, for there is no other savior.
No weapon that is formed against thee shall prosper; and every tongue that shall rise against thee in judgment thou shalt condemn. This is the heritage of the servants of the L

ord

, and their righteousness is of me, saith the L

ord

.
But in that coming day no weapon turned against you will succeed. You will silence every voice raised up to accuse you. These benefits are enjoyed by the servants of the L

ord

; their vindication will come from me. I, the L

ord

, have spoken!

Put on the whole armour of God, that ye may be able to stand against the wiles of the devil.

Put on all of God's armor so that you will be able to stand firm against all strategies of the devil.

For the love of money is the root of all evil: which while some coveted after, they have erred from the faith, and pierced themselves through with many sorrows.

For the love of money is the root of all kinds of evil. And some people, craving money, have wandered from the true faith and pierced themselves with many sorrows.

Be not overcome of evil, but overcome evil with good.

Don't let evil conquer you, but conquer evil by doing good.

The sting of death is sin; and the strength of sin is the law.

For sin is the sting that results in death, and the law gives sin its power.

Depart from evil, and do good; seek peace, and pursue it.

Turn away from evil and do good. Search for peace, and work to maintain it.

I pray not that thou shouldest take them out of the world, but that thou shouldest keep them from the evil.

I'm not asking you to take them out of the world, but to keep them safe from the evil one.
For if there be first a willing mind, it is accepted according to that a man hath, and not according to that he hath not.
Personal Bible reading plan
Create an account to configure your Bible reading plan and you will see your progress and the next chapter to read here!
Read more...