14 Versetti della Bibbia sulla Rabbia
«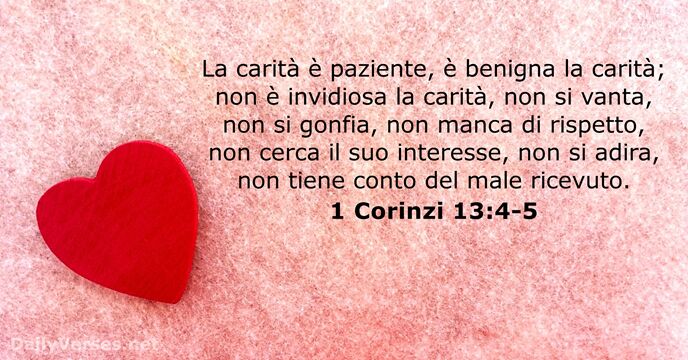 »
La carità è paziente, è benigna la carità; non è invidiosa la carità, non si vanta, non si gonfia, non manca di rispetto, non cerca il suo interesse, non si adira, non tiene conto del male ricevuto.

Love is patient and kind; love does not envy or boast; it is not arrogant or rude. It does not insist on its own way; it is not irritable or resentful.

Nell'ira, non peccate; non tramonti il sole sopra la vostra ira, e non date occasione al diavolo.

Be angry and do not sin; do not let the sun go down on your anger, and give no opportunity to the devil.

Non coverai nel tuo cuore odio contro il tuo fratello; rimprovera apertamente il tuo prossimo, così non ti caricherai d'un peccato per lui. Non ti vendicherai e non serberai rancore contro i figli del tuo popolo, ma amerai il tuo prossimo come te stesso. Io sono il Signore.

You shall not hate your brother in your heart, but you shall reason frankly with your neighbor, lest you incur sin because of him. You shall not take vengeance or bear a grudge against the sons of your own people, but you shall love your neighbor as yourself: I am the L

ord

.

L'odio suscita litigi, l'amore ricopre ogni colpa.

Hatred stirs up strife, but love covers all offenses.

Lo sapete, fratelli miei carissimi: sia ognuno pronto ad ascoltare, lento a parlare, lento all'ira.

Know this, my beloved brothers: let every person be quick to hear, slow to speak, slow to anger.

Una risposta gentile calma la collera, una parola pungente eccita l'ira.

A soft answer turns away wrath, but a harsh word stirs up anger.

Il paziente ha grande prudenza, l'iracondo mostra stoltezza.

Whoever is slow to anger has great understanding, but he who has a hasty temper exalts folly.

Quindi soggiunse: «Ciò che esce dall'uomo, questo sì contamina l'uomo. Dal di dentro infatti, cioè dal cuore degli uomini, escono le intenzioni cattive: fornicazioni, furti, omicidi, adultèri, cupidigie, malvagità, inganno, impudicizia, invidia, calunnia, superbia, stoltezza. Tutte queste cose cattive vengono fuori dal di dentro e contaminano l'uomo».

And he said, "What comes out of a person is what defiles him. For from within, out of the heart of man, come evil thoughts, sexual immorality, theft, murder, adultery, coveting, wickedness, deceit, sensuality, envy, slander, pride, foolishness. All these evil things come from within, and they defile a person."

L'insolenza provoca soltanto contese, la sapienza si trova presso coloro che prendono consiglio.

By insolence comes nothing but strife, but with those who take advice is wisdom.

Lo stolto dà sfogo a tutto il suo malanimo, il saggio alla fine lo sa calmare.

A fool gives full vent to his spirit, but a wise man quietly holds it back.

Lo stolto manifesta subito la sua collera, l'accorto dissimula l'offesa.

The vexation of a fool is known at once, but the prudent ignores an insult.

E' una gloria per l'uomo astenersi dalle contese, attaccar briga è proprio degli stolti.

It is an honor for a man to keep aloof from strife, but every fool will be quarreling.

Guardate perciò, fratelli, che non si trovi in nessuno di voi un cuore perverso e senza fede che si allontani dal Dio vivente.

Take care, brothers, lest there be in any of you an evil, unbelieving heart, leading you to fall away from the living God.

Ritorna, Israele ribelle, dice il Signore. Non ti mostrerò la faccia sdegnata, perché io sono pietoso, dice il Signore. Non conserverò l'ira per sempre.

Return, faithless Israel, declares the L

ord

. I will not look on you in anger, for I am merciful, declares the L

ord

; I will not be angry forever.
La grazia del Signore Gesù Cristo sia con il vostro spirito.
Chi è malato, chiami a sé i presbiteri della Chiesa e preghino su di lui, dopo averlo unto con olio, nel nome del Signore. E la preghiera fatta con fede salverà il malato: il Signore lo rialzerà e se ha commesso peccati, gli saranno perdonati.
Leggi altro
La grazia del Signore Gesù Cristo sia con il vostro spirito.
Piano di lettura personale della Bibbia
Crea un account per configurare il tuo piano di lettura della Bibbia, potrai vedere i tuoi progressi e il prossimo capitolo da leggere qui!
Consigliati
Consigliati