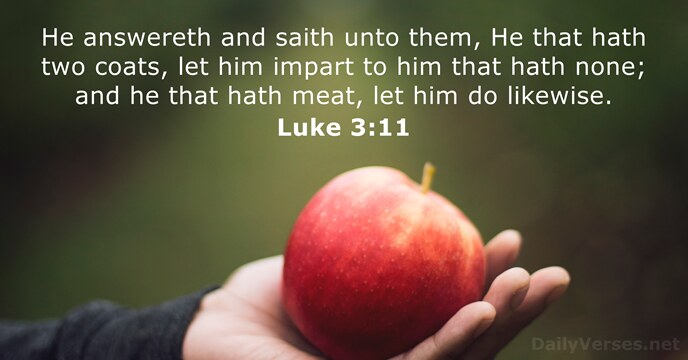 | | |
| --- | --- |
| He answereth and saith unto them, He that hath two coats, let him impart to him that hath none; and he that hath meat, let him do likewise. | فَأَجَابَ وَقَالَ لَهُمْ: «مَنْ لَهُ ثَوْبَانِ فَلْيُعْطِ مَنْ لَيْسَ لَهُ، وَمَنْ لَهُ طَعَامٌ فَلْيَفْعَلْ هَكَذَا». |
| Now when all the people were baptized, it came to pass, that Jesus also being baptized, and praying, the heaven was opened, And the Holy Ghost descended in a bodily shape like a dove upon him, and a voice came from heaven, which said, Thou art my beloved Son; in thee I am well pleased. | وَلَمَّا ٱعْتَمَدَ جَمِيعُ ٱلشَّعْبِ ٱعْتَمَدَ يَسُوعُ أَيْضًا. وَإِذْ كَانَ يُصَلِّي ٱنْفَتَحَتِ ٱلسَّمَاءُ، وَنَزَلَ عَلَيْهِ ٱلرُّوحُ ٱلْقُدُسُ بِهَيْئَةٍ جِسْمِيَّةٍ مِثْلِ حَمَامَةٍ. وَكَانَ صَوْتٌ مِنَ ٱلسَّمَاءِ قَائِلًا: «أَنْتَ ٱبْنِي ٱلْحَبِيبُ، بِكَ سُرِرْتُ». |
Who hath wrought and done it, calling the generations from the beginning? I the Lord, the first, and with the last; I am he.
Personal Bible reading plan
Create an account to configure your Bible reading plan and you will see your progress and the next chapter to read here!
Read more...