Read this Bible chapter online, click
here
to read.
Bible Verses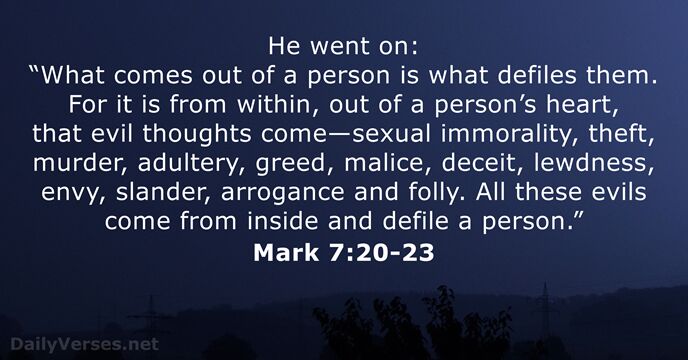 | | |
| --- | --- |
| He went on: "What comes out of a person is what defiles them. For it is from within, out of a person's heart, that evil thoughts come—sexual immorality, theft, murder, adultery, greed, malice, deceit, lewdness, envy, slander, arrogance and folly. All these evils come from inside and defile a person." | ثُمَّ قَالَ: «إِنَّ ٱلَّذِي يَخْرُجُ مِنَ ٱلْإِنْسَانِ ذَلِكَ يُنَجِّسُ ٱلْإِنْسَانَ. لِأَنَّهُ مِنَ ٱلدَّاخِلِ، مِنْ قُلُوبِ ٱلنَّاسِ، تَخْرُجُ ٱلْأَفْكَارُ ٱلشِّرِّيرَةُ: زِنًى، فِسْقٌ، قَتْلٌ، سِرْقَةٌ، طَمَعٌ، خُبْثٌ، مَكْرٌ، عَهَارَةٌ، عَيْنٌ شِرِّيرَةٌ، تَجْدِيفٌ، كِبْرِيَاءُ، جَهْلٌ. جَمِيعُ هَذِهِ ٱلشُّرُورِ تَخْرُجُ مِنَ ٱلدَّاخِلِ وَتُنَجِّسُ ٱلْإِنْسَانَ». |
Receive the Daily Bible Verse:
This is how we know that we live in him and he in us: He has given us of his Spirit.