<
Proverbs 14 - NKJV & AVD
Read this Bible chapter online, click
here
to read.
Bible Verses
«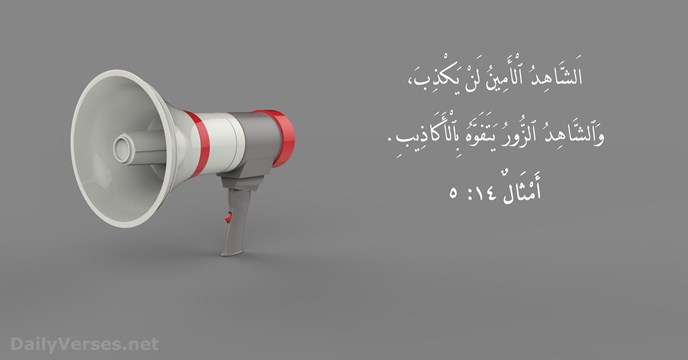 »
| | |
| --- | --- |
| A faithful witness does not lie, But a false witness will utter lies. | اَلشَّاهِدُ ٱلْأَمِينُ لَنْ يَكْذِبَ، وَٱلشَّاهِدُ ٱلزُّورُ يَتَفَوَّهُ بِٱلْأَكَاذِيبِ. |
| There is a way that seems right to a man, But its end is the way of death. | تُوجَدُ طَرِيقٌ تَظْهَرُ لِلْإِنْسَانِ مُسْتَقِيمَةً، وَعَاقِبَتُهَا طُرُقُ ٱلْمَوْتِ. |
| In all labor there is profit, But idle chatter leads only to poverty. | فِي كُلِّ تَعَبٍ مَنْفَعَةٌ، وَكَلَامُ ٱلشَّفَتَيْنِ إِنَّمَا هُوَ إِلَى ٱلْفَقْرِ. |
| He who is slow to wrath has great understanding, But he who is impulsive exalts folly. | بَطِيءُ ٱلْغَضَبِ كَثِيرُ ٱلْفَهْمِ، وَقَصِيرُ ٱلرُّوحِ مُعَلِّي ٱلْحَمَقِ. |
| Righteousness exalts a nation, But sin is a reproach to any people. | اَلْبِرُّ يَرْفَعُ شَأْنَ ٱلْأُمَّةِ، وَعَارُ ٱلشُّعُوبِ ٱلْخَطِيَّةُ. |
The Lord also will be a refuge for the oppressed, A refuge in times of trouble.
Create an account to configure your Bible read plan and you will see your progress and the next chapter to read here!
Read more...