27 Versículos da Bíblia sobre Segurança
«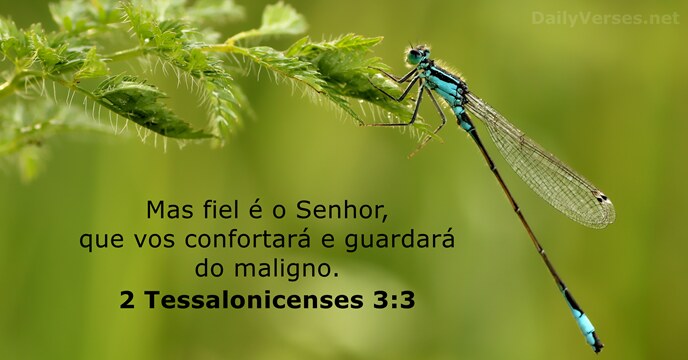 »
Mas fiel é o Senhor, que vos confortará e guardará do maligno.

But the Lord is faithful, and he will strengthen you and protect you from the evil one.

O S

enhor

é a minha luz e a minha salvação; a quem temerei? O S

enhor

é a força da minha vida; de quem me recearei?
The L

ord

is my light and my salvation— whom shall I fear? The L

ord

is the stronghold of my life— of whom shall I be afraid?
Aquele que habita no esconderijo do Altíssimo, à sombra do Onipotente descansará. Direi do S

enhor

: Ele é o meu Deus, o meu refúgio, a minha fortaleza, e nele confiarei.
Whoever dwells in the shelter of the Most High will rest in the shadow of the Almighty. I will say of the L

ord

, "He is my refuge and my fortress, my God, in whom I trust."

Deus é o nosso refúgio e fortaleza, socorro bem-presente na angústia.

God is our refuge and strength, an ever-present help in trouble.

Tu és o lugar em que me escondo; tu me preservas da angústia; tu me cinges de alegres cantos de livramento. (Selá)

You are my hiding place; you will protect me from trouble and surround me with songs of deliverance.

Em paz também me deitarei e dormirei, porque só tu, S

enhor

, me fazes habitar em segurança.
In peace I will lie down and sleep, for you alone, L

ord

, make me dwell in safety.
O S

enhor

é bom, uma fortaleza no dia da angústia, e conhece os que confiam nele.
The L

ord

is good, a refuge in times of trouble. He cares for those who trust in him.
Lança o teu cuidado sobre o S

enhor

, e ele te susterá; nunca permitirá que o justo seja abalado.
Cast your cares on the L

ord

and he will sustain you; he will never let the righteous be shaken.

O avisado vê o mal e esconde-se; mas os simples passam e sofrem a pena.

The prudent see danger and take refuge, but the simple keep going and pay the penalty.

Ele te cobrirá com as suas penas, e debaixo das suas asas estarás seguro; a sua verdade é escudo e broquel.

He will cover you with his feathers, and under his wings you will find refuge; his faithfulness will be your shield and rampart.

Tu conservarás em paz aquele cuja mente está firme em ti; porque ele confia em ti.

You will keep in perfect peace those whose minds are steadfast, because they trust in you.

Não peço que os tires do mundo, mas que os livres do mal.

My prayer is not that you take them out of the world but that you protect them from the evil one.

Quem anda em sinceridade anda seguro, mas o que perverte os seus caminhos será conhecido.

Whoever walks in integrity walks securely, but whoever takes crooked paths will be found out.

O S

enhor

aperfeiçoará o que me concerne; a tua benignidade, ó S

enhor

, é para sempre; não desampares as obras das tuas mãos.
The L

ord

will vindicate me; your love, L

ord

, endures forever— do not abandon the works of your hands.

Não durmamos, pois, como os demais, mas vigiemos e sejamos sóbrios.

So then, let us not be like others, who are asleep, but let us be awake and sober.

É melhor confiar no S

enhor

do que confiar no homem.
It is better to take refuge in the L

ord

than to trust in humans.
Torre forte é o nome do S

enhor

; para ela correrá o justo e estará em alto retiro.
The name of the L

ord

is a fortified tower; the righteous run to it and are safe.

Porque satisfiz a alma cansada, e toda a alma entristecida saciei.

I will refresh the weary and satisfy the faint.

Confia no S

enhor

e faze o bem; habitarás na terra e, verdadeiramente, serás alimentado.
Trust in the L

ord

and do good; dwell in the land and enjoy safe pasture.

Só ele é a minha rocha e a minha salvação; é a minha defesa; não serei grandemente abalado.

Truly he is my rock and my salvation; he is my fortress, I will never be shaken.

Sujeitai-vos, pois, a Deus; resisti ao diabo, e ele fugirá de vós.

Submit yourselves, then, to God. Resist the devil, and he will flee from you.

O S

enhor

será também um alto refúgio para o oprimido; um alto refúgio em tempos de angústia.
The L

ord

is a refuge for the oppressed, a stronghold in times of trouble.

Cantai a Deus, cantai louvores ao seu nome; louvai aquele que vai sobre os céus, pois o seu nome é Jeová; exultai diante dele. Pai de órfãos e juiz de viúvas é Deus no seu lugar santo.

Sing to God, sing in praise of his name, extol him who rides on the clouds; rejoice before him — his name is the L

ord

. A father to the fatherless, a defender of widows, is God in his holy dwelling.

E eu convosco estabeleço o meu concerto, que não será mais destruída toda carne pelas águas do dilúvio e que não haverá mais dilúvio para destruir a terra.

I establish my covenant with you: Never again will all life be destroyed by the waters of a flood; never again will there be a flood to destroy the earth.

Sara-me, S

enhor

, e sararei; salva-me, e serei salvo; porque tu és o meu louvor.
Heal me, L

ord

, and I will be healed; save me and I will be saved, for you are the one I praise.
Sede, pois, imitadores de Deus, como filhos amados.
E, quanto fizerdes por palavras ou por obras, fazei tudo em nome do Senhor Jesus, dando por ele graças a Deus Pai.
Leia mais
Sede, pois, imitadores de Deus, como filhos amados.
Plano de leitura da Bíblia pessoal
Registrar
para configurar seu plano de leitura da Bíblia e ver o seu progresso.