Bible Verses about 'Speaketh'
«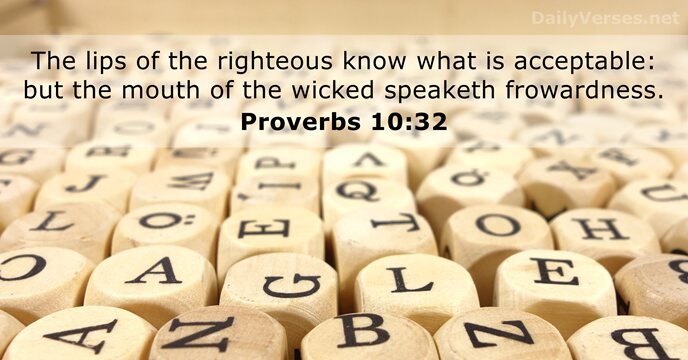 »
And whosoever speaketh a word against the Son of man, it shall be forgiven him: but whosoever speaketh against the Holy Ghost, it shall not be forgiven him, neither in this world, neither in the world to come.

The lips of the righteous know what is acceptable:
but the mouth of the wicked speaketh frowardness.

Ye are of your father the devil, and the lusts of your father ye will do. He was a murderer from the beginning, and abode not in the truth, because there is no truth in him. When he speaketh a lie, he speaketh of his own: for he is a liar, and the father of it.

He that walketh uprightly,
and worketh righteousness,
and speaketh the truth in his heart.
He that backbiteth not with his tongue,
nor doeth evil to his neighbour,
nor taketh up a reproach against his neighbour.

A good man out of the good treasure of his heart bringeth forth that which is good; and an evil man out of the evil treasure of his heart bringeth forth that which is evil: for of the abundance of the heart his mouth speaketh.

Thus speaketh the L

ord

of hosts, saying, Execute true judgment, and shew mercy and compassions every man to his brother: And oppress not the widow, nor the fatherless, the stranger, nor the poor; and let none of you imagine evil against his brother in your heart.
Lead me in thy truth, and teach me: for thou art the God of my salvation; on thee do I wait all the day.
Personal Bible reading plan
Create an account to configure your Bible reading plan and you will see your progress and the next chapter to read here!
Read more...