Bible Verses about Slavery
«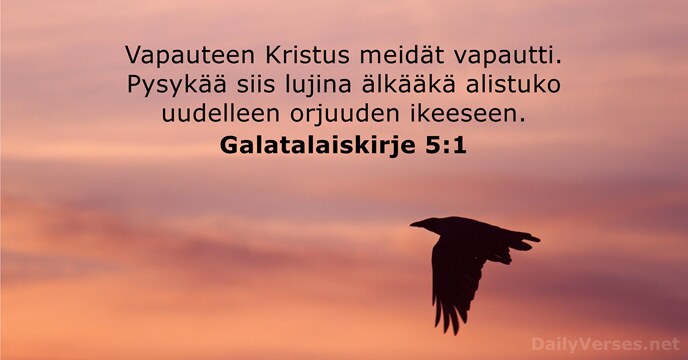 »
For freedom Christ has set us free; stand firm therefore, and do not submit again to a yoke of slavery.

Vapauteen Kristus meidät vapautti. Pysykää siis lujina älkääkä alistuko uudelleen orjuuden ikeeseen.

Jesus answered them, "Truly, truly, I say to you, everyone who practices sin is a slave to sin."

Jeesus vastasi: »Totisesti, totisesti: jokainen, joka tekee syntiä, on synnin orja.»

For you did not receive the spirit of slavery to fall back into fear, but you have received the Spirit of adoption as sons, by whom we cry, "Abba! Father!"

Te ette ole saaneet orjuuden henkeä, joka saattaisi teidät jälleen pelon valtaan. Olette saaneet Hengen, joka antaa meille lapsen oikeuden, ja niin me huudamme: »Abba! Isä!»

You shall remember that you were a slave in the land of Egypt, and the L

ord

your God brought you out from there with a mighty hand and an outstretched arm. Therefore the L

ord

your God commanded you to keep the Sabbath day.

Muista, että itse olit orjana Egyptissä, kun Herra, sinun Jumalasi, kohotti voimakkaan käsivartensa ja johdatti sinut sieltä pois. Sen tähden Herra, sinun Jumalasi, käski sinun viettää lepopäivää.

So if the Son sets you free, you will be free indeed.

Jos Poika vapauttaa teidät, te olette todella vapaita.

The rich rules over the poor, and the borrower is the slave of the lender.

Köyhä on rikkaan vallassa, velallisesta tulee velkojan orja.

But now that you have been set free from sin and have become slaves of God, the fruit you get leads to sanctification and its end, eternal life.

Mutta kun nyt olette päässeet vapaiksi synnistä ja tulleet Jumalan palvelijoiksi, te korjaatte satona pyhityksen ja saatte lopuksi ikuisen elämän.

Is not this the fast that I choose: to loose the bonds of wickedness, to undo the straps of the yoke, to let the oppressed go free, and to break every yoke?

Toisenlaista paastoa minä odotan: että vapautat syyttömät kahleista, irrotat ikeen hihnat ja vapautat sorretut, että murskaat kaikki ikeet.

Live as people who are free, not using your freedom as a cover-up for evil, but living as servants of God.

Ja näin tehkää vapaiden tavoin – älkää niin kuin ne, joilla vapaus on pahuuden verhona, vaan niin kuin Jumalan orjat.

Bondservants are to be submissive to their own masters in everything; they are to be well-pleasing, not argumentative, not pilfering, but showing all good faith, so that in everything they may adorn the doctrine of God our Savior.

Kehota orjia alistumaan kaikessa isäntiensä tahtoon ja toimimaan näiden mielen mukaan. Heidän ei pidä väittää vastaan eikä varastella, vaan heidän on osoittauduttava aina luotettaviksi ja kunnollisiksi, niin että he voivat kaikessa olla kunniaksi Jumalan, meidän pelastajamme, opille.

It shall not be so among you. But whoever would be great among you must be your servant, and whoever would be first among you must be your slave.

Niin ei saa olla teidän keskuudessanne. Joka tahtoo teidän joukossanne tulla suureksi, se olkoon toisten palvelija, ja joka tahtoo tulla teidän joukossanne ensimmäiseksi, se olkoon toisten orja.

For if we have been united with him in a death like his, we shall certainly be united with him in a resurrection like his. We know that our old self was crucified with him in order that the body of sin might be brought to nothing, so that we would no longer be enslaved to sin.

Jos kerran yhtäläinen kuolema on liittänyt meidät yhteen hänen kanssaan, me myös nousemme kuolleista niin kuin hän. Tiedämme, että vanha minämme on yhdessä hänen kanssaan ristiinnaulittu, jotta tämä syntinen ruumis menettäisi valtansa emmekä enää olisi synnin orjia.

The Spirit of the Lord is upon me, because he has anointed me to proclaim good news to the poor. He has sent me to proclaim liberty to the captives and recovering of sight to the blind, to set at liberty those who are oppressed.

Herran henki on minun ylläni, sillä hän on voidellut minut. Hän on lähettänyt minut ilmoittamaan köyhille hyvän sanoman, julistamaan vangituille vapautusta ja sokeille näkönsä saamista, päästämään sorretut vapauteen.

The hand of the diligent will rule, while the slothful will be put to forced labor.

Ahkera päätyy päälliköksi, laiskuri toisten käskettäväksi.

There is neither Jew nor Greek, there is neither slave nor free, there is no male and female, for you are all one in Christ Jesus. And if you are Christ's, then you are Abraham's offspring, heirs according to promise.

Yhdentekevää, oletko juutalainen vai kreikkalainen, orja vai vapaa, mies vai nainen, sillä Kristuksessa Jeesuksessa te kaikki olette yksi. Ja jos te kerran olette Kristuksen omia, te olette Abrahamin jälkeläisiä ja saatte periä sen, mikä hänelle oli luvattu.

For in one Spirit we were all baptized into one body—Jews or Greeks, slaves or free—and all were made to drink of one Spirit.

Meidät kaikki, olimmepa juutalaisia tai kreikkalaisia, orjia tai vapaita, on kastettu yhdeksi ruumiiksi. Yksi ja sama Henki on yhdistänyt meidät, kaikki me olemme saaneet juoda samaa Henkeä.
For with the heart one believes and is justified, and with the mouth one confesses and is saved.
Personal Bible reading plan
Create an account to configure your Bible reading plan and you will see your progress and the next chapter to read here!
Read more...