Bible Verses about Bread
«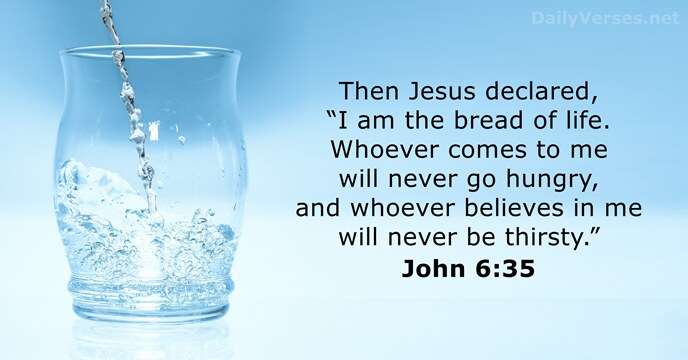 »
Then Jesus declared, "I am the bread of life. Whoever comes to me will never go hungry, and whoever believes in me will never be thirsty."

Jezus antwoordde: "IK BEN dat echte brood dat levend maakt. Iedereen die bij Mij komt, zal nooit meer honger hebben. En iedereen die in Mij gelooft, zal nooit meer dorst hebben."

Jesus answered, "It is written: 'Man shall not live on bread alone, but on every word that comes from the mouth of God.'"

Maar Jezus antwoordde: "In de Boeken staat: 'Je kan niet alleen van brood leven. Alles wat God zegt, heb je óók nodig om te leven.' "

Now he who supplies seed to the sower and bread for food will also supply and increase your store of seed and will enlarge the harvest of your righteousness.

God geeft aan de zaaier zaad om te zaaien, maar ook brood om te eten. Net zo zal Hij 'zaad' aan jullie geven. Hij zal zelfs steeds méér 'zaad' geven. En Hij zal zorgen dat er ook een grote 'oogst' opkomt uit jullie goede daden.

Go, eat your food with gladness, and drink your wine with a joyful heart, for God has already approved what you do.

Geniet dus maar van je eten en drinken en wees vrolijk. Want dan doe je wat God heeft bedoeld.

And he took bread, gave thanks and broke it, and gave it to them, saying, "This is my body given for you; do this in remembrance of me."

En Hij nam een brood en dankte God ervoor. Toen brak Hij het in stukken, gaf die aan hen en zei: "Dit is mijn lichaam dat voor jullie wordt gebroken. Eet hiervan en denk aan Mij."

Every day they continued to meet together in the temple courts. They broke bread in their homes and ate together with glad and sincere hearts, praising God and enjoying the favor of all the people. And the Lord added to their number daily those who were being saved.

Elke dag waren ze eensgezind in de tempel. Ze aten blij en eensgezind bij elkaar hun maaltijden. Ze prezen God en iedereen had respect voor hen. En de Heer maakte de groep van mensen die gered werden elke dag groter.

Taking the five loaves and the two fish and looking up to heaven, he gave thanks and broke them. Then he gave them to the disciples to distribute to the people. They all ate and were satisfied, and the disciples picked up twelve basketfuls of broken pieces that were left over.

Toen nam Hij de vijf broden en de twee vissen. Hij keek naar de hemel, zegende de broden en vissen en brak ze in stukken. Die gaf Hij aan de leerlingen om aan de mensen uit te delen. En de mensen aten tot ze genoeg hadden. Toen haalden ze de stukken op die waren overgebleven: twaalf manden vol.

Give us today our daily bread.

Geef ons vandaag het eten dat we nodig hebben.

He humbled you, causing you to hunger and then feeding you with manna, which neither you nor your ancestors had known, to teach you that man does not live on bread alone but on every word that comes from the mouth of the L

ord

.

Hij wilde dat jullie ontzag voor Hem zouden leren hebben. Daarom liet Hij jullie honger lijden. Toen gaf Hij jullie manna, iets wat jullie en jullie voorouders nog nooit hadden gezien. Want Hij wilde dat jullie zouden begrijpen dat een mens niet alleen van brood leeft. Een mens leeft óók van elk woord dat God spreekt.

They devoted themselves to the apostles' teaching and to fellowship, to the breaking of bread and to prayer.

Ze hielden zich aan wat de apostelen hun leerden. Ze waren één met elkaar, aten met elkaar en baden samen.

I am the living bread that came down from heaven. Whoever eats this bread will live forever. This bread is my flesh, which I will give for the life of the world.

IK BEN dat levende brood dat uit de hemel gekomen is. Als je van dit brood eet, zul je eeuwig leven. Dat brood is mijn lichaam. Ik geef mijn lichaam om aan alle mensen leven te geven.

One Sabbath Jesus was going through the grainfields, and as his disciples walked along, they began to pick some heads of grain. The Pharisees said to him, "Look, why are they doing what is unlawful on the Sabbath?" He answered, "Have you never read what David did when he and his companions were hungry and in need? In the days of Abiathar the high priest, he entered the house of God and ate the consecrated bread, which is lawful only for priests to eat. And he also gave some to his companions." Then he said to them, "The Sabbath was made for man, not man for the Sabbath. So the Son of Man is Lord even of the Sabbath."

Op een keer liep Jezus op de heilige rustdag door een korenveld. Zijn leerlingen begonnen graan te plukken. Toen zeiden de Farizeeërs tegen Hem: "Waarom doen zij iets wat niet mag op de heilige rustdag?" Jezus antwoordde: "Hebben jullie nooit gelezen wat David deed toen hij en zijn mannen honger hadden? Dat was in de tijd dat Abjatar hogepriester was. David ging Gods heiligdom binnen, nam de heilige broden mee en at ze op. Dat mocht helemaal niet, want daar mogen alleen de priesters van eten. Ook deelde hij van dat brood uit aan zijn mannen." En Hij zei: "De heilige rustdag is gemaakt voor de mensen. Niet andersom: de mensen zijn niet gemaakt voor de heilige rustdag. Dus is de Mensenzoon ook Heer over de heilige rustdag."

Moses was there with the L

ord

forty days and forty nights without eating bread or drinking water. And he wrote on the tablets the words of the covenant—the Ten Commandments.

En Mozes was daar 40 dagen en 40 nachten bij de Heer. Brood at hij niet en water dronk hij niet. En hij schreef op de platte stenen de regels van het verbond, de Tien Leefregels.
He who did not spare his own Son, but gave him up for us all—how will he not also, along with him, graciously give us all things?
Personal Bible reading plan
Create an account to configure your Bible reading plan and you will see your progress and the next chapter to read here!
Read more...