Bible Verses about Easter
«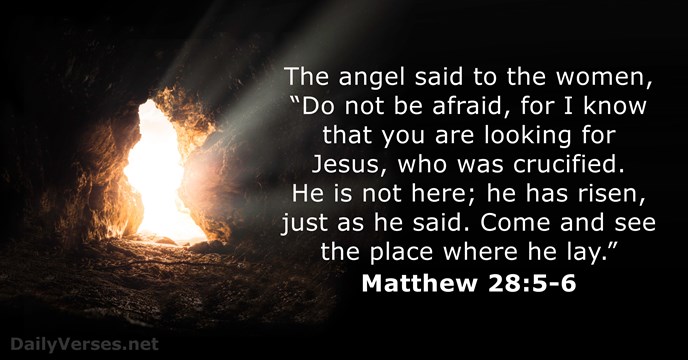 »
The angel said to the women, "Do not be afraid, for I know that you are looking for Jesus, who was crucified. He is not here; he has risen, just as he said. Come and see the place where he lay."

Pero el ángel dijo a las mujeres: «No temáis vosotras, porque yo sé que buscáis a Jesús, el que fue crucificado. No está aquí, pues ha resucitado, como dijo. Venid, ved el lugar donde fue puesto el Señor.»

He is not here; he has risen! Remember how he told you, while he was still with you in Galilee: 'The Son of Man must be delivered over to the hands of sinners, be crucified and on the third day be raised again.'

No está aquí, sino que ha resucitado. Acordaos de lo que os habló cuando aún estaba en Galilea, diciendo: "Es necesario que el Hijo del hombre sea entregado en manos de hombres pecadores, y que sea crucificado y resucite al tercer día."

"Don't be alarmed," he said. "You are looking for Jesus the Nazarene, who was crucified. He has risen! He is not here. See the place where they laid him."

Pero él les dijo: —No os asustéis; buscáis a Jesús nazareno, el que fue crucificado. Ha resucitado, no está aquí; mirad el lugar en donde lo pusieron.

They stripped him and put a scarlet robe on him, and then twisted together a crown of thorns and set it on his head. They put a staff in his right hand. Then they knelt in front of him and mocked him. "Hail, king of the Jews!" they said.

Lo desnudaron y le echaron encima un manto escarlata; pusieron sobre su cabeza una corona tejida de espinas, y una caña en su mano derecha; e hincando la rodilla delante de él, se burlaban, diciendo: —¡Salve, rey de los judíos!

Praise be to the God and Father of our Lord Jesus Christ! In his great mercy he has given us new birth into a living hope through the resurrection of Jesus Christ from the dead.

Bendito el Dios y Padre de nuestro Señor Jesucristo, que según su gran misericordia nos hizo renacer para una esperanza viva, por la resurrección de Jesucristo de los muertos.

When he had received the drink, Jesus said, "It is finished." With that, he bowed his head and gave up his spirit.

Cuando Jesús tomó el vinagre, dijo: —¡Consumado es! E inclinando la cabeza, entregó el espíritu.

We are going up to Jerusalem, and the Son of Man will be delivered over to the chief priests and the teachers of the law. They will condemn him to death and will hand him over to the Gentiles to be mocked and flogged and crucified. On the third day he will be raised to life!

Ahora subimos a Jerusalén, y el Hijo del hombre será entregado a los principales sacerdotes y a los escribas. Lo condenarán a muerte y lo entregarán a los gentiles para que se burlen de él, lo azoten y lo crucifiquen; pero al tercer día resucitará.

The crowds that went ahead of him and those that followed shouted, "Hosanna to the Son of David!" "Blessed is he who comes in the name of the Lord!" "Hosanna in the highest heaven!"

Y la gente que iba delante y la que iba detrás aclamaba, diciendo: «¡Hosana al Hijo de David! ¡Bendito el que viene en el nombre del Señor! ¡Hosana en las alturas!»

Jesus called out with a loud voice, "Father, into your hands I commit my spirit." When he had said this, he breathed his last.

Entonces Jesús, clamando a gran voz, dijo: —Padre, en tus manos encomiendo mi espíritu. Habiendo dicho esto, expiró.

"Abba, Father," he said, "everything is possible for you. Take this cup from me. Yet not what I will, but what you will."

Y decía: «¡Abba, Padre!, todas las cosas son posibles para ti. Aparta de mí esta copa; pero no se haga lo que yo quiero, sino lo que quieres tú.»

Above his head they placed the written charge against him: this is jesus, the king of the jews.

Pusieron sobre su cabeza su causa escrita: «Éste es Jesús, el rey de los judíos.»

L

ord

, save us! L

ord

, grant us success! Blessed is he who comes in the name of the L

ord

. From the house of the L

ord

we bless you.

Jehová, sálvanos ahora, te ruego; te ruego, Jehová, que ahora nos hagas prosperar. ¡Bendito el que viene en el nombre de Jehová! Desde la casa de Jehová os bendecimos.

Finally the other disciple, who had reached the tomb first, also went inside. He saw and believed. (They still did not understand from Scripture that Jesus had to rise from the dead.)

Entonces entró también el otro discípulo que había venido primero al sepulcro; y vio, y creyó, pues aún no habían entendido la Escritura: que era necesario que él resucitara de los muertos.

Rejoice greatly, Daughter Zion! Shout, Daughter Jerusalem! See, your king comes to you, righteous and victorious, lowly and riding on a donkey, on a colt, the foal of a donkey.

¡Alégrate mucho, hija de Sión! ¡Da voces de júbilo, hija de Jerusalén! Mira que tu rey vendrá a ti, justo y salvador, pero humilde, cabalgando sobre un asno, sobre un pollino hijo de asna.

"He himself bore our sins" in his body on the cross, so that we might die to sins and live for righteousness; "by his wounds you have been healed."

Él mismo llevó nuestros pecados en su cuerpo sobre el madero, para que nosotros, estando muertos a los pecados, vivamos a la justicia. ¡Por su herida habéis sido sanados!
Be devoted to one another in love. Honor one another above yourselves.
Personal Bible reading plan
Create an account to configure your Bible reading plan and you will see your progress and the next chapter to read here!
Read more...