38 Versículos de la Biblia sobre el Alimento
«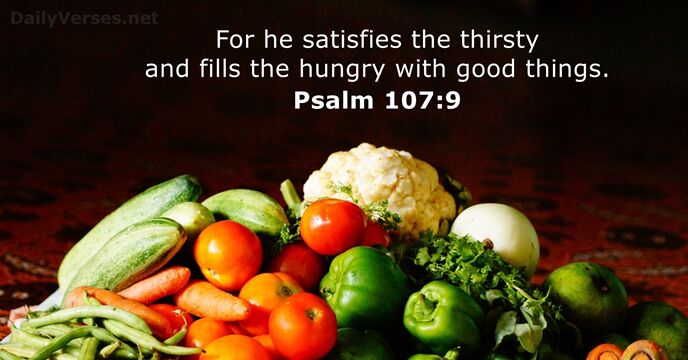 »
Porque sacia al alma menesterosa, Y llena de bien al alma hambrienta.

For he satisfies the thirsty and fills the hungry with good things.

Jesús les dijo: Yo soy el pan de vida; el que a mí viene, nunca tendrá hambre; y el que en mí cree, no tendrá sed jamás.

Then Jesus declared, "I am the bread of life. Whoever comes to me will never go hungry, and whoever believes in me will never be thirsty."

El que come, no menosprecie al que no come, y el que no come, no juzgue al que come; porque Dios le ha recibido.

The one who eats everything must not treat with contempt the one who does not, and the one who does not eat everything must not judge the one who does, for God has accepted them.

Si, pues, coméis o bebéis, o hacéis otra cosa, hacedlo todo para la gloria de Dios.

So whether you eat or drink or whatever you do, do it all for the glory of God.

De todo lo que está en el agua, de estos podréis comer: todo lo que tiene aleta y escama. Mas todo lo que no tiene aleta y escama, no comeréis; inmundo será.

Of all the creatures living in the water, you may eat any that has fins and scales. But anything that does not have fins and scales you may not eat; for you it is unclean.

El alma generosa será prosperada; Y el que saciare, él también será saciado.

A generous person will prosper; whoever refreshes others will be refreshed.

Y dijo Dios: He aquí que os he dado toda planta que da semilla, que está sobre toda la tierra, y todo árbol en que hay fruto y que da semilla; os serán para comer.

Then God said, "I give you every seed-bearing plant on the face of the whole earth and every tree that has fruit with seed in it. They will be yours for food."

El respondió y dijo: Escrito está: No sólo de pan vivirá el hombre, sino de toda palabra que sale de la boca de Dios.

Jesus answered, "It is written: 'Man shall not live on bread alone, but on every word that comes from the mouth of God.'"

Todo lo que se mueve y vive, os será para mantenimiento: así como las legumbres y plantas verdes, os lo he dado todo. Pero carne con su vida, que es su sangre, no comeréis.

Everything that lives and moves about will be food for you. Just as I gave you the green plants, I now give you everything. But you must not eat meat that has its lifeblood still in it.

Porque nada hemos traído a este mundo, y sin duda nada podremos sacar. Así que, teniendo sustento y abrigo, estemos contentos con esto.

For we brought nothing into the world, and we can take nothing out of it. But if we have food and clothing, we will be content with that.

Y tomando los cinco panes y los dos pescados, levantando los ojos al cielo, los bendijo, y los partió, y dio a sus discípulos para que los pusiesen delante de la gente. Y comieron todos, y se saciaron; y recogieron lo que les sobró, doce cestas de pedazos.

Taking the five loaves and the two fish and looking up to heaven, he gave thanks and broke them. Then he gave them to the disciples to distribute to the people. They all ate and were satisfied, and the disciples picked up twelve basketfuls of broken pieces that were left over.

Por tanto os digo: No os afanéis por vuestra vida, qué habéis de comer o qué habéis de beber; ni por vuestro cuerpo, qué habéis de vestir. ¿No es la vida más que el alimento, y el cuerpo más que el vestido?

Therefore I tell you, do not worry about your life, what you will eat or drink; or about your body, what you will wear. Is not life more than food, and the body more than clothes?

He aquí, yo estoy a la puerta y llamo; si alguno oye mi voz y abre la puerta, entraré a él, y cenaré con él, y él conmigo.

Here I am! I stand at the door and knock. If anyone hears my voice and opens the door, I will come in and eat with that person, and they with me.

Luego les dijo: Id, comed grosuras, y bebed vino dulce, y enviad porciones a los que no tienen nada preparado; porque día santo es a nuestro Señor; no os entristezcáis, porque el gozo de Jehová es vuestra fuerza.

Nehemiah said, "Go and enjoy choice food and sweet drinks, and send some to those who have nothing prepared. This day is holy to our Lord. Do not grieve, for the joy of the L

ord

is your strength."

Por tanto, nadie os juzgue en comida o en bebida, o en cuanto a días de fiesta, luna nueva o días de reposo, todo lo cual es sombra de lo que ha de venir; pero el cuerpo es de Cristo.

Therefore do not let anyone judge you by what you eat or drink, or with regard to a religious festival, a New Moon celebration or a Sabbath day. These are a shadow of the things that were to come; the reality, however, is found in Christ.

Trabajad, no por la comida que perece, sino por la comida que a vida eterna permanece, la cual el Hijo del Hombre os dará; porque a éste señaló Dios el Padre.

Do not work for food that spoils, but for food that endures to eternal life, which the Son of Man will give you. For on him God the Father has placed his seal of approval.

Y perseverando unánimes cada día en el templo, y partiendo el pan en las casas, comían juntos con alegría y sencillez de corazón, alabando a Dios, y teniendo favor con todo el pueblo. Y el Señor añadía cada día a la iglesia los que habían de ser salvos.

Every day they continued to meet together in the temple courts. They broke bread in their homes and ate together with glad and sincere hearts, praising God and enjoying the favor of all the people. And the Lord added to their number daily those who were being saved.

Y el que da semilla al que siembra, y pan al que come, proveerá y multiplicará vuestra sementera, y aumentará los frutos de vuestra justicia.

Now he who supplies seed to the sower and bread for food will also supply and increase your store of seed and will enlarge the harvest of your righteousness.

Panal de miel son los dichos suaves; Suavidad al alma y medicina para los huesos.

Gracious words are a honeycomb, sweet to the soul and healing to the bones.

No comí manjar delicado, ni entró en mi boca carne ni vino, ni me ungí con ungüento, hasta que se cumplieron las tres semanas.

I ate no choice food; no meat or wine touched my lips; and I used no lotions at all until the three weeks were over.

Bienaventurados los que tienen hambre y sed de justicia, porque ellos serán saciados.

Blessed are those who hunger and thirst for righteousness, for they will be filled.

Mas buscad primeramente el reino de Dios y su justicia, y todas estas cosas os serán añadidas.

But seek first his kingdom and his righteousness, and all these things will be given to you as well.

Traed todos los diezmos al alfolí y haya alimento en mi casa; y probadme ahora en esto, dice Jehová de los ejércitos, si no os abriré las ventanas de los cielos, y derramaré sobre vosotros bendición hasta que sobreabunde.

"Bring the whole tithe into the storehouse, that there may be food in my house. Test me in this," says the L

ord

Almighty, "and see if I will not throw open the floodgates of heaven and pour out so much blessing that there will not be room enough to store it."

Desead, como niños recién nacidos, la leche espiritual no adulterada, para que por ella crezcáis para salvación.

Like newborn babies, crave pure spiritual milk, so that by it you may grow up in your salvation.

Y te afligió, y te hizo tener hambre, y te sustentó con maná, comida que no conocías tú, ni tus padres la habían conocido, para hacerte saber que no sólo de pan vivirá el hombre, mas de todo lo que sale de la boca de Jehová vivirá el hombre.

He humbled you, causing you to hunger and then feeding you with manna, which neither you nor your ancestors had known, to teach you that man does not live on bread alone but on every word that comes from the mouth of the L

ord

.
Nadie se engañe a sí mismo; si alguno entre vosotros se cree sabio en este siglo, hágase ignorante, para que llegue a ser sabio.
Mi Dios, pues, suplirá todo lo que os falta conforme a sus riquezas en gloria en Cristo Jesús.
Nadie se engañe a sí mismo; si alguno entre vosotros se cree sabio en este siglo, hágase ignorante, para que llegue a ser sabio.
Plan de lectura de la Biblia
Registrar y configurar su plan de lectura de la Biblia que desea ver su progreso y el siguiente capítulo para leer aquí!