22 Versículos de la Biblia sobre la Búsqueda
«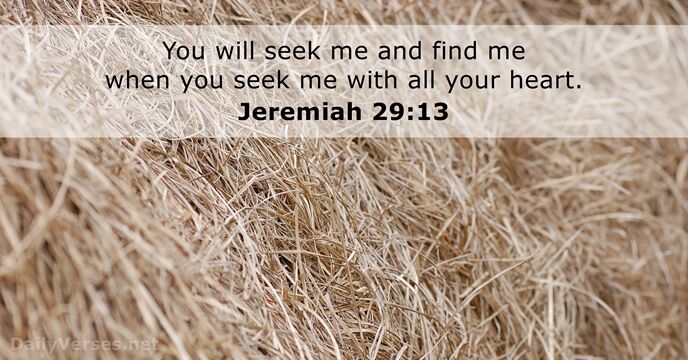 »
Y me buscaréis y me hallaréis, porque me buscaréis de todo vuestro corazón.

You will seek me and find me when you seek me with all your heart.

Jehová estará con vosotros, si vosotros estuviereis con él; y si le buscareis, será hallado de vosotros; mas si le dejareis, él también os dejará.

The L

ord

is with you when you are with him. If you seek him, he will be found by you, but if you forsake him, he will forsake you.

Buscad a Jehová y su poder; Buscad su rostro continuamente.

Look to the L

ord

and his strength; seek his face always.

Dios, Dios mío eres tú; De madrugada te buscaré; Mi alma tiene sed de ti, mi carne te anhela, En tierra seca y árida donde no hay aguas.

You, God, are my God, earnestly I seek you; I thirst for you, my whole being longs for you, in a dry and parched land where there is no water.

Pedid, y se os dará; buscad, y hallaréis; llamad, y se os abrirá.

Ask and it will be given to you; seek and you will find; knock and the door will be opened to you.

Deléitate asimismo en Jehová, Y él te concederá las peticiones de tu corazón.

Take delight in the L

ord

, and he will give you the desires of your heart.

Busqué a Jehová, y él me oyó, Y me libró de todos mis temores.

I sought the L

ord

, and he answered me; he delivered me from all my fears.

En ti confiarán los que conocen tu nombre, Por cuanto tú, oh Jehová, no desamparaste a los que te buscaron.

Those who know your name trust in you, for you, L

ord

, have never forsaken those who seek you.

Buscad a Jehová y su poder; Buscad siempre su rostro.

Look to the L

ord

and his strength; seek his face always.

Buscad a Jehová mientras puede ser hallado, llamadle en tanto que está cercano.

Seek the L

ord

while he may be found; call on him while he is near.

Pero así dice Jehová a la casa de Israel: Buscadme, y viviréis.

This is what the L

ord

says to Israel: "Seek me and live."

Porque el Hijo del Hombre vino a buscar y a salvar lo que se había perdido.

For the Son of Man came to seek and to save the lost.

Bienaventurados los que guardan sus testimonios, Y con todo el corazón le buscan.

Blessed are those who keep his statutes and seek him with all their heart.

Fui buscado por los que no preguntaban por mí; fui hallado por los que no me buscaban. Dije a gente que no invocaba mi nombre: Heme aquí, heme aquí.

I revealed myself to those who did not ask for me; I was found by those who did not seek me. To a nation that did not call on my name, I said, 'Here am I, here am I.'

El que halla esposa halla el bien, Y alcanza la benevolencia de Jehová.

He who finds a wife finds what is good and receives favor from the L

ord

.

Los leoncillos necesitan, y tienen hambre; Pero los que buscan a Jehová no tendrán falta de ningún bien.

The lions may grow weak and hungry, but those who seek the L

ord

lack no good thing.

Oh Jehová, tú me has examinado y conocido. Tú has conocido mi sentarme y mi levantarme; Has entendido desde lejos mis pensamientos.

You have searched me, L

ord

, and you know me. You know when I sit and when I rise; you perceive my thoughts from afar.

Buscad lo bueno, y no lo malo, para que viváis; porque así Jehová Dios de los ejércitos estará con vosotros, como decís.

Seek good, not evil, that you may live. Then the L

ord

God Almighty will be with you, just as you say he is.

Por lo demás, hermanos míos, fortaleceos en el Señor, y en el poder de su fuerza.

Finally, be strong in the Lord and in his mighty power.

Pero sin fe es imposible agradar a Dios; porque es necesario que el que se acerca a Dios crea que le hay, y que es galardonador de los que le buscan.

And without faith it is impossible to please God, because anyone who comes to him must believe that he exists and that he rewards those who earnestly seek him.

Así será a tu alma el conocimiento de la sabiduría; Si la hallares tendrás recompensa, Y al fin tu esperanza no será cortada.

Know also that wisdom is like honey for you: If you find it, there is a future hope for you, and your hope will not be cut off.

Y andaré en libertad, Porque busqué tus mandamientos.

I will walk about in freedom, for I have sought out your precepts.
Sed, pues, imitadores de Dios como hijos amados.
Y sobre todas estas cosas vestíos de amor, que es el vínculo perfecto.
Sed, pues, imitadores de Dios como hijos amados.
Plan de lectura de la Biblia
Registrar y configurar su plan de lectura de la Biblia que desea ver su progreso y el siguiente capítulo para leer aquí!