Versículos de la Biblia sobre el Padre
«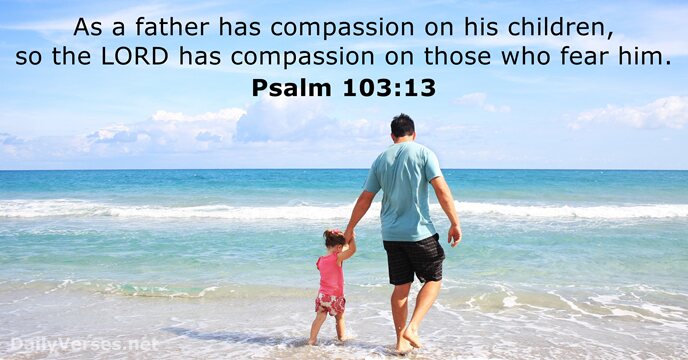 »
Como el padre se compadece de los hijos, Se compadece Jehová de los que le temen.

As a father has compassion on his children, so the L

ord

has compassion on those who fear him.

Mirad cuál amor nos ha dado el Padre, para que seamos llamados hijos de Dios; por esto el mundo no nos conoce, porque no le conoció a él.

See what great love the Father has lavished on us, that we should be called children of God! And that is what we are! The reason the world does not know us is that it did not know him.

No menosprecies, hijo mío, el castigo de Jehová, Ni te fatigues de su corrección; Porque Jehová al que ama castiga, Como el padre al hijo a quien quiere.

My son, do not despise the L

ord

's discipline, and do not resent his rebuke, because the L

ord

disciplines those he loves, as a father the son he delights in.

Mas tú, cuando ores, entra en tu aposento, y cerrada la puerta, ora a tu Padre que está en secreto; y tu Padre que ve en lo secreto te recompensará en público.

But when you pray, go into your room, close the door and pray to your Father, who is unseen. Then your Father, who sees what is done in secret, will reward you.

Mirad las aves del cielo, que no siembran, ni siegan, ni recogen en graneros; y vuestro Padre celestial las alimenta. ¿No valéis vosotros mucho más que ellas?

Look at the birds of the air; they do not sow or reap or store away in barns, and yet your heavenly Father feeds them. Are you not much more valuable than they?

Padre, aquellos que me has dado, quiero que donde yo estoy, también ellos estén conmigo, para que vean mi gloria que me has dado; porque me has amado desde antes de la fundación del mundo.

Father, I want those you have given me to be with me where I am, and to see my glory, the glory you have given me because you loved me before the creation of the world.

Y yo les doy vida eterna; y no perecerán jamás, ni nadie las arrebatará de mi mano. Mi Padre que me las dio, es mayor que todos, y nadie las puede arrebatar de la mano de mi Padre. Yo y el Padre uno somos.

I give them eternal life, and they shall never perish; no one will snatch them out of my hand. My Father, who has given them to me, is greater than all; no one can snatch them out of my Father's hand. I and the Father are one.

Al Dios y Padre nuestro sea gloria por los siglos de los siglos. Amén.

To our God and Father be glory for ever and ever. Amen.

El necio menosprecia el consejo de su padre; Mas el que guarda la corrección vendrá a ser prudente.

A fool spurns a parent's discipline, but whoever heeds correction shows prudence.

No améis al mundo, ni las cosas que están en el mundo. Si alguno ama al mundo, el amor del Padre no está en él.

Do not love the world or anything in the world. If anyone loves the world, love for the Father is not in them.

Mas a todos los que le recibieron, a los que creen en su nombre, les dio potestad de ser hechos hijos de Dios.

Yet to all who did receive him, to those who believed in his name, he gave the right to become children of God.

Respondió Jesús y le dijo: El que me ama, mi palabra guardará; y mi Padre le amará, y vendremos a él, y haremos morada con él.

Jesus replied, "Anyone who loves me will obey my teaching. My Father will love them, and we will come to them and make our home with them."

No temáis, manada pequeña, porque a vuestro Padre le ha placido daros el reino.

Do not be afraid, little flock, for your Father has been pleased to give you the kingdom.

Toda buena dádiva y todo don perfecto desciende de lo alto, del Padre de las luces, en el cual no hay mudanza, ni sombra de variación.

Every good and perfect gift is from above, coming down from the Father of the heavenly lights, who does not change like shifting shadows.

¿No se venden dos pajarillos por un cuarto? Con todo, ni uno de ellos cae a tierra sin vuestro Padre. Pues aun vuestros cabellos están todos contados. Así que, no temáis; más valéis vosotros que muchos pajarillos.

Are not two sparrows sold for a penny? Yet not one of them will fall to the ground outside your Father's care. And even the very hairs of your head are all numbered. So don't be afraid; you are worth more than many sparrows.

¿Acaso piensas que no puedo ahora orar a mi Padre, y que él no me daría más de doce legiones de ángeles?

Do you think I cannot call on my Father, and he will at once put at my disposal more than twelve legions of angels?

Jesús le dijo: Yo soy el camino, y la verdad, y la vida; nadie viene al Padre, sino por mí.

Jesus answered, "I am the way and the truth and the life. No one comes to the Father except through me."

El que no escatimó ni a su propio Hijo, sino que lo entregó por todos nosotros, ¿cómo no nos dará también con él todas las cosas?

He who did not spare his own Son, but gave him up for us all—how will he not also, along with him, graciously give us all things?

El que tiene mis mandamientos, y los guarda, ése es el que me ama; y el que me ama, será amado por mi Padre, y yo le amaré, y me manifestaré a él.

Whoever has my commands and keeps them is the one who loves me. The one who loves me will be loved by my Father, and I too will love them and show myself to them.

Porque el anhelo ardiente de la creación es el aguardar la manifestación de los hijos de Dios.

For the creation waits in eager expectation for the children of God to be revealed.

Para nosotros, sin embargo, sólo hay un Dios, el Padre, del cual proceden todas las cosas, y nosotros somos para él; y un Señor, Jesucristo, por medio del cual son todas las cosas, y nosotros por medio de él.

Yet for us there is but one God, the Father, from whom all things came and for whom we live; and there is but one Lord, Jesus Christ, through whom all things came and through whom we live.

Y todo lo que pidiereis al Padre en mi nombre, lo haré, para que el Padre sea glorificado en el Hijo.

And I will do whatever you ask in my name, so that the Father may be glorified in the Son.

Porque un niño nos es nacido, hijo nos es dado, y el principado sobre su hombro; y se llamará su nombre Admirable, Consejero, Dios Fuerte, Padre Eterno, Príncipe de Paz.

For to us a child is born, to us a son is given, and the government will be on his shoulders. And he will be called Wonderful Counselor, Mighty God, Everlasting Father, Prince of Peace.

En la casa de mi Padre muchas moradas hay; si así no fuera, yo os lo hubiera dicho; voy, pues, a preparar lugar para vosotros.

My Father's house has many rooms; if that were not so, would I have told you that I am going there to prepare a place for you?

A Dios nadie le vio jamás; el unigénito Hijo, que está en el seno del Padre, él le ha dado a conocer.

No one has ever seen God, but the one and only Son, who is himself God and is in closest relationship with the Father, has made him known.
El que ama la instrucción ama la sabiduría; Mas el que aborrece la reprensión es ignorante.
Plan de lectura de la Biblia
Registrar y configurar su plan de lectura de la Biblia que desea ver su progreso y el siguiente capítulo para leer aquí!