67 Versículos de la Biblia sobre el Espíritu
«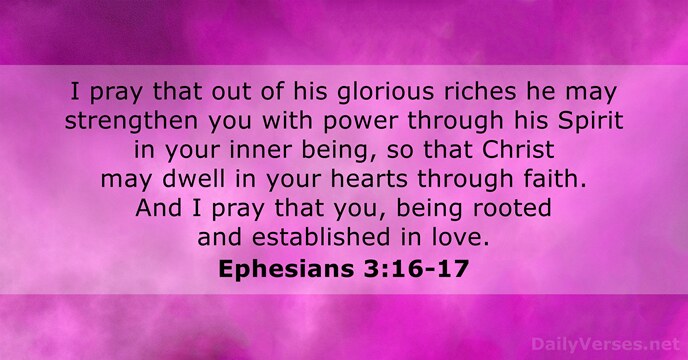 »
Para que os dé, conforme a las riquezas de su gloria, el ser fortalecidos con poder en el hombre interior por su Espíritu; para que habite Cristo por la fe en vuestros corazones, a fin de que, arraigados y cimentados en amor.

I pray that out of his glorious riches he may strengthen you with power through his Spirit in your inner being, so that Christ may dwell in your hearts through faith. And I pray that you, being rooted and established in love.

Y el Dios de esperanza os llene de todo gozo y paz en el creer, para que abundéis en esperanza por el poder del Espíritu Santo.

May the God of hope fill you with all joy and peace as you trust in him, so that you may overflow with hope by the power of the Holy Spirit.

Mas el fruto del Espíritu es amor, gozo, paz, paciencia, benignidad, bondad, fe, mansedumbre, templanza; contra tales cosas no hay ley.

But the fruit of the Spirit is love, joy, peace, forbearance, kindness, goodness, faithfulness, gentleness and self-control. Against such things there is no law.

Porque el Señor es el Espíritu; y donde está el Espíritu del Señor, allí hay libertad.

Now the Lord is the Spirit, and where the Spirit of the Lord is, there is freedom.

Dios es Espíritu; y los que le adoran, en espíritu y en verdad es necesario que adoren.

God is spirit, and his worshipers must worship in the Spirit and in truth.

¿O ignoráis que vuestro cuerpo es templo del Espíritu Santo, el cual está en vosotros, el cual tenéis de Dios, y que no sois vuestros? Porque habéis sido comprados por precio; glorificad, pues, a Dios en vuestro cuerpo y en vuestro espíritu, los cuales son de Dios.

Do you not know that your bodies are temples of the Holy Spirit, who is in you, whom you have received from God? You are not your own; you were bought at a price. Therefore honor God with your bodies.

En esto conocemos que permanecemos en él, y él en nosotros, en que nos ha dado de su Espíritu.

This is how we know that we live in him and he in us: He has given us of his Spirit.

Si vivimos por el Espíritu, andemos también por el Espíritu.

Since we live by the Spirit, let us keep in step with the Spirit.

Porque no nos ha dado Dios espíritu de cobardía, sino de poder, de amor y de dominio propio.

For the Spirit God gave us does not make us timid, but gives us power, love and self-discipline.

Y de igual manera el Espíritu nos ayuda en nuestra debilidad; pues qué hemos de pedir como conviene, no lo sabemos, pero el Espíritu mismo intercede por nosotros con gemidos indecibles.

In the same way, the Spirit helps us in our weakness. We do not know what we ought to pray for, but the Spirit himself intercedes for us through wordless groans.

Y se les aparecieron lenguas repartidas, como de fuego, asentándose sobre cada uno de ellos. Y fueron todos llenos del Espíritu Santo, y comenzaron a hablar en otras lenguas, según el Espíritu les daba que hablasen.

They saw what seemed to be tongues of fire that separated and came to rest on each of them. All of them were filled with the Holy Spirit and began to speak in other tongues as the Spirit enabled them.

El Espíritu de Jehová el Señor está sobre mí, porque me ungió Jehová; me ha enviado a predicar buenas nuevas a los abatidos, a vendar a los quebrantados de corazón, a publicar libertad a los cautivos, y a los presos apertura de la cárcel.

The Spirit of the Sovereign L

ord

is on me, because the L

ord

has anointed me to proclaim good news to the poor. He has sent me to bind up the brokenhearted, to proclaim freedom for the captives and release from darkness for the prisoners.

Pues si vosotros, siendo malos, sabéis dar buenas dádivas a vuestros hijos, ¿cuánto más vuestro Padre celestial dará el Espíritu Santo a los que se lo pidan?

If you then, though you are evil, know how to give good gifts to your children, how much more will your Father in heaven give the Holy Spirit to those who ask him!

Porque todos los que son guiados por el Espíritu de Dios, éstos son hijos de Dios.

For those who are led by the Spirit of God are the children of God.

Amados, no creáis a todo espíritu, sino probad los espíritus si son de Dios; porque muchos falsos profetas han salido por el mundo.

Dear friends, do not believe every spirit, but test the spirits to see whether they are from God, because many false prophets have gone out into the world.

Para que el Dios de nuestro Señor Jesucristo, el Padre de gloria, os dé espíritu de sabiduría y de revelación en el conocimiento de él.

I keep asking that the God of our Lord Jesus Christ, the glorious Father, may give you the Spirit of wisdom and revelation, so that you may know him better.

Entonces respondió y me habló diciendo: Esta es palabra de Jehová a Zorobabel, que dice: No con ejército, ni con fuerza, sino con mi Espíritu, ha dicho Jehová de los ejércitos.

So he said to me, "This is the word of the L

ord

to Zerubbabel: 'Not by might nor by power, but by my Spirit,' says the L

ord

Almighty."

¿No sabéis que sois templo de Dios, y que el Espíritu de Dios mora en vosotros?

Don't you know that you yourselves are God's temple and that God's Spirit dwells in your midst?

Porque el ocuparse de la carne es muerte, pero el ocuparse del Espíritu es vida y paz.

The mind governed by the flesh is death, but the mind governed by the Spirit is life and peace.

Y la esperanza no avergüenza; porque el amor de Dios ha sido derramado en nuestros corazones por el Espíritu Santo que nos fue dado.

And hope does not put us to shame, because God's love has been poured out into our hearts through the Holy Spirit, who has been given to us.

El Espíritu mismo da testimonio a nuestro espíritu, de que somos hijos de Dios.

The Spirit himself testifies with our spirit that we are God's children.

Porque el deseo de la carne es contra el Espíritu, y el del Espíritu es contra la carne; y éstos se oponen entre sí, para que no hagáis lo que quisiereis.

For the flesh desires what is contrary to the Spirit, and the Spirit what is contrary to the flesh. They are in conflict with each other, so that you are not to do whatever you want.

Pero recibiréis poder, cuando haya venido sobre vosotros el Espíritu Santo, y me seréis testigos en Jerusalén, en toda Judea, en Samaria, y hasta lo último de la tierra.

But you will receive power when the Holy Spirit comes on you; and you will be my witnesses in Jerusalem, and in all Judea and Samaria, and to the ends of the earth.

Por tanto, nosotros todos, mirando a cara descubierta como en un espejo la gloria del Señor, somos transformados de gloria en gloria en la misma imagen, como por el Espíritu del Señor.

And we all, who with unveiled faces contemplate the Lord's glory, are being transformed into his image with ever-increasing glory, which comes from the Lord, who is the Spirit.

En el principio creó Dios los cielos y la tierra. Y la tierra estaba desordenada y vacía, y las tinieblas estaban sobre la faz del abismo, y el Espíritu de Dios se movía sobre la faz de las aguas.

In the beginning God created the heavens and the earth. Now the earth was formless and empty, darkness was over the surface of the deep, and the Spirit of God was hovering over the waters.
Jehová es mi pastor; nada me faltará.
En lugares de delicados pastos me hará descansar;
Junto a aguas de reposo me pastoreará.
Y yo les doy vida eterna; y no perecerán jamás, ni nadie las arrebatará de mi mano. Mi Padre que me las dio, es mayor que todos, y nadie las puede arrebatar de la mano de mi Padre. Yo y el Padre uno somos.
Jehová es mi pastor; nada me faltará. En lugares de delicados pastos me hará descansar; Junto a aguas de reposo me pastoreará.
Plan de lectura de la Biblia
Registrar y configurar su plan de lectura de la Biblia que desea ver su progreso y el siguiente capítulo para leer aquí!