Versículos de la Biblia sobre la Fiabilidad
«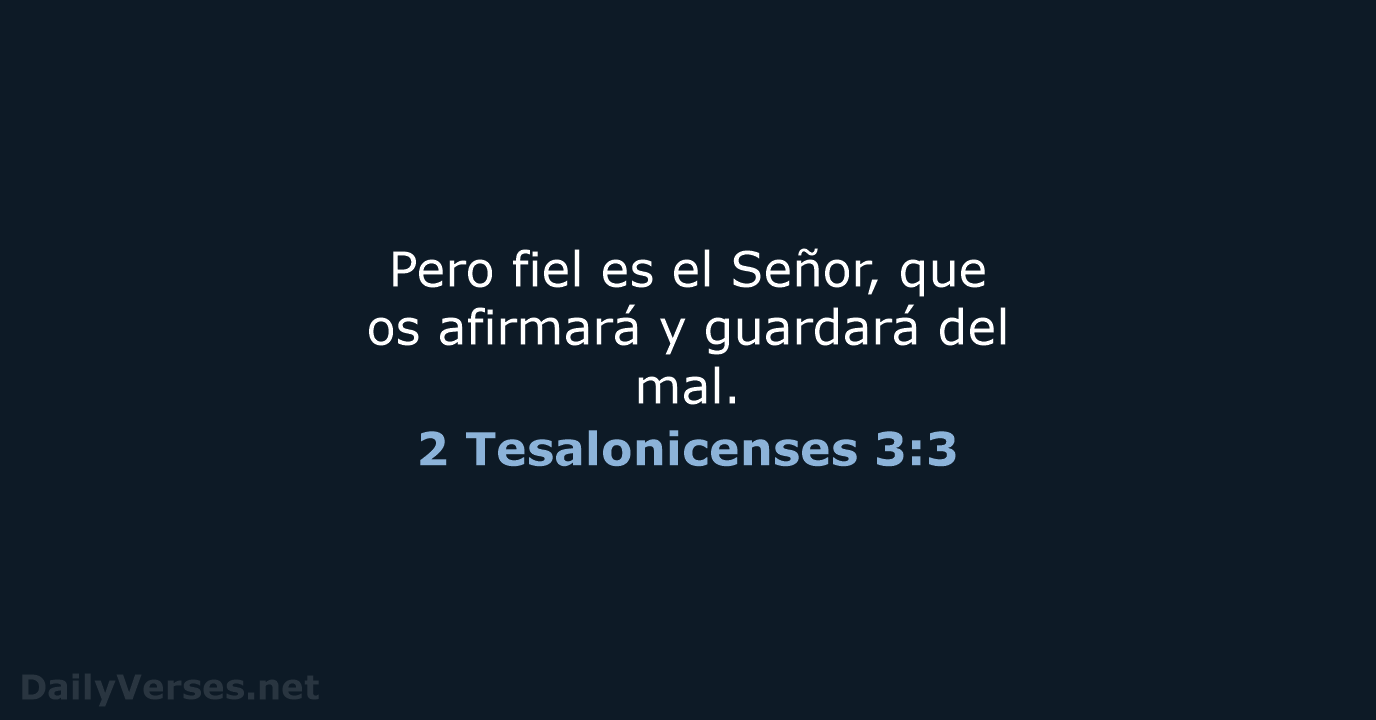 »
Pero fiel es el Señor, que os afirmará y guardará del mal.

But the Lord is faithful. He will establish you and guard you against the evil one.

Conoce, pues, que Jehová tu Dios es Dios, Dios fiel, que guarda el pacto y la misericordia a los que le aman y guardan sus mandamientos, hasta mil generaciones.

Know therefore that the L

ord

your God is God, the faithful God who keeps covenant and steadfast love with those who love him and keep his commandments, to a thousand generations.

Jehová, tú eres mi Dios; te exaltaré, alabaré tu nombre, porque has hecho maravillas; tus consejos antiguos son verdad y firmeza.

O L

ord

, you are my God; I will exalt you; I will praise your name, for you have done wonderful things, plans formed of old, faithful and sure.

Contentamiento es a los hombres hacer misericordia; Pero mejor es el pobre que el mentiroso.

What is desired in a man is steadfast love, and a poor man is better than a liar.

No dará tu pie al resbaladero, Ni se dormirá el que te guarda.

He will not let your foot be moved; he who keeps you will not slumber.

Por la misericordia de Jehová no hemos sido consumidos, porque nunca decayeron sus misericordias. Nuevas son cada mañana; grande es tu fidelidad.

The steadfast love of the L

ord

never ceases; his mercies never come to an end; they are new every morning; great is your faithfulness.

Echa sobre Jehová tu carga, y él te sustentará; No dejará para siempre caído al justo.

Cast your burden on the L

ord

, and he will sustain you; he will never permit the righteous to be moved.

No os ha sobrevenido ninguna tentación que no sea humana; pero fiel es Dios, que no os dejará ser tentados más de lo que podéis resistir, sino que dará también juntamente con la tentación la salida, para que podáis soportar.

No temptation has overtaken you that is not common to man. God is faithful, and he will not let you be tempted beyond your ability, but with the temptation he will also provide the way of escape, that you may be able to endure it.

Y Jehová va delante de ti; él estará contigo, no te dejará, ni te desamparará; no temas ni te intimides.

It is the L

ord

who goes before you. He will be with you; he will not leave you or forsake you. Do not fear or be dismayed.

Cercano está Jehová a todos los que le invocan, A todos los que le invocan de veras.

The L

ord

is near to all who call on him, to all who call on him in truth.

Jehová cumplirá su propósito en mí; Tu misericordia, oh Jehová, es para siempre; No desampares la obra de tus manos.

The L

ord

will fulfill his purpose for me; your steadfast love, O L

ord

, endures forever. Do not forsake the work of your hands.

Aclamad a Jehová, porque él es bueno; Porque su misericordia es eterna.

Oh give thanks to the L

ord

, for he is good; for his steadfast love endures forever!

Y su señor le dijo: Bien, buen siervo y fiel; sobre poco has sido fiel, sobre mucho te pondré; entra en el gozo de tu señor.

His master said to him, 'Well done, good and faithful servant. You have been faithful over a little; I will set you over much. Enter into the joy of your master.'

Pero yo cantaré de tu poder, Y alabaré de mañana tu misericordia; Porque has sido mi amparo Y refugio en el día de mi angustia.

But I will sing of your strength; I will sing aloud of your steadfast love in the morning. For you have been to me a fortress and a refuge in the day of my distress.

La integridad de los rectos los encaminará; Pero destruirá a los pecadores la perversidad de ellos.

The integrity of the upright guides them, but the crookedness of the treacherous destroys them.

El que anda en chismes descubre el secreto; Mas el de espíritu fiel lo guarda todo.

Whoever goes about slandering reveals secrets, but he who is trustworthy in spirit keeps a thing covered.

Mas la misericordia de Jehová es desde la eternidad y hasta la eternidad sobre los que le temen, Y su justicia sobre los hijos de los hijos; Sobre los que guardan su pacto, Y los que se acuerdan de sus mandamientos para ponerlos por obra.

But the steadfast love of the L

ord

is from everlasting to everlasting on those who fear him, and his righteousness to children's children, to those who keep his covenant and remember to do his commandments.

Hasta ahora nada habéis pedido en mi nombre; pedid, y recibiréis, para que vuestro gozo sea cumplido.

Until now you have asked nothing in my name. Ask, and you will receive, that your joy may be full.

He aquí el ojo de Jehová sobre los que le temen, Sobre los que esperan en su misericordia.

Behold, the eye of the L

ord

is on those who fear him, on those who hope in his steadfast love.

Toda buena dádiva y todo don perfecto desciende de lo alto, del Padre de las luces, en el cual no hay mudanza, ni sombra de variación.

Every good gift and every perfect gift is from above, coming down from the Father of lights, with whom there is no variation or shadow due to change.

Fiel es el que os llama, el cual también lo hará.

He who calls you is faithful; he will surely do it.

Yo soy el Alfa y la Omega, principio y fin, dice el Señor, el que es y que era y que ha de venir, el Todopoderoso.

"I am the Alpha and the Omega," says the Lord God, "who is and who was and who is to come, the Almighty."

Porque tú, Señor, eres bueno y perdonador, Y grande en misericordia para con todos los que te invocan.

For you, O Lord, are good and forgiving, abounding in steadfast love to all who call upon you.

Porque sacia al alma menesterosa, Y llena de bien al alma hambrienta.

For he satisfies the longing soul, and the hungry soul he fills with good things.

Porque Jehová ama la rectitud, Y no desampara a sus santos. Para siempre serán guardados; Mas la descendencia de los impíos será destruida.

For the L

ord

loves justice; he will not forsake his saints. They are preserved forever, but the children of the wicked shall be cut off.
Y perdónanos nuestras deudas, como también nosotros perdonamos a nuestros deudores.
Plan de lectura de la Biblia
Registrar y configurar su plan de lectura de la Biblia que desea ver su progreso y el siguiente capítulo para leer aquí!