Versículos de la Biblia sobre el Mal
«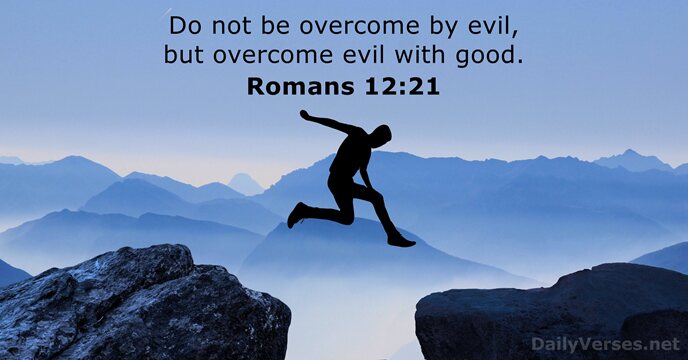 »
No seas vencido de lo malo, sino vence con el bien el mal.

Do not be overcome by evil, but overcome evil with good.

Jehová te guardará de todo mal; El guardará tu alma. Jehová guardará tu salida y tu entrada Desde ahora y para siempre.

The L

ord

will keep you from all harm— he will watch over your life; the L

ord

will watch over your coming and going both now and forevermore.

Vestíos de toda la armadura de Dios, para que podáis estar firmes contra las asechanzas del diablo.

Put on the full armor of God, so that you can take your stand against the devil's schemes.

Mas os ruego, hermanos, que os fijéis en los que causan divisiones y tropiezos en contra de la doctrina que vosotros habéis aprendido, y que os apartéis de ellos.

I urge you, brothers and sisters, to watch out for those who cause divisions and put obstacles in your way that are contrary to the teaching you have learned. Keep away from them.

Pero decía, que lo que del hombre sale, eso contamina al hombre. Porque de dentro, del corazón de los hombres, salen los malos pensamientos, los adulterios, las fornicaciones, los homicidios, los hurtos, las avaricias, las maldades, el engaño, la lascivia, la envidia, la maledicencia, la soberbia, la insensatez. Todas estas maldades de dentro salen, y contaminan al hombre.

He went on: "What comes out of a person is what defiles them. For it is from within, out of a person's heart, that evil thoughts come—sexual immorality, theft, murder, adultery, greed, malice, deceit, lewdness, envy, slander, arrogance and folly. All these evils come from inside and defile a person."

Porque no tenemos lucha contra sangre y carne, sino contra principados, contra potestades, contra los gobernadores de las tinieblas de este siglo, contra huestes espirituales de maldad en las regiones celestes.

For our struggle is not against flesh and blood, but against the rulers, against the authorities, against the powers of this dark world and against the spiritual forces of evil in the heavenly realms.

El temor de Jehová es aborrecer el mal; La soberbia y la arrogancia, el mal camino, Y la boca perversa, aborrezco.

To fear the L

ord

is to hate evil; I hate pride and arrogance, evil behavior and perverse speech.

Vosotros pensasteis mal contra mí, mas Dios lo encaminó a bien, para hacer lo que vemos hoy, para mantener en vida a mucho pueblo.

You intended to harm me, but God intended it for good to accomplish what is now being done, the saving of many lives.

Mirad que ninguno pague a otro mal por mal; antes seguid siempre lo bueno unos para con otros, y para con todos.

Make sure that nobody pays back wrong for wrong, but always strive to do what is good for each other and for everyone else.

Airaos, pero no pequéis; no se ponga el sol sobre vuestro enojo, ni deis lugar al diablo.

"In your anger do not sin": Do not let the sun go down while you are still angry, and do not give the devil a foothold.

El amor sea sin fingimiento. Aborreced lo malo, seguid lo bueno.

Love must be sincere. Hate what is evil; cling to what is good.

Examinadlo todo; retened lo bueno. Absteneos de toda especie de mal.

But test them all; hold on to what is good, reject every kind of evil.

No seas sabio en tu propia opinión; Teme a Jehová, y apártate del mal; Porque será medicina a tu cuerpo, Y refrigerio para tus huesos.

Do not be wise in your own eyes; fear the L

ord

and shun evil. This will bring health to your body and nourishment to your bones.

Los que amáis a Jehová, aborreced el mal; El guarda las almas de sus santos; De mano de los impíos los libra.

Let those who love the L

ord

hate evil, for he guards the lives of his faithful ones and delivers them from the hand of the wicked.

El odio despierta rencillas; Pero el amor cubrirá todas las faltas.

Hatred stirs up conflict, but love covers over all wrongs.

No ruego que los quites del mundo, sino que los guardes del mal.

My prayer is not that you take them out of the world but that you protect them from the evil one.

Apártate del mal, y haz el bien; Busca la paz, y síguela.

Turn from evil and do good; seek peace and pursue it.

Así habló Jehová de los ejércitos, diciendo: Juzgad conforme a la verdad, y haced misericordia y piedad cada cual con su hermano; no oprimáis a la viuda, al huérfano, al extranjero ni al pobre; ni ninguno piense mal en su corazón contra su hermano.

This is what the L

ord

Almighty said: 'Administer true justice; show mercy and compassion to one another. Do not oppress the widow or the fatherless, the foreigner or the poor. Do not plot evil against each other.'

Y el Señor me librará de toda obra mala, y me preservará para su reino celestial. A él sea gloria por los siglos de los siglos. Amén.

The Lord will rescue me from every evil attack and will bring me safely to his heavenly kingdom. To him be glory for ever and ever. Amen.

Lavaos y limpiaos; quitad la iniquidad de vuestras obras de delante de mis ojos; dejad de hacer lo malo.

Wash and make yourselves clean. Take your evil deeds out of my sight; stop doing wrong.

La luz en las tinieblas resplandece, y las tinieblas no prevalecieron contra ella.

The light shines in the darkness, and the darkness has not overcome it.

Por lo cual, desechando toda inmundicia y abundancia de malicia, recibid con mansedumbre la palabra implantada, la cual puede salvar vuestras almas.

Therefore, get rid of all moral filth and the evil that is so prevalent and humbly accept the word planted in you, which can save you.

Y no nos metas en tentación, mas líbranos del mal; porque tuyo es el reino, y el poder, y la gloria, por todos los siglos. Amén.

And lead us not into temptation, but deliver us from the evil one.

Ordena mis pasos con tu palabra, Y ninguna iniquidad se enseñoree de mí.

Direct my footsteps according to your word; let no sin rule over me.

Si confesamos nuestros pecados, él es fiel y justo para perdonar nuestros pecados, y limpiarnos de toda maldad.

If we confess our sins, he is faithful and just and will forgive us our sins and purify us from all unrighteousness.
Porque de la manera que abundan en nosotros las aflicciones de Cristo, así abunda también por el mismo Cristo nuestra consolación.
Plan de lectura de la Biblia
Registrar y configurar su plan de lectura de la Biblia que desea ver su progreso y el siguiente capítulo para leer aquí!