Versículos de la Biblia sobre la Oración
«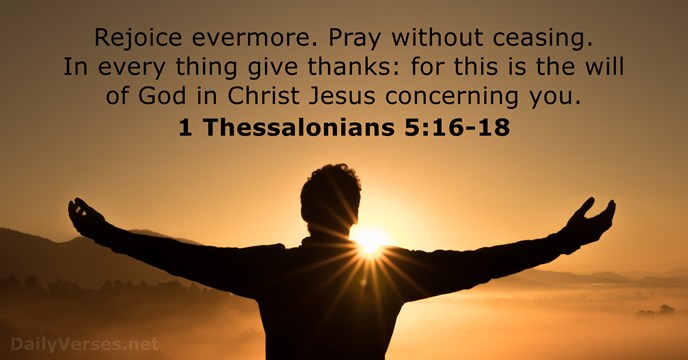 »
Estad siempre gozosos. Orad sin cesar. Dad gracias en todo, porque ésta es la voluntad de Dios para con vosotros en Cristo Jesús.

Rejoice evermore. Pray without ceasing. In every thing give thanks: for this is the will of God in Christ Jesus concerning you.

Por nada estéis angustiados, sino sean conocidas vuestras peticiones delante de Dios en toda oración y ruego, con acción de gracias. Y la paz de Dios, que sobrepasa todo entendimiento, guardará vuestros corazones y vuestros pensamientos en Cristo Jesús.

Be careful for nothing; but in every thing by prayer and supplication with thanksgiving let your requests be made known unto God. And the peace of God, which passeth all understanding, shall keep your hearts and minds through Christ Jesus.

Ésta es la confianza que tenemos en él, que si pedimos alguna cosa conforme a su voluntad, él nos oye.

And this is the confidence that we have in him, that, if we ask any thing according to his will, he heareth us.

Perseverad en la oración, velando en ella con acción de gracias.

Continue in prayer, and watch in the same with thanksgiving.

Por tanto, os digo que todo lo que pidáis orando, creed que lo recibiréis, y os vendrá.

Therefore I say unto you, What things soever ye desire, when ye pray, believe that ye receive them, and ye shall have them.

Entonces me invocaréis. Vendréis y oraréis a mí, y yo os escucharé.

Then shall ye call upon me, and ye shall go and pray unto me, and I will hearken unto you.

Gozosos en la esperanza, sufridos en la tribulación, constantes en la oración.

Rejoicing in hope; patient in tribulation; continuing instant in prayer.

Cercano está Jehová a todos los que lo invocan, a todos los que lo invocan de veras.

The L

ord

is nigh unto all them that call upon him, to all that call upon him in truth.

Clama a mí y yo te responderé, y te enseñaré cosas grandes y ocultas que tú no conoces.

Call unto me, and I will answer thee, and show thee great and mighty things, which thou knowest not.

Y al orar no uséis vanas repeticiones, como los gentiles, que piensan que por su palabrería serán oídos.

But when ye pray, use not vain repetitions, as the heathen do: for they think that they shall be heard for their much speaking.

Porque donde están dos o tres congregados en mi nombre, allí estoy yo en medio de ellos.

For where two or three are gathered together in my name, there am I in the midst of them.

Acerquémonos, pues, confiadamente al trono de la gracia, para alcanzar misericordia y hallar gracia para el oportuno socorro.

Let us therefore come boldly unto the throne of grace, that we may obtain mercy, and find grace to help in time of need.

Pero a medianoche, orando Pablo y Silas, cantaban himnos a Dios; y los presos los oían.

And at midnight Paul and Silas prayed, and sang praises unto God: and the prisoners heard them.

En mi angustia invoqué a Jehová y clamé a mi Dios. Él oyó mi voz desde su Templo y mi clamor llegó hasta sus oídos.

In my distress I called upon the L

ord

, and cried unto my God: he heard my voice out of his temple, and my cry came before him, even into his ears.

Pero tú, cuando ores, entra en tu cuarto, cierra la puerta y ora a tu Padre que está en secreto; y tu Padre, que ve en lo secreto, te recompensará en público.

But thou, when thou prayest, enter into thy closet, and when thou hast shut thy door, pray to thy Father which is in secret; and thy Father which seeth in secret shall reward thee openly.

Y si sabemos que él nos oye en cualquiera cosa que pidamos, sabemos que tenemos las peticiones que le hayamos hecho.

And if we know that he hear us, whatsoever we ask, we know that we have the petitions that we desired of him.

Confesaos vuestras ofensas unos a otros y orad unos por otros, para que seáis sanados. La oración eficaz del justo puede mucho.

Confess your faults one to another, and pray one for another, that ye may be healed. The effectual fervent prayer of a righteous man availeth much.

Pero pida con fe, no dudando nada, porque el que duda es semejante a la onda del mar, que es arrastrada por el viento y echada de una parte a otra.

But let him ask in faith, nothing wavering. For he that wavereth is like a wave of the sea driven with the wind and tossed.

No me elegisteis vosotros a mí, sino que yo os elegí a vosotros y os he puesto para que vayáis y llevéis fruto, y vuestro fruto permanezca; para que todo lo que pidáis al Padre en mi nombre, él os lo dé.

Ye have not chosen me, but I have chosen you, and ordained you, that ye should go and bring forth fruit, and that your fruit should remain: that whatsoever ye shall ask of the Father in my name, he may give it you.

El fin de todas las cosas se acerca; sed, pues, sobrios y velad en oración.

But the end of all things is at hand: be ye therefore sober, and watch unto prayer.

Todo lo que pidáis al Padre en mi nombre, lo haré, para que el Padre sea glorificado en el Hijo.

And whatsoever ye shall ask in my name, that will I do, that the Father may be glorified in the Son.

Todos estos perseveraban unánimes en oración y ruego, con las mujeres, y con María la madre de Jesús, y con sus hermanos.

These all continued with one accord in prayer and supplication, with the women, and Mary the mother of Jesus, and with his brethren.

Pero a vosotros los que oís, os digo: Amad a vuestros enemigos, haced bien a los que os odian; bendecid a los que os maldicen y orad por los que os calumnian.

But I say unto you which hear, Love your enemies, do good to them which hate you, Bless them that curse you, and pray for them which despitefully use you.

A él clamé con mi boca y fue exaltado con mi lengua.

I cried unto him with my mouth, and he was extolled with my tongue.

Codiciáis y no tenéis; matáis y ardéis de envidia y nada podéis alcanzar; combatís y lucháis, pero no tenéis lo que deseáis, porque no pedís.

Ye lust, and have not: ye kill, and desire to have, and cannot obtain: ye fight and war, yet ye have not, because ye ask not.
El que guarda su boca guarda su vida, pero el que mucho abre sus labios acaba en desastre.
Plan de lectura de la Biblia
Registrar y configurar su plan de lectura de la Biblia que desea ver su progreso y el siguiente capítulo para leer aquí!