Versículos de la Biblia acerca de Seguir
«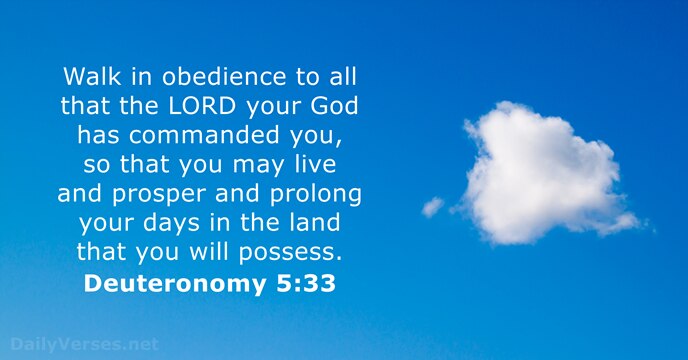 »
Andad en todo el camino que Jehová vuestro Dios os ha mandado, para que viváis y os vaya bien, y tengáis largos días en la tierra que habéis de poseer.

Walk in obedience to all that the L

ord

your God has commanded you, so that you may live and prosper and prolong your days in the land that you will possess.

Y Jehová va delante de ti; él estará contigo, no te dejará, ni te desamparará; no temas ni te intimides.

The L

ord

himself goes before you and will be with you; he will never leave you nor forsake you. Do not be afraid; do not be discouraged.

Ordena mis pasos con tu palabra, Y ninguna iniquidad se enseñoree de mí.

Direct my footsteps according to your word; let no sin rule over me.

Otra vez Jesús les habló, diciendo: Yo soy la luz del mundo; el que me sigue, no andará en tinieblas, sino que tendrá la luz de la vida.

When Jesus spoke again to the people, he said, "I am the light of the world. Whoever follows me will never walk in darkness, but will have the light of life."

Y el Señor encamine vuestros corazones al amor de Dios, y a la paciencia de Cristo.

May the Lord direct your hearts into God's love and Christ's perseverance.

En pos de Jehová vuestro Dios andaréis; a él temeréis, guardaréis sus mandamientos y escucharéis su voz, a él serviréis, y a él seguiréis.

It is the L

ord

your God you must follow, and him you must revere. Keep his commands and obey him; serve him and hold fast to him.

Y el que no toma su cruz y sigue en pos de mí, no es digno de mí.

Whoever does not take up their cross and follow me is not worthy of me.

Y llamando a la gente y a sus discípulos, les dijo: Si alguno quiere venir en pos de mí, niéguese a sí mismo, y tome su cruz, y sígame.

Then he called the crowd to him along with his disciples and said: "Whoever wants to be my disciple must deny themselves and take up their cross and follow me."

Si vivimos por el Espíritu, andemos también por el Espíritu.

Since we live by the Spirit, let us keep in step with the Spirit.

Si alguno me sirve, sígame; y donde yo estuviere, allí también estará mi servidor. Si alguno me sirviere, mi Padre le honrará.

Whoever serves me must follow me; and where I am, my servant also will be. My Father will honor the one who serves me.

Sed, pues, imitadores de Dios como hijos amados.

Follow God's example, therefore, as dearly loved children.

Bienaventurado todo aquel que teme a Jehová, Que anda en sus caminos.

Blessed are all who fear the L

ord

, who walk in obedience to him.

Pues para esto fuisteis llamados; porque también Cristo padeció por nosotros, dejándonos ejemplo, para que sigáis sus pisadas.

To this you were called, because Christ suffered for you, leaving you an example, that you should follow in his steps.

Por Jehová son ordenados los pasos del hombre, Y él aprueba su camino.

The L

ord

makes firm the steps of the one who delights in him.

Porque somos hechura suya, creados en Cristo Jesús para buenas obras, las cuales Dios preparó de antemano para que anduviésemos en ellas.

For we are God's handiwork, created in Christ Jesus to do good works, which God prepared in advance for us to do.

Y todo lo que hacéis, sea de palabra o de hecho, hacedlo todo en el nombre del Señor Jesús, dando gracias a Dios Padre por medio de él.

And whatever you do, whether in word or deed, do it all in the name of the Lord Jesus, giving thanks to God the Father through him.

Dijo entonces Jesús a los judíos que habían creído en él: Si vosotros permaneciereis en mi palabra, seréis verdaderamente mis discípulos; y conoceréis la verdad, y la verdad os hará libres.

To the Jews who had believed him, Jesus said, "If you hold to my teaching, you are really my disciples. Then you will know the truth, and the truth will set you free."

Jesús le dijo: Si quieres ser perfecto, anda, vende lo que tienes, y dalo a los pobres, y tendrás tesoro en el cielo; y ven y sígueme.

Jesus answered, "If you want to be perfect, go, sell your possessions and give to the poor, and you will have treasure in heaven. Then come, follow me."

No te desvíes a la derecha ni a la izquierda; Aparta tu pie del mal.

Do not turn to the right or the left; keep your foot from evil.

Así también la fe, si no tiene obras, es muerta en sí misma.

In the same way, faith by itself, if it is not accompanied by action, is dead.

Y si mal os parece servir a Jehová, escogeos hoy a quién sirváis; si a los dioses a quienes sirvieron vuestros padres, cuando estuvieron al otro lado del río, o a los dioses de los amorreos en cuya tierra habitáis; pero yo y mi casa serviremos a Jehová.

But if serving the L

ord

seems undesirable to you, then choose for yourselves this day whom you will serve, whether the gods your ancestors served beyond the Euphrates, or the gods of the Amorites, in whose land you are living. But as for me and my household, we will serve the L

ord

.

En esto conocerán todos que sois mis discípulos, si tuviereis amor los unos con los otros.

By this everyone will know that you are my disciples, if you love one another.

Y el Dios de paz que resucitó de los muertos a nuestro Señor Jesucristo, el gran pastor de las ovejas, por la sangre del pacto eterno, os haga aptos en toda obra buena para que hagáis su voluntad, haciendo él en vosotros lo que es agradable delante de él por Jesucristo; al cual sea la gloria por los siglos de los siglos. Amén.

Now may the God of peace, who through the blood of the eternal covenant brought back from the dead our Lord Jesus, that great Shepherd of the sheep, equip you with everything good for doing his will, and may he work in us what is pleasing to him, through Jesus Christ, to whom be glory for ever and ever. Amen.

En esto es glorificado mi Padre, en que llevéis mucho fruto, y seáis así mis discípulos.

This is to my Father's glory, that you bear much fruit, showing yourselves to be my disciples.

Me apresuré y no me retardé En guardar tus mandamientos.

I will hasten and not delay to obey your commands.
El que no ama, no ha conocido a Dios; porque Dios es amor.
Plan de lectura de la Biblia
Registrar y configurar su plan de lectura de la Biblia que desea ver su progreso y el siguiente capítulo para leer aquí!