Versículos de la Biblia sobre el Sufrimiento
«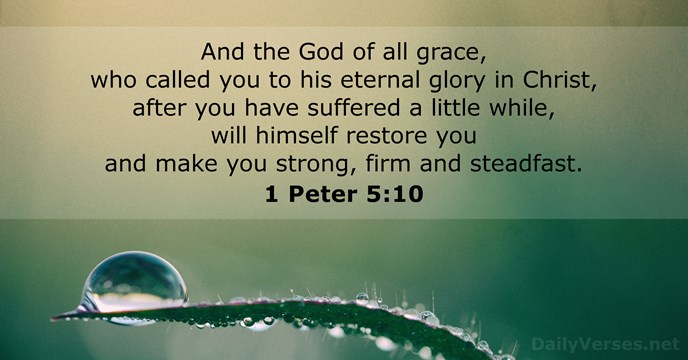 »
Mas el Dios de toda gracia, que nos llamó a su gloria eterna en Jesucristo, después que hayáis padecido un poco de tiempo, él mismo os perfeccione, afirme, fortalezca y establezca.

And the God of all grace, who called you to his eternal glory in Christ, after you have suffered a little while, will himself restore you and make you strong, firm and steadfast.

Y no sólo esto, sino que también nos gloriamos en las tribulaciones, sabiendo que la tribulación produce paciencia; y la paciencia, prueba; y la prueba, esperanza.

Not only so, but we also glory in our sufferings, because we know that suffering produces perseverance; perseverance, character; and character, hope.

Bendito sea el Dios y Padre de nuestro Señor Jesucristo, Padre de misericordias y Dios de toda consolación, el cual nos consuela en todas nuestras tribulaciones, para que podamos también nosotros consolar a los que están en cualquier tribulación, por medio de la consolación con que nosotros somos consolados por Dios.

Praise be to the God and Father of our Lord Jesus Christ, the Father of compassion and the God of all comfort, who comforts us in all our troubles, so that we can comfort those in any trouble with the comfort we ourselves receive from God.

Pues tengo por cierto que las aflicciones del tiempo presente no son comparables con la gloria venidera que en nosotros ha de manifestarse.

I consider that our present sufferings are not worth comparing with the glory that will be revealed in us.

Muchas son las aflicciones del justo, Pero de todas ellas le librará Jehová.

The righteous person may have many troubles, but the L

ord

delivers him from them all.

Porque esta leve tribulación momentánea produce en nosotros un cada vez más excelente y eterno peso de gloria.

For our light and momentary troubles are achieving for us an eternal glory that far outweighs them all.

¿Quién nos separará del amor de Cristo? ¿Tribulación, o angustia, o persecución, o hambre, o desnudez, o peligro, o espada?

Who shall separate us from the love of Christ? Shall trouble or hardship or persecution or famine or nakedness or danger or sword?

Puesto que Cristo ha padecido por nosotros en la carne, vosotros también armaos del mismo pensamiento; pues quien ha padecido en la carne, terminó con el pecado.

Therefore, since Christ suffered in his body, arm yourselves also with the same attitude, because whoever suffers in the body is done with sin.

Mas también si alguna cosa padecéis por causa de la justicia, bienaventurados sois. Por tanto, no os amedrentéis por temor de ellos, ni os conturbéis.

But even if you should suffer for what is right, you are blessed. "Do not fear their threats; do not be frightened."

Porque a vosotros os es concedido a causa de Cristo, no sólo que creáis en él, sino también que padezcáis por él.

For it has been granted to you on behalf of Christ not only to believe in him, but also to suffer for him.

Sobrellevad los unos las cargas de los otros, y cumplid así la ley de Cristo.

Carry each other's burdens, and in this way you will fulfill the law of Christ.

Despreciado y desechado entre los hombres, varón de dolores, experimentado en quebranto; y como que escondimos de él el rostro, fue menospreciado, y no lo estimamos.

He was despised and rejected by mankind, a man of suffering, and familiar with pain. Like one from whom people hide their faces he was despised, and we held him in low esteem.

Ciertamente llevó él nuestras enfermedades, y sufrió nuestros dolores; y nosotros le tuvimos por azotado, por herido de Dios y abatido.

Surely he took up our pain and bore our suffering, yet we considered him punished by God, stricken by him, and afflicted.

Y el que no toma su cruz y sigue en pos de mí, no es digno de mí.

Whoever does not take up their cross and follow me is not worthy of me.

A fin de conocerle, y el poder de su resurrección, y la participación de sus padecimientos, llegando a ser semejante a él en su muerte.

I want to know Christ—yes, to know the power of his resurrection and participation in his sufferings, becoming like him in his death.

Pues para esto fuisteis llamados; porque también Cristo padeció por nosotros, dejándonos ejemplo, para que sigáis sus pisadas.

To this you were called, because Christ suffered for you, leaving you an example, that you should follow in his steps.

Porque de la manera que abundan en nosotros las aflicciones de Cristo, así abunda también por el mismo Cristo nuestra consolación.

For just as we share abundantly in the sufferings of Christ, so also our comfort abounds through Christ.

Entonces Job se levantó, y rasgó su manto, y rasuró su cabeza, y se postró en tierra y adoró, y dijo: Desnudo salí del vientre de mi madre, y desnudo volveré allá. Jehová dio, y Jehová quitó; sea el nombre de Jehová bendito.

At this, Job got up and tore his robe and shaved his head. Then he fell to the ground in worship and said: "Naked I came from my mother's womb, and naked I will depart. The L

ord

gave and the L

ord

has taken away; may the name of the L

ord

be praised."

El que halla su vida, la perderá; y el que pierde su vida por causa de mí, la hallará.

Whoever finds their life will lose it, and whoever loses their life for my sake will find it.

Y te afligió, y te hizo tener hambre, y te sustentó con maná, comida que no conocías tú, ni tus padres la habían conocido, para hacerte saber que no sólo de pan vivirá el hombre, mas de todo lo que sale de la boca de Jehová vivirá el hombre.

He humbled you, causing you to hunger and then feeding you with manna, which neither you nor your ancestors had known, to teach you that man does not live on bread alone but on every word that comes from the mouth of the L

ord

.

Y desnudándole, le echaron encima un manto de escarlata, y pusieron sobre su cabeza una corona tejida de espinas, y una caña en su mano derecha; e hincando la rodilla delante de él, le escarnecían, diciendo: !!Salve, Rey de los judíos!

They stripped him and put a scarlet robe on him, and then twisted together a crown of thorns and set it on his head. They put a staff in his right hand. Then they knelt in front of him and mocked him. "Hail, king of the Jews!" they said.

Y si repartiese todos mis bienes para dar de comer a los pobres, y si entregase mi cuerpo para ser quemado, y no tengo amor, de nada me sirve.

If I give all I possess to the poor and give over my body to hardship that I may boast, but do not have love, I gain nothing.

He aquí, bienaventurado es el hombre a quien Dios castiga; Por tanto, no menosprecies la corrección del Todopoderoso.

Blessed is the one whom God corrects; so do not despise the discipline of the Almighty.

Y en el Hades alzó sus ojos, estando en tormentos, y vio de lejos a Abraham, y a Lázaro en su seno. Entonces él, dando voces, dijo: Padre Abraham, ten misericordia de mí, y envía a Lázaro para que moje la punta de su dedo en agua, y refresque mi lengua; porque estoy atormentado en esta llama.

In Hades, where he was in torment, he looked up and saw Abraham far away, with Lazarus by his side. So he called to him, 'Father Abraham, have pity on me and send Lazarus to dip the tip of his finger in water and cool my tongue, because I am in agony in this fire.'

Pero habiendo obtenido auxilio de Dios, persevero hasta el día de hoy, dando testimonio a pequeños y a grandes, no diciendo nada fuera de las cosas que los profetas y Moisés dijeron que habían de suceder: Que el Cristo había de padecer, y ser el primero de la resurrección de los muertos, para anunciar luz al pueblo y a los gentiles.

But God has helped me to this very day; so I stand here and testify to small and great alike. I am saying nothing beyond what the prophets and Moses said would happen— that the Messiah would suffer and, as the first to rise from the dead, would bring the message of light to his own people and to the Gentiles.
Honra a las viudas que en verdad lo son.
Plan de lectura de la Biblia
Registrar y configurar su plan de lectura de la Biblia que desea ver su progreso y el siguiente capítulo para leer aquí!