Versetti della Bibbia sulla Pace
«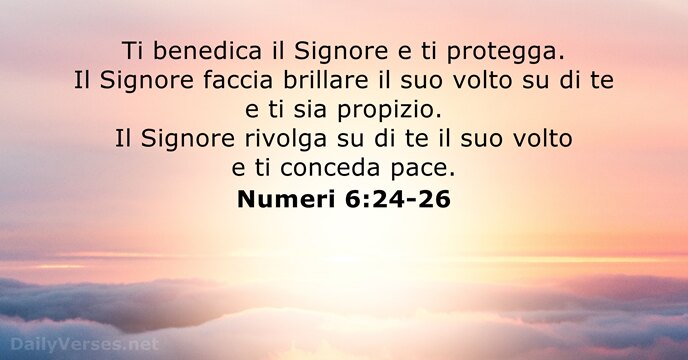 »
Ti benedica il Signore e ti protegga. Il Signore faccia brillare il suo volto su di te e ti sia propizio. Il Signore rivolga su di te il suo volto e ti conceda pace.

The L

ord

bless you and keep you; the L

ord

make his face to shine upon you and be gracious to you; the L

ord

lift up his countenance upon you and give you peace.

Vi ho detto queste cose perché abbiate pace in me. Voi avrete tribolazione nel mondo, ma abbiate fiducia; io ho vinto il mondo!

I have said these things to you, that in me you may have peace. In the world you will have tribulation. But take heart; I have overcome the world.

Vi lascio la pace, vi do la mia pace. Non come la dà il mondo, io la do a voi. Non sia turbato il vostro cuore e non abbia timore.

Peace I leave with you; my peace I give to you. Not as the world gives do I give to you. Let not your hearts be troubled, neither let them be afraid.

Non angustiatevi per nulla, ma in ogni necessità esponete a Dio le vostre richieste, con preghiere, suppliche e ringraziamenti; e la pace di Dio, che sorpassa ogni intelligenza, custodirà i vostri cuori e i vostri pensieri in Cristo Gesù.

Do not be anxious about anything, but in everything by prayer and supplication with thanksgiving let your requests be made known to God. And the peace of God, which surpasses all understanding, will guard your hearts and your minds in Christ Jesus.

Beati gli operatori di pace, perché saranno chiamati figli di Dio.

Blessed are the peacemakers, for they shall be called sons of God.

Infatti: Chi vuole amare la vita e vedere giorni felici, trattenga la sua lingua dal male e le sue labbra da parole d'inganno; eviti il male e faccia il bene, cerchi la pace e la segua.

For "Whoever desires to love life and see good days, let him keep his tongue from evil and his lips from speaking deceit; let him turn away from evil and do good; let him seek peace and pursue it."

Il Signore della pace vi dia egli stesso la pace sempre e in ogni modo. Il Signore sia con tutti voi.

Now may the Lord of peace himself give you peace at all times in every way. The Lord be with you all.

In pace mi corico e subito mi addormento: tu solo, Signore, al sicuro mi fai riposare.

In peace I will both lie down and sleep; for you alone, O L

ord

, make me dwell in safety.

Il suo animo è saldo; tu gli assicurerai la pace, pace perché in te ha fiducia.

You keep him in perfect peace whose mind is stayed on you, because he trusts in you.

E la pace di Cristo regni nei vostri cuori, perché ad essa siete stati chiamati in un solo corpo. E siate riconoscenti!

And let the peace of Christ rule in your hearts, to which indeed you were called in one body. And be thankful.

Sopportandovi a vicenda e perdonandovi scambievolmente, se qualcuno abbia di che lamentarsi nei riguardi degli altri. Come il Signore vi ha perdonato, così fate anche voi.

Bearing with one another and, if one has a complaint against another, forgiving each other; as the Lord has forgiven you, so you also must forgive.

Misericordia a voi e pace e carità in abbondanza.

May mercy, peace, and love be multiplied to you.

Il paziente val più di un eroe, chi domina se stesso val più di chi conquista una città.

Whoever is slow to anger is better than the mighty, and he who rules his spirit than he who takes a city.

Un frutto di giustizia viene seminato nella pace per coloro che fanno opera di pace.

And a harvest of righteousness is sown in peace by those who make peace.

Stà lontano dal male e fà il bene, cerca la pace e perseguila.

Turn away from evil and do good; seek peace and pursue it.

Cercate la pace con tutti e la santificazione, senza la quale nessuno vedrà mai il Signore.

Strive for peace with everyone, and for the holiness without which no one will see the Lord.

Cercando di conservare l'unità dello spirito per mezzo del vincolo della pace.

Eager to maintain the unity of the Spirit in the bond of peace.

Grande pace per chi ama la tua legge, nel suo cammino non trova inciampo.

Great peace have those who love your law; nothing can make them stumble.

La sapienza che viene dall'alto invece è anzitutto pura; poi pacifica, mite, arrendevole, piena di misericordia e di buoni frutti, senza parzialità, senza ipocrisia.

But the wisdom from above is first pure, then peaceable, gentle, open to reason, full of mercy and good fruits, impartial and sincere.

Fermatevi e sappiate che io sono Dio, eccelso tra le genti, eccelso sulla terra.

Be still, and know that I am God. I will be exalted among the nations, I will be exalted in the earth!

Ciò che avete imparato, ricevuto, ascoltato e veduto in me, è quello che dovete fare. E il Dio della pace sarà con voi!

What you have learned and received and heard and seen in me—practice these things, and the God of peace will be with you.

Come sono belli sui monti i piedi del messaggero di lieti annunzi che annunzia la pace, messaggero di bene che annunzia la salvezza, che dice a Sion: «Regna il tuo Dio».

How beautiful upon the mountains are the feet of him who brings good news, who publishes peace, who brings good news of happiness, who publishes salvation, who says to Zion, "Your God reigns."

Ma i desideri della carne portano alla morte, mentre i desideri dello Spirito portano alla vita e alla pace.

For to set the mind on the flesh is death, but to set the mind on the Spirit is life and peace.

E' una gloria per l'uomo astenersi dalle contese, attaccar briga è proprio degli stolti.

It is an honor for a man to keep aloof from strife, but every fool will be quarreling.

Certo, ogni correzione, sul momento, non sembra causa di gioia, ma di tristezza; dopo però arreca un frutto di pace e di giustizia a quelli che per suo mezzo sono stati addestrati.

For the moment all discipline seems painful rather than pleasant, but later it yields the peaceful fruit of righteousness to those who have been trained by it.
La vostra condotta sia senza avarizia; accontentatevi di quello che avete, perché Dio stesso ha detto: Non ti lascerò e non ti abbandonerò.
Piano di lettura personale della Bibbia
Crea un account per configurare il tuo piano di lettura della Bibbia, potrai vedere i tuoi progressi e il prossimo capitolo da leggere qui!
Consigliati