«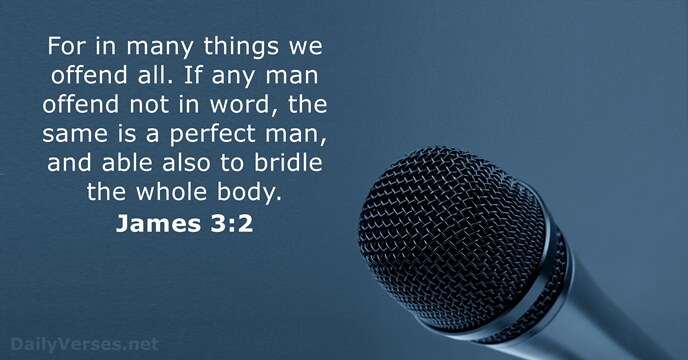 »
| | |
| --- | --- |
| For in many things we offend all. If any man offend not in word, the same is a perfect man, and able also to bridle the whole body. | فَإِنَّنَا جَمِيعاً مُعَرَّضُونَ لِلْوُقُوعِ فِي أَخْطَاءَ كَثِيرَةٍ. وَلَكِنَّ مَنْ يُلْجِمُ لِسَانَهُ وَلا يُخْطِئُ فِي كَلامِهِ هُوَ نَاضِجٌ يَقْدِرُ أَنْ يُسَيْطِرَ عَلَى طَبِيعَتِهِ سَيْطَرَةً تَامَّةً. |
| Out of the same mouth proceedeth blessing and cursing. My brethren, these things ought not so to be. | وَهكَذَا، تَخْرُجُ الْبَرَكَاتُ وَاللَّعَنَاتُ مِنَ الْفَمِ الْوَاحِدِ. وَهَذَا، يَا إِخْوَتِي، يَجِبُ أَلا يَحْدُثَ أَبَداً! |
| Who is a wise man and endued with knowledge among you? let him shew out of a good conversation his works with meekness of wisdom. | أَبَيْنَكُمْ بَعْضُ الْحُكَمَاءِ وَالْفُهَمَاءِ؟ إِذَنْ، عَلَى هؤُلاءِ أَنْ يَسْلُكُوا سُلُوكاً حَسَناً، مُظْهِرِينَ بِأَعْمَالِهِمْ تِلْكَ الْوَدَاعَةَ الَّتِي تَتَّصِفُ بِها الْحِكْمَةُ. |
| For where envying and strife is, there is confusion and every evil work. | فَحَيْثُ تَكُونُ مَرَارَةُ الْحَسَدِ وَالتَّحَزُّبُ، يَنْتَشِرُ الْخِلافُ وَالْفَوْضَى وَجَمِيعُ الشُّرُورِ. |
| But the wisdom that is from above is first pure, then peaceable, gentle, and easy to be intreated, full of mercy and good fruits, without partiality, and without hypocrisy. | أَمَّا الْحِكْمَةُ النَّازِلَةُ مِنْ عِنْدِ اللهِ، فَهِيَ نَقِيَّةٌ طَاهِرَةٌ، قَبْلَ كُلِّ شَيْءٍ. وَهِيَ أَيْضاً تَدْفَعُ صَاحِبَهَا إِلَى الْمُسَالَمَةِ وَالتَّرَفُّقِ. كَمَا أَنَّهَا مُطَاوِعَةٌ، مَمْلُوءَةٌ بِالرَّحْمَةِ وَالأَعْمَالِ الصَّالِحَةِ، مُسْتَقِيمَةٌ: لَا تُمَيِّزُ وَلا تَنْحَازُ وَلا تُنَافِقُ. |
| And the fruit of righteousness is sown in peace of them that make peace. | وَالْبِرُّ هُوَ ثَمَرَةُ مَا يَزْرَعُهُ فِي سَلامٍ صَانِعُو السَّلامِ. |
I stretch forth my hands unto thee:
my soul thirsteth after thee, as a thirsty land. Selah
He healeth the broken in heart,
and bindeth up their wounds.
Read more
I stretch forth my hands unto thee: my soul thirsteth after thee, as a thirsty land. Selah
Personal Bible reading plan
Create an account to configure your Bible reading plan and you will see your progress and the next chapter to read here!
Read more...