Bible Verses about Miracles
«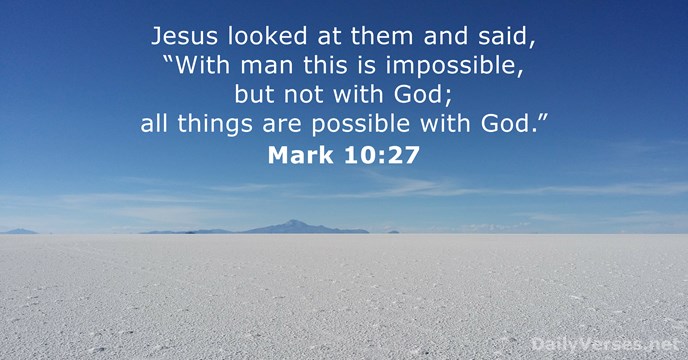 »
Jesus looked at them and said, "With man this is impossible, but not with God; all things are possible with God."

Entonces Jesús, mirándolos, dijo: —Para los hombres es imposible, pero no para Dios, porque todas las cosas son posibles para Dios.

"'If you can'?" said Jesus. "Everything is possible for one who believes."

Jesús le dijo: —Si puedes creer, al que cree todo le es posible.

Jesus replied, "What is impossible with man is possible with God."

Él les dijo: —Lo que es imposible para los hombres, es posible para Dios.

I am the L

ord

, the God of all mankind. Is anything too hard for me?

Yo soy Jehová, Dios de todo ser viviente, ¿acaso hay algo que sea difícil para mí?

Hearing this, Jesus said to Jairus, "Don't be afraid; just believe, and she will be healed."

Oyéndolo Jesús, le respondió: —No temas; cree solamente y será salva.

For no word from God will ever fail.

Pues nada hay imposible para Dios.

For you created my inmost being; you knit me together in my mother's womb. I praise you because I am fearfully and wonderfully made; your works are wonderful, I know that full well.

Tú formaste mis entrañas; me hiciste en el vientre de mi madre. Te alabaré, porque formidables y maravillosas son tus obras; estoy maravillado y mi alma lo sabe muy bien.

Jesus looked at them and said, "With man this is impossible, but with God all things are possible."

Mirándolos Jesús, les dijo: —Para los hombres esto es imposible, pero para Dios todo es posible.

He replied, "Because you have so little faith. Truly I tell you, if you have faith as small as a mustard seed, you can say to this mountain, 'Move from here to there,' and it will move. Nothing will be impossible for you."

Jesús les dijo: —Por vuestra poca fe. De cierto os digo que si tenéis fe como un grano de mostaza, diréis a este monte: "Pásate de aquí allá", y se pasará; y nada os será imposible.

Taking the five loaves and the two fish and looking up to heaven, he gave thanks and broke them. Then he gave them to the disciples to distribute to the people. They all ate and were satisfied, and the disciples picked up twelve basketfuls of broken pieces that were left over.

Y tomando los cinco panes y los dos peces, levantó los ojos al cielo, los bendijo, los partió y dio a sus discípulos para que los pusieran delante de la gente. Comieron todos y se saciaron; y recogieron lo que les sobró: doce cestas de pedazos.

On a Sabbath Jesus was teaching in one of the synagogues, and a woman was there who had been crippled by a spirit for eighteen years. She was bent over and could not straighten up at all. When Jesus saw her, he called her forward and said to her, "Woman, you are set free from your infirmity." Then he put his hands on her, and immediately she straightened up and praised God. Indignant because Jesus had healed on the Sabbath, the synagogue leader said to the people, "There are six days for work. So come and be healed on those days, not on the Sabbath." The Lord answered him, "You hypocrites! Doesn't each of you on the Sabbath untie your ox or donkey from the stall and lead it out to give it water? Then should not this woman, a daughter of Abraham, whom Satan has kept bound for eighteen long years, be set free on the Sabbath day from what bound her?" When he said this, all his opponents were humiliated, but the people were delighted with all the wonderful things he was doing.

Enseñaba Jesús en una sinagoga en sábado, y había allí una mujer que desde hacía dieciocho años tenía espíritu de enfermedad, y andaba encorvada y en ninguna manera se podía enderezar. Cuando Jesús la vio, la llamó y le dijo: —Mujer, eres libre de tu enfermedad. Puso las manos sobre ella, y ella se enderezó al momento y glorificaba a Dios. Pero el alto dignatario de la sinagoga, enojado de que Jesús hubiera sanado en sábado, dijo a la gente: —Seis días hay en que se debe trabajar; en estos, pues, venid y sed sanados, y no en sábado. Entonces el Señor le respondió y dijo: —¡Hipócrita!, ¿no desatáis vosotros vuestro buey o vuestro asno del pesebre y lo lleváis a beber en sábado? Y a esta hija de Abraham, que Satanás había atado dieciocho años, ¿no se le debía desatar de esta ligadura en sábado? Al decir él estas cosas, se avergonzaban todos sus adversarios; pero todo el pueblo se regocijaba por todas las cosas gloriosas hechas por él.

I will give thanks to you, L

ord

, with all my heart; I will tell of all your wonderful deeds.

Te alabaré, Jehová, con todo mi corazón. Contaré todas tus maravillas.

Jesus replied, "Truly I tell you, if you have faith and do not doubt, not only can you do what was done to the fig tree, but also you can say to this mountain, 'Go, throw yourself into the sea,' and it will be done."

Respondiendo Jesús, les dijo: —De cierto os digo que si tenéis fe y no dudáis, no sólo haréis esto de la higuera, sino que si a este monte le decís: "¡Quítate y arrójate al mar!", será hecho.

But when they saw him walking on the lake, they thought he was a ghost. They cried out, because they all saw him and were terrified. Immediately he spoke to them and said, "Take courage! It is I. Don't be afraid."

Viéndolo ellos andar sobre el mar, pensaron que era un fantasma y gritaron, porque todos lo veían, y se asustaron. Pero en seguida habló con ellos, y les dijo: —¡Tened ánimo! Soy yo, no temáis.

I fell to the ground and heard a voice say to me, 'Saul! Saul! Why do you persecute me?'

Caí al suelo y oí una voz que me decía: "Saulo, Saulo, ¿por qué me persigues?"

After he said this, he was taken up before their very eyes, and a cloud hid him from their sight.

Y habiendo dicho estas cosas, viéndolo ellos, fue alzado, y lo recibió una nube que lo ocultó de sus ojos.

After they prayed, the place where they were meeting was shaken. And they were all filled with the Holy Spirit and spoke the word of God boldly.

Cuando terminaron de orar, el lugar en que estaban congregados tembló; y todos fueron llenos del Espíritu Santo y hablaban con valentía la palabra de Dios.

Therefore the Lord himself will give you a sign: The virgin will conceive and give birth to a son, and will call him Immanuel.

Por tanto, el Señor mismo os dará señal: La virgen concebirá y dará a luz un hijo, y le pondrá por nombre Emanuel.

Finally the other disciple, who had reached the tomb first, also went inside. He saw and believed. (They still did not understand from Scripture that Jesus had to rise from the dead.)

Entonces entró también el otro discípulo que había venido primero al sepulcro; y vio, y creyó, pues aún no habían entendido la Escritura: que era necesario que él resucitara de los muertos.

All this took place to fulfill what the Lord had said through the prophet: "The virgin will conceive and give birth to a son, and they will call him Immanuel" (which means "God with us").

Todo esto aconteció para que se cumpliera lo que dijo el Señor por medio del profeta: «Una virgen concebirá y dará a luz un hijo y le pondrás por nombre Emanuel» (que significa: «Dios con nosotros»).

This is how the birth of Jesus the Messiah came about: His mother Mary was pledged to be married to Joseph, but before they came together, she was found to be pregnant through the Holy Spirit.

El nacimiento de Jesucristo fue así: Estando comprometida María, su madre, con José, antes que vivieran juntos se halló que había concebido del Espíritu Santo.
For the entire law is fulfilled in keeping this one command: "Love your neighbor as yourself."
Personal Bible reading plan
Create an account to configure your Bible reading plan and you will see your progress and the next chapter to read here!
Read more...