<
2 Koningen 20 - NBV & NKJV
Lees dit hoofdstuk online, klik
hier
om het hoofdstuk te lezen.
Bijbelteksten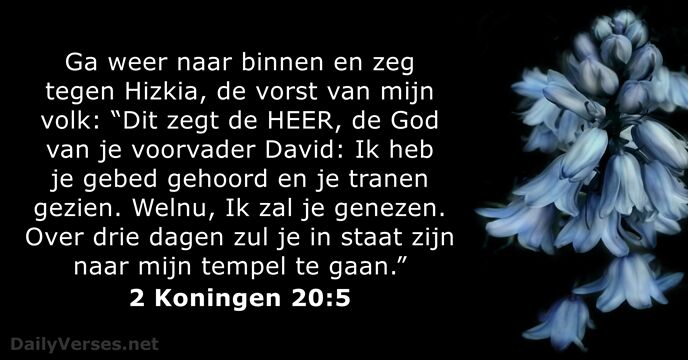 Ga weer naar binnen en zeg tegen Hizkia, de vorst van mijn volk: "Dit zegt de

HEER

, de God van je voorvader David: Ik heb je gebed gehoord en je tranen gezien. Welnu, ik zal je genezen. Over drie dagen zul je in staat zijn naar mijn tempel te gaan."
Return and tell Hezekiah the leader of My people, 'Thus says the L

ord

, the God of David your father: "I have heard your prayer, I have seen your tears; surely I will heal you. On the third day you shall go up to the house of the L

ord

."'
Ontvang de dagelijkse Bijbeltekst:
Laat geen vuile taal over uw lippen komen, maar alleen goede en waar nodig opbouwende woorden, die goeddoen aan wie ze hoort.