Bible Verses about the Savior
«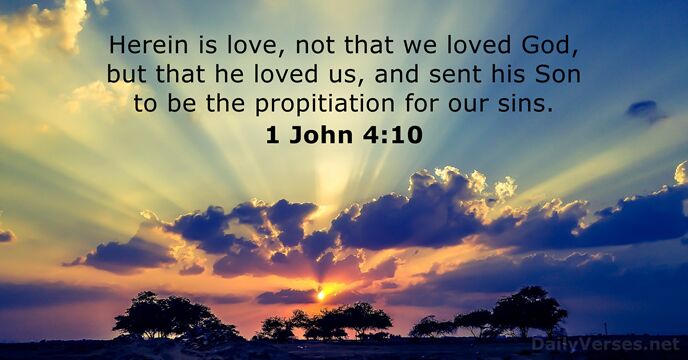 »
Herein is love, not that we loved God, but that he loved us, and sent his Son to be the propitiation for our sins.

Siinä on rakkaus – ei siinä, että me olemme rakastaneet Jumalaa, vaan siinä, että hän on rakastanut meitä ja lähettänyt Poikansa meidän syntiemme sovitukseksi.

For I know that my redeemer liveth, and that he shall stand at the latter day upon the earth.

Minä tiedän, että lunastajani elää. Hän sanoo viimeisen sanan maan päällä.

And he is the propitiation for our sins: and not for ours only, but also for the sins of the whole world.

Hän on meidän syntiemme sovittaja, eikä vain meidän vaan koko maailman.

For unto you is born this day in the city of David a Saviour, which is Christ the Lord.

Tänään on teille Daavidin kaupungissa syntynyt Vapahtaja. Hän on Kristus, Herra.

Who, being in the form of God, thought it not robbery to be equal with God: But made himself of no reputation, and took upon him the form of a servant, and was made in the likeness of men: And being found in fashion as a man, he humbled himself, and became obedient unto death, even the death of the cross.

Hänellä oli Jumalan muoto, mutta hän ei pitänyt kiinni oikeudestaan olla Jumalan vertainen vaan luopui omastaan. Hän otti orjan muodon ja tuli ihmisten kaltaiseksi. Hän eli ihmisenä ihmisten joukossa, hän alensi itsensä ja oli kuuliainen kuolemaan asti, ristinkuolemaan asti.

I am crucified with Christ: nevertheless I live; yet not I, but Christ liveth in me: and the life which I now live in the flesh I live by the faith of the Son of God, who loved me, and gave himself for me.

Enää en elä minä, vaan Kristus elää minussa. Sen elämän, jota tässä ruumiissani vielä elän, elän uskoen Jumalan Poikaan, joka rakasti minua ja antoi henkensä puolestani.

For all have sinned, and come short of the glory of God; Being justified freely by his grace through the redemption that is in Christ Jesus.

Sillä kaikki ovat tehneet syntiä ja ovat vailla Jumalan kirkkautta mutta saavat hänen armostaan lahjaksi vanhurskauden, koska Kristus Jeesus on lunastanut heidät vapaiksi.

Wherefore he is able also to save them to the uttermost that come unto God by him, seeing he ever liveth to make intercession for them.

Siksi hän pystyy nyt ja aina pelastamaan ne, jotka hänen välityksellään lähestyvät Jumalaa. Hän elää iäti rukoillakseen heidän puolestaan.

In whom we have redemption through his blood, the forgiveness of sins, according to the riches of his grace.

Kristuksen veressä meillä on lunastus, rikkomustemme anteeksianto. Näin Jumala on antanut armonsa rikkauden.

Forasmuch as ye know that ye were not redeemed with corruptible things, as silver and gold, from your vain conversation received by tradition from your fathers; But with the precious blood of Christ, as of a lamb without blemish and without spot.

Tiedättehän, ettei teitä ole lunastettu isiltä perimästänne tyhjänpäiväisestä elämästä millään katoavalla tavaralla, hopealla tai kullalla, vaan Kristuksen, tuon virheettömän ja tahrattoman karitsan, kalliilla verellä.

Looking unto Jesus the author and finisher of our faith; who for the joy that was set before him endured the cross, despising the shame, and is set down at the right hand of the throne of God.

Katse suunnattuna Jeesukseen, uskomme perustajaan ja täydelliseksi tekijään. Edessään olleen ilon tähden hän häpeästä välittämättä kesti ristillä kärsimykset, ja nyt hän istuu Jumalan valtaistuimen oikealla puolella.

Yet I am the L

ord

thy God from the land of Egypt, and thou shalt know no god but me: for there is no saviour beside me.

Mutta minä olen Herra, sinun Jumalasi, minä toin sinut Egyptistä. Muuta jumalaa sinulla ei ole, ei muuta auttajaa kuin minä yksin.

And being made perfect, he became the author of eternal salvation unto all them that obey him.

Kun hän oli saavuttanut täydellisyyden, hänestä tuli iankaikkisen pelastuksen tuoja, kaikkien niiden pelastaja, jotka ovat hänelle kuuliaisia.

For if, when we were enemies, we were reconciled to God by the death of his Son, much more, being reconciled, we shall be saved by his life.

Jos kerran Jumalan Pojan kuolema sovitti meidät Jumalan kanssa, kun olimme hänen vihollisiaan, paljon varmemmin on Jumalan Pojan elämä pelastava meidät nyt, kun sovinto on tehty.

And for this cause he is the mediator of the new testament, that by means of death, for the redemption of the transgressions that were under the first testament, they which are called might receive the promise of eternal inheritance.

Sitä varten Kristus on tullut uuden liiton välittäjäksi, että hänen kuolemansa vapauttaisi kaikki ensimmäisen liiton aikana tapahtuneista rikkomuksista ja että kutsutut niin saisivat heille luvatun iankaikkisen perinnön.

And the angel answered and said unto the women, Fear not ye: for I know that ye seek Jesus, which was crucified. He is not here: for he is risen, as he said. Come, see the place where the Lord lay.

Enkeli kääntyi naisten puoleen ja sanoi: »Älkää te pelätkö. Minä tiedän, että te etsitte ristiinnaulittua Jeesusta. Ei hän ole täällä, hän on noussut kuolleista, niin kuin itse sanoi. Tulkaa katsomaan, tuossa on paikka, jossa hän makasi.»

Having therefore obtained help of God, I continue unto this day, witnessing both to small and great, saying none other things than those which the prophets and Moses did say should come: That Christ should suffer, and that he should be the first that should rise from the dead, and should shew light unto the people, and to the Gentiles.

Jumalan avulla olen kuitenkin selvinnyt tähän päivään asti ja voin nytkin täyttää todistajan tehtävääni, puhua sekä ylhäisille että alhaisille. Minä puhun vain siitä, minkä profeetat ja Mooses ovat ennustaneet tapahtuvan, en mistään muusta, puhun siitä, että Messiaan tuli kärsiä kuolema ja ensimmäisenä nousta kuolleista sekä julistaa valon sanomaa niin meidän kansallemme kuin muillekin kansoille.

Who hath delivered us from the power of darkness, and hath translated us into the kingdom of his dear Son: In whom we have redemption through his blood, even the forgiveness of sins.

Hän on pelastanut meidät pimeyden vallasta ja siirtänyt meidät rakkaan Poikansa valtakuntaan, hänen, joka on meidän lunastuksemme, syntiemme anteeksianto.
For with the heart man believeth unto righteousness; and with the mouth confession is made unto salvation.
Personal Bible reading plan
Create an account to configure your Bible reading plan and you will see your progress and the next chapter to read here!
Read more...