Bible Verses about Children
«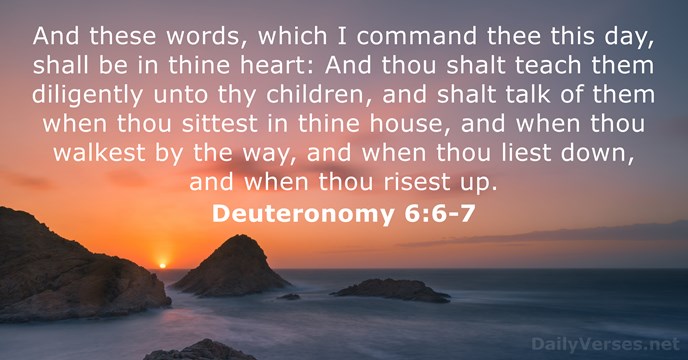 »
And these words, which I command thee this day, shall be in thine heart: And thou shalt teach them diligently unto thy children, and shalt talk of them when thou sittest in thine house, and when thou walkest by the way, and when thou liest down, and when thou risest up.

Pidä aina mielessäsi nämä käskyt, jotka minä sinulle tänään annan. Teroita niitä alinomaa lastesi mieleen ja puhu niistä, olitpa kotona tai matkalla, makuulla tai jalkeilla.

But Jesus said, Suffer little children, and forbid them not, to come unto me: for of such is the kingdom of heaven.

Mutta Jeesus sanoi: »Antakaa lasten olla, älkää estäkö heitä tulemasta minun luokseni. Heidän kaltaistensa on taivasten valtakunta.»

Train up a child in the way he should go: and when he is old, he will not depart from it.

Ohjaa lapsi heti oikealle tielle, niin hän vanhanakaan ei siltä poikkea.

Can a woman forget her sucking child, that she should not have compassion on the son of her womb? yea, they may forget, yet will I not forget thee. Behold, I have graven thee upon the palms of my hands; thy walls are continually before me.

Unohtaako äiti rintalapsensa, unohtaisiko hoivata kohtunsa hedelmää? Vaikka hän unohtaisikin, minä en sinua unohda. Käsieni ihoon minä olen sinut piirtänyt, ja niin sinun muurisi ovat aina silmieni edessä.

Now no chastening for the present seemeth to be joyous, but grievous: nevertheless afterward it yieldeth the peaceable fruit of righteousness unto them which are exercised thereby.

Vaikka kuritus ei sitä vastaan otettaessa koskaan tunnu iloiselta vaan ikävältä asialta, se lopulta antaa näin valmennetuille hedelmänsä: rauhan ja vanhurskauden.

And, ye fathers, provoke not your children to wrath: but bring them up in the nurture and admonition of the Lord.

Ja te isät, älkää herättäkö lapsissanne vihaa, vaan kasvattakaa ja ojentakaa heitä Herran tahdon mukaan.

Children's children are the crown of old men; and the glory of children are their fathers.

Vanhusten kruununa ovat lastenlapset, lasten kunniana heidän isänsä.

Little children, keep yourselves from idols. Amen.

Lapseni, pysykää erossa vääristä jumalista!

Be ye therefore followers of God, as dear children.

Pitäkää siis Jumalaa esikuvananne, olettehan hänen rakkaita lapsiaan.

Blessed are the peacemakers: for they shall be called the children of God.

Autuaita rauhantekijät: he saavat Jumalan lapsen nimen.

And they said, Believe on the Lord Jesus Christ, and thou shalt be saved, and thy house.

He vastasivat: »Usko Herraan Jeesukseen, niin pelastut, sinä ja sinun perhekuntasi.»

For ye are all the children of God by faith in Christ Jesus. For as many of you as have been baptized into Christ have put on Christ.

Te kaikki olette Jumalan lapsia, kun uskotte Kristukseen Jeesukseen. Kaikki te, jotka olette Kristukseen kastettuja, olette pukeneet Kristuksen yllenne.

A fool despiseth his father's instruction: but he that regardeth reproof is prudent.

Tyhmä väheksyy isänsä opetusta, viisas se, joka nuhteita kuulee.

Behold, what manner of love the Father hath bestowed upon us, that we should be called the sons of God: therefore the world knoweth us not, because it knew him not.

Katsokaa, kuinka suurta rakkautta Isä on meille osoittanut: me olemme saaneet Jumalan lapsen nimen, ja hänen lapsiaan me myös olemme. Tästä syystä maailma ei meitä tunne, eihän se tunne häntäkään.

For as many as are led by the Spirit of God, they are the sons of God.

Kaikki, joita Jumalan Henki johtaa, ovat Jumalan lapsia.

I have no greater joy than to hear that my children walk in truth.

Mikään ei tuota minulle suurempaa iloa kuin se, että kuulen lasteni elävän totuudessa.

But if any provide not for his own, and specially for those of his own house, he hath denied the faith, and is worse than an infidel.

Mutta se, joka ei huolehdi omaisistaan ja kaikkein lähimmistään, on kieltänyt uskonsa ja on epäuskoista pahempi.

But as many as received him, to them gave he power to become the sons of God, even to them that believe on his name.

Mutta kaikille, jotka ottivat hänet vastaan, hän antoi oikeuden tulla Jumalan lapsiksi, kaikille, jotka uskovat häneen.

For the earnest expectation of the creature waiteth for the manifestation of the sons of God.

Koko luomakunta odottaa hartaasti Jumalan lasten ilmestymistä.

For ye have not received the spirit of bondage again to fear; but ye have received the Spirit of adoption, whereby we cry, Abba, Father.

Te ette ole saaneet orjuuden henkeä, joka saattaisi teidät jälleen pelon valtaan. Olette saaneet Hengen, joka antaa meille lapsen oikeuden, ja niin me huudamme: »Abba! Isä!»

The Spirit itself beareth witness with our spirit, that we are the children of God.

Henki itse todistaa yhdessä meidän henkemme kanssa, että olemme Jumalan lapsia.

Beloved, now are we the sons of God, and it doth not yet appear what we shall be: but we know that, when he shall appear, we shall be like him; for we shall see him as he is. And every man that hath this hope in him purifieth himself, even as he is pure.

Rakkaat ystävät, jo nyt me olemme Jumalan lapsia, mutta vielä ei ole käynyt ilmi, mitä meistä tulee. Sen me tiedämme, että kun se käy ilmi, meistä tulee hänen kaltaisiaan, sillä me saamme nähdä hänet sellaisena kuin hän on. Jokainen, joka näin panee toivonsa häneen, pitää itsensä puhtaana, niin kuin hän on puhdas ja pyhä.

Thou shalt keep therefore his statutes, and his commandments, which I command thee this day, that it may go well with thee, and with thy children after thee, and that thou mayest prolong thy days upon the earth, which the L

ord

thy God giveth thee, for ever.

Noudattakaa hänen lakejaan ja käskyjään, jotka minä teille tänään annan, että te ja teidän jälkeläisenne menestyisitte ja saisitte elää vanhoiksi siinä maassa, jonka Herra, teidän Jumalanne, antaa teille ikuisiksi ajoiksi.

O that there were such an heart in them, that they would fear me, and keep all my commandments always, that it might be well with them, and with their children for ever!

Kunpa he aina yhtä mielellään kunnioittaisivat minua ja noudattaisivat minun käskyjäni. Jos he niin tekevät, he ja heidän lapsensa menestyvät polvesta polveen.
Greater love hath no man than this, that a man lay down his life for his friends.
Personal Bible reading plan
Create an account to configure your Bible reading plan and you will see your progress and the next chapter to read here!
Read more...