14 Bible Verses about the Covenant
«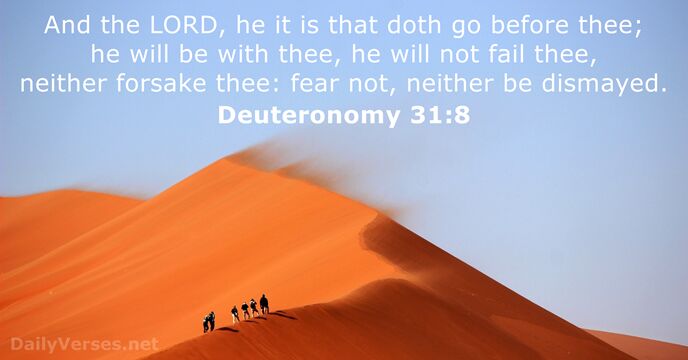 »
I do set my bow in the cloud, and it shall be for a token of a covenant between me and the earth.

Ik zet mijn boog in de wolken. Dat is het teken van mijn belofte aan jullie en aan alles wat op aarde leeft.

And the L

ord

, he it is that doth go before thee; he will be with thee, he will not fail thee, neither forsake thee: fear not, neither be dismayed.

De Heer zal zelf met je meegaan. Hij zal je helpen. Hij blijft steeds bij je, hij zal je niet in de steek laten. Je hoeft echt niet bang te zijn.

Know therefore that the L

ord

thy God, he is God, the faithful God, which keepeth covenant and mercy with them that love him and keep his commandments to a thousand generations.

Onthoud dit goed: Alleen de Heer is jullie God. Hij is betrouwbaar. Hij houdt zich aan zijn beloftes. Hij is goed voor mensen die van hem houden en die zich aan zijn regels houden. En hij zal ook goed zijn voor hun nakomelingen, zelfs voor de duizendste generatie.

But the mercy of the L

ord

is from everlasting to everlasting upon them that fear him, and his righteousness unto children's children; To such as keep his covenant, and to those that remember his commandments to do them.

Maar de liefde van de Heer verdwijnt nooit. Hij houdt van mensen die hem trouw zijn. De Heer is goed voor hen, en voor hun kinderen en kleinkinderen. Als ze maar doen wat hij wil, als ze maar luisteren naar zijn woorden.

And for this cause he is the mediator of the new testament, that by means of death, for the redemption of the transgressions that were under the first testament, they which are called might receive the promise of eternal inheritance.

Wij hebben ons niet gehouden aan Gods oude afspraak met ons. Maar Christus is gestorven om ons te bevrijden van alles wat we verkeerd gedaan hebben. Doordat hij zichzelf geofferd heeft, geldt nu Gods nieuwe afspraak. En daarom kunnen wij, die door God uitgekozen zijn, voor eeuwig gered worden. Dat heeft God zelf beloofd.

Now therefore, if ye will obey my voice indeed, and keep my covenant, then ye shall be a peculiar treasure unto me above all people: for all the earth is mine.

Nu moeten jullie goed naar mij luisteren. En jullie moeten je houden aan de afspraken met mij. Dan zullen jullie een kostbaar bezit voor mij zijn. De hele aarde is van mij, en alle volken zijn van mij.

Now the God of peace, that brought again from the dead our Lord Jesus, that great shepherd of the sheep, through the blood of the everlasting covenant, Make you perfect in every good work to do his will, working in you that which is wellpleasing in his sight, through Jesus Christ; to whom be glory for ever and ever. Amen.

Ik bid dat de God van de vrede jullie al het goede zal geven. Dan kunnen jullie leven zoals hij het wil. Hij heeft onze Heer Jezus Christus teruggebracht uit de dood. Dankzij het bloed van Jezus geldt nu Gods nieuwe afspraak met de mensen. Jezus zorgt voor zijn volk zoals een herder voor zijn schapen zorgt. Ik bid dat God ervoor zal zorgen dat we zijn wil doen, en dat Jezus Christus ons daarbij zal helpen. Alle eer aan God, voor altijd en eeuwig! Amen.

But now hath he obtained a more excellent ministry, by how much also he is the mediator of a better covenant, which was established upon better promises.

Jezus is een veel belangrijkere hogepriester dan de hogepriesters op aarde, want hij is hogepriester in de hemel. Dankzij Jezus geldt voortaan Gods nieuwe, betere afspraak met de mensen. God had beloofd dat het zo zou gebeuren.

I made a covenant with mine eyes; why then should I think upon a maid?

Ik heb nooit naar jonge vrouwen gekeken, dat had ik mezelf plechtig beloofd.

And I will establish my covenant with you, neither shall all flesh be cut off any more by the waters of a flood; neither shall there any more be a flood to destroy the earth.

Ik beloof dat ik de mensen en de dieren nooit meer zal doden door een grote overstroming. Er zal nooit meer een overstroming komen die de hele aarde verwoest.

And he declared unto you his covenant, which he commanded you to perform, even ten commandments; and he wrote them upon two tables of stone.

De Heer maakte toen zijn tien belangrijkste regels bekend, en schreef ze op twee stenen platen. Hij wilde dat jullie je daaraan zouden houden.

And he was there with the L

ord

forty days and forty nights; he did neither eat bread, nor drink water. And he wrote upon the tables the words of the covenant, the ten commandments.

Mozes bleef weer veertig dagen en nachten daar bij de Heer. Hij at en dronk niets. Hij schreef op de stenen platen de tien belangrijke regels die de Heer gegeven had.

Likewise also the cup after supper, saying, This cup is the new testament in my blood, which is shed for you.

Na het eten nam Jezus een beker wijn. Hij zei: 'Als ik gedood word, zal mijn bloed vloeien. Maar daardoor zullen jullie gered worden. Dat heeft God beloofd. Deze beker is daarvan het teken.'

For the mountains shall depart, and the hills be removed; but my kindness shall not depart from thee, neither shall the covenant of my peace be removed, saith the L

ord

that hath mercy on thee.

Bergen kunnen van plaats veranderen en heuvels kunnen verdwijnen. Maar mijn liefde voor jou zal nooit verdwijnen. Mijn belofte van vrede geldt voor altijd. Dat zeg ik omdat ik van je houd.
And have no fellowship with the unfruitful works of darkness, but rather reprove them. For it is a shame even to speak of those things which are done of them in secret.
For the grace of God that bringeth salvation hath appeared to all men, Teaching us that, denying ungodliness and worldly lusts, we should live soberly, righteously, and godly, in this present world.
Read more
And have no fellowship with the unfruitful works of darkness, but rather reprove them. For it is a shame even to speak of those things which are done of them in secret.
Personal Bible reading plan
Create an account to configure your Bible read plan and you will see your progress and the next chapter to read here!
Read more...