«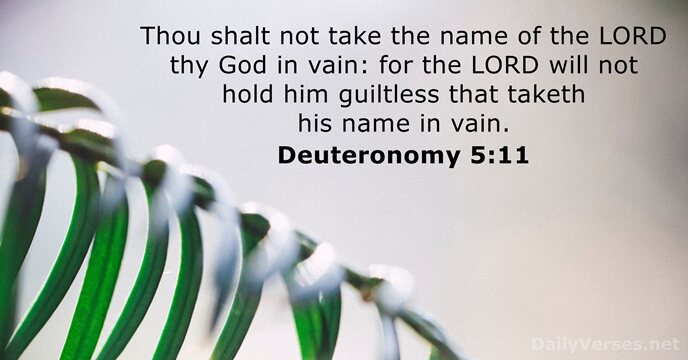 »
Thou shalt not take the name of the L

ord

thy God in vain: for the L

ord

will not hold him guiltless that taketh his name in vain.
Keep the sabbath day to sanctify it, as the L

ord

thy God hath commanded thee. Six days thou shalt labour, and do all thy work: But the seventh day is the sabbath of the L

ord

thy God: in it thou shalt not do any work, thou, nor thy son, nor thy daughter, nor thy manservant, nor thy maidservant, nor thine ox, nor thine ass, nor any of thy cattle, nor thy stranger that is within thy gates; that thy manservant and thy maidservant may rest as well as thou.
And remember that thou wast a servant in the land of Egypt, and that the L

ord

thy God brought thee out thence through a mighty hand and by a stretched out arm: therefore the L

ord

thy God commanded thee to keep the sabbath day.

O that there were such an heart in them, that they would fear me, and keep all my commandments always, that it might be well with them, and with their children for ever!

Ye shall walk in all the ways which the L

ord

your God hath commanded you, that ye may live, and that it may be well with you, and that ye may prolong your days in the land which ye shall possess.
And Jesus said unto them, I am the bread of life: he that cometh to me shall never hunger; and he that believeth on me shall never thirst.
Personal Bible reading plan
Create an account to configure your Bible reading plan and you will see your progress and the next chapter to read here!
Read more...