Versículos de la Biblia sobre la Bondad
«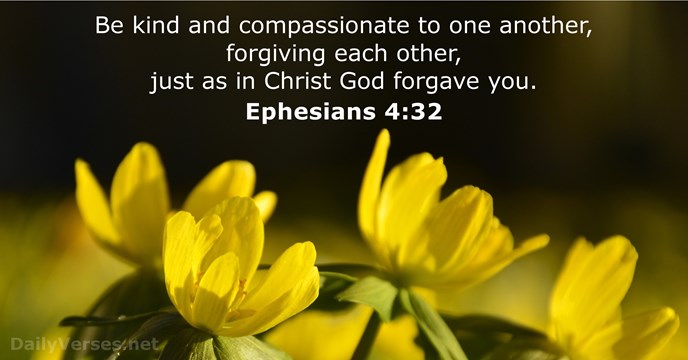 »
Antes sed benignos unos con otros, misericordiosos, perdonándoos unos a otros, como Dios también os perdonó a vosotros en Cristo.

Be kind and compassionate to one another, forgiving each other, just as in Christ God forgave you.

Así que, según tengamos oportunidad, hagamos bien a todos, y mayormente a los de la familia de la fe.

Therefore, as we have opportunity, let us do good to all people, especially to those who belong to the family of believers.

No seas vencido de lo malo, sino vence con el bien el mal.

Do not be overcome by evil, but overcome evil with good.

Jehová es bueno, fortaleza en el día de la angustia; y conoce a los que en él confían.

The L

ord

is good, a refuge in times of trouble. He cares for those who trust in him.

Justo es Jehová en todos sus caminos, Y misericordioso en todas sus obras.

The L

ord

is righteous in all his ways and faithful in all he does.

El amor sea sin fingimiento. Aborreced lo malo, seguid lo bueno.

Love must be sincere. Hate what is evil; cling to what is good.

Mas el fruto del Espíritu es amor, gozo, paz, paciencia, benignidad, bondad, fe, mansedumbre, templanza; contra tales cosas no hay ley.

But the fruit of the Spirit is love, joy, peace, forbearance, kindness, goodness, faithfulness, gentleness and self-control. Against such things there is no law.

Todo me es lícito, pero no todo conviene; todo me es lícito, pero no todo edifica.

"I have the right to do anything," you say—but not everything is beneficial. "I have the right to do anything"—but not everything is constructive.

Ni se enciende una luz y se pone debajo de un almud, sino sobre el candelero, y alumbra a todos los que están en casa. Así alumbre vuestra luz delante de los hombres, para que vean vuestras buenas obras, y glorifiquen a vuestro Padre que está en los cielos.

Neither do people light a lamp and put it under a bowl. Instead they put it on its stand, and it gives light to everyone in the house. In the same way, let your light shine before others, that they may see your good deeds and glorify your Father in heaven.

Vosotros también, poniendo toda diligencia por esto mismo, añadid a vuestra fe virtud; a la virtud, conocimiento; al conocimiento, dominio propio; al dominio propio, paciencia; a la paciencia, piedad; a la piedad, afecto fraternal; y al afecto fraternal, amor.

For this very reason, make every effort to add to your faith goodness; and to goodness, knowledge; and to knowledge, self-control; and to self-control, perseverance; and to perseverance, godliness; and to godliness, mutual affection; and to mutual affection, love.

Confía en Jehová, y haz el bien; Y habitarás en la tierra, y te apacentarás de la verdad.

Trust in the L

ord

and do good; dwell in the land and enjoy safe pasture.

Y poderoso es Dios para hacer que abunde en vosotros toda gracia, a fin de que, teniendo siempre en todas las cosas todo lo suficiente, abundéis para toda buena obra.

And God is able to bless you abundantly, so that in all things at all times, having all that you need, you will abound in every good work.

Contentamiento es a los hombres hacer misericordia; Pero mejor es el pobre que el mentiroso.

What a person desires is unfailing love; better to be poor than a liar.

Ninguna palabra corrompida salga de vuestra boca, sino la que sea buena para la necesaria edificación, a fin de dar gracia a los oyentes.

Do not let any unwholesome talk come out of your mouths, but only what is helpful for building others up according to their needs, that it may benefit those who listen.

Hubiera yo desmayado, si no creyese que veré la bondad de Jehová En la tierra de los vivientes.

I remain confident of this: I will see the goodness of the L

ord

in the land of the living.

Apártate del mal, y haz el bien; Busca la paz, y síguela.

Turn from evil and do good; seek peace and pursue it.

Así dijo Jehová: Paraos en los caminos, y mirad, y preguntad por las sendas antiguas, cuál sea el buen camino, y andad por él, y hallaréis descanso para vuestra alma. Mas dijeron: No andaremos.

This is what the L

ord

says: Stand at the crossroads and look; ask for the ancient paths, ask where the good way is, and walk in it, and you will find rest for your souls. But you said, 'We will not walk in it.'

¿Y quién es aquel que os podrá hacer daño, si vosotros seguís el bien?

Who is going to harm you if you are eager to do good?

Acuérdate, oh Jehová, de tus piedades y de tus misericordias, Que son perpetuas. De los pecados de mi juventud, y de mis rebeliones, no te acuerdes; Conforme a tu misericordia acuérdate de mí, Por tu bondad, oh Jehová.

Remember, L

ord

, your great mercy and love, for they are from of old. Do not remember the sins of my youth and my rebellious ways; according to your love remember me, for you, L

ord

, are good.

Sed, pues, misericordiosos, como también vuestro Padre es misericordioso.

Be merciful, just as your Father is merciful.

Entonces entenderás justicia, juicio Y equidad, y todo buen camino.

Then you will understand what is right and just and fair—every good path.

No erréis; las malas conversaciones corrompen las buenas costumbres.

Do not be misled: "Bad company corrupts good character."

Quien se dio a sí mismo por nosotros para redimirnos de toda iniquidad y purificar para sí un pueblo propio, celoso de buenas obras.

Who gave himself for us to redeem us from all wickedness and to purify for himself a people that are his very own, eager to do what is good.

Asimismo que las mujeres se atavíen de ropa decorosa, con pudor y modestia; no con peinado ostentoso, ni oro, ni perlas, ni vestidos costosos, sino con buenas obras, como corresponde a mujeres que profesan piedad.

I also want the women to dress modestly, with decency and propriety, adorning themselves, not with elaborate hairstyles or gold or pearls or expensive clothes, but with good deeds, appropriate for women who profess to worship God.
El que sigue la justicia y la misericordia
Hallará la vida, la justicia y la honra.
Andad en todo el camino que Jehová vuestro Dios os ha mandado, para que viváis y os vaya bien, y tengáis largos días en la tierra que habéis de poseer.
El que sigue la justicia y la misericordia Hallará la vida, la justicia y la honra.
Plan de lectura de la Biblia
Registrar y configurar su plan de lectura de la Biblia que desea ver su progreso y el siguiente capítulo para leer aquí!