36 Versículos de la Biblia sobre la Evangelización
«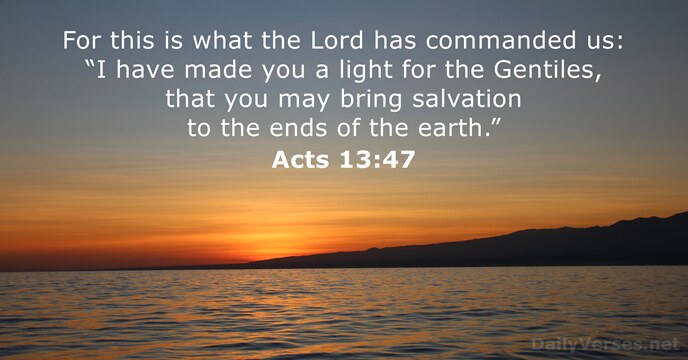 »
Porque así nos ha mandado el Señor, diciendo: Te he puesto para luz de los gentiles, A fin de que seas para salvación hasta lo último de la tierra.

For this is what the Lord has commanded us: "I have made you a light for the Gentiles, that you may bring salvation to the ends of the earth."

Y les dijo: Id por todo el mundo y predicad el evangelio a toda criatura.

He said to them, "Go into all the world and preach the gospel to all creation."

Pero de ninguna cosa hago caso, ni estimo preciosa mi vida para mí mismo, con tal que acabe mi carrera con gozo, y el ministerio que recibí del Señor Jesús, para dar testimonio del evangelio de la gracia de Dios.

However, I consider my life worth nothing to me; my only aim is to finish the race and complete the task the Lord Jesus has given me—the task of testifying to the good news of God's grace.

Ni se enciende una luz y se pone debajo de un almud, sino sobre el candelero, y alumbra a todos los que están en casa. Así alumbre vuestra luz delante de los hombres, para que vean vuestras buenas obras, y glorifiquen a vuestro Padre que está en los cielos.

Neither do people light a lamp and put it under a bowl. Instead they put it on its stand, and it gives light to everyone in the house. In the same way, let your light shine before others, that they may see your good deeds and glorify your Father in heaven.

Por tanto, id, y haced discípulos a todas las naciones, bautizándolos en el nombre del Padre, y del Hijo, y del Espíritu Santo; enseñándoles que guarden todas las cosas que os he mandado; y he aquí yo estoy con vosotros todos los días, hasta el fin del mundo. Amén.

Therefore go and make disciples of all nations, baptizing them in the name of the Father and of the Son and of the Holy Spirit, and teaching them to obey everything I have commanded you. And surely I am with you always, to the very end of the age.

Porque no me avergüenzo del evangelio, porque es poder de Dios para salvación a todo aquel que cree; al judío primeramente, y también al griego.

For I am not ashamed of the gospel, because it is the power of God that brings salvation to everyone who believes: first to the Jew, then to the Gentile.

Alabad a Jehová, invocad su nombre; Dad a conocer sus obras en los pueblos.

Give praise to the L

ord

, proclaim his name; make known among the nations what he has done.

Sino santificad a Dios el Señor en vuestros corazones, y estad siempre preparados para presentar defensa con mansedumbre y reverencia ante todo el que os demande razón de la esperanza que hay en vosotros.

But in your hearts revere Christ as Lord. Always be prepared to give an answer to everyone who asks you to give the reason for the hope that you have. But do this with gentleness and respect.

Así que la fe es por el oír, y el oír, por la palabra de Dios.

Consequently, faith comes from hearing the message, and the message is heard through the word about Christ.

Vosotros sois la luz del mundo; una ciudad asentada sobre un monte no se puede esconder.

You are the light of the world. A town built on a hill cannot be hidden.

Además os declaro, hermanos, el evangelio que os he predicado, el cual también recibisteis, en el cual también perseveráis; por el cual asimismo, si retenéis la palabra que os he predicado, sois salvos, si no creísteis en vano.

Now, brothers and sisters, I want to remind you of the gospel I preached to you, which you received and on which you have taken your stand. By this gospel you are saved, if you hold firmly to the word I preached to you. Otherwise, you have believed in vain.

El Espíritu del Señor está sobre mí, Por cuanto me ha ungido para dar buenas nuevas a los pobres; Me ha enviado a sanar a los quebrantados de corazón; A pregonar libertad a los cautivos, Y vista a los ciegos; A poner en libertad a los oprimidos.

The Spirit of the Lord is on me, because he has anointed me to proclaim good news to the poor. He has sent me to proclaim freedom for the prisoners and recovery of sight for the blind, to set the oppressed free.

A lo cual os llamó mediante nuestro evangelio, para alcanzar la gloria de nuestro Señor Jesucristo.

He called you to this through our gospel, that you might share in the glory of our Lord Jesus Christ.

Porque todo el que quiera salvar su vida, la perderá; y todo el que pierda su vida por causa de mí y del evangelio, la salvará.

For whoever wants to save their life will lose it, but whoever loses their life for me and for the gospel will save it.

Y diréis en aquel día: Cantad a Jehová, aclamad su nombre, haced célebres en los pueblos sus obras, recordad que su nombre es engrandecido.

In that day you will say: "Give praise to the L

ord

, proclaim his name; make known among the nations what he has done, and proclaim that his name is exalted."

Pero tú habla lo que está de acuerdo con la sana doctrina.

You, however, must teach what is appropriate to sound doctrine.

En esto conocerán todos que sois mis discípulos, si tuviereis amor los unos con los otros.

By this everyone will know that you are my disciples, if you love one another.

Y seré engrandecido y santificado, y seré conocido ante los ojos de muchas naciones; y sabrán que yo soy Jehová.

And so I will show my greatness and my holiness, and I will make myself known in the sight of many nations. Then they will know that I am the L

ord

.

Desde entonces comenzó Jesús a predicar, y a decir: Arrepentíos, porque el reino de los cielos se ha acercado.

From that time on Jesus began to preach, "Repent, for the kingdom of heaven has come near."

Vosotros sois la sal de la tierra; pero si la sal se desvaneciere, ¿con qué será salada? No sirve más para nada, sino para ser echada fuera y hollada por los hombres.

You are the salt of the earth. But if the salt loses its saltiness, how can it be made salty again? It is no longer good for anything, except to be thrown out and trampled underfoot.

Pero recibiréis poder, cuando haya venido sobre vosotros el Espíritu Santo, y me seréis testigos en Jerusalén, en toda Judea, en Samaria, y hasta lo último de la tierra.

But you will receive power when the Holy Spirit comes on you; and you will be my witnesses in Jerusalem, and in all Judea and Samaria, and to the ends of the earth.

Respondió Jesús y dijo: De cierto os digo que no hay ninguno que haya dejado casa, o hermanos, o hermanas, o padre, o madre, o mujer, o hijos, o tierras, por causa de mí y del evangelio, que no reciba cien veces más ahora en este tiempo; casas, hermanos, hermanas, madres, hijos, y tierras, con persecuciones; y en el siglo venidero la vida eterna.

"Truly I tell you," Jesus replied, "no one who has left home or brothers or sisters or mother or father or children or fields for me and the gospel will fail to receive a hundred times as much in this present age: homes, brothers, sisters, mothers, children and fields—along with persecutions—and in the age to come eternal life."

En esto es glorificado mi Padre, en que llevéis mucho fruto, y seáis así mis discípulos.

This is to my Father's glory, that you bear much fruit, showing yourselves to be my disciples.

A quienes Dios quiso dar a conocer las riquezas de la gloria de este misterio entre los gentiles; que es Cristo en vosotros, la esperanza de gloria.

To them God has chosen to make known among the Gentiles the glorious riches of this mystery, which is Christ in you, the hope of glory.

Pues me propuse no saber entre vosotros cosa alguna sino a Jesucristo, y a éste crucificado.

For I resolved to know nothing while I was with you except Jesus Christ and him crucified.
¿Por qué te abates, oh alma mía,
Y por qué te turbas dentro de mí?
Espera en Dios; porque aún he de alabarle,
Salvación mía y Dios mío.
Así que, hermanos míos amados, estad firmes y constantes, creciendo en la obra del Señor siempre, sabiendo que vuestro trabajo en el Señor no es en vano.
¿Por qué te abates, oh alma mía, Y por qué te turbas dentro de mí? Espera en Dios; porque aún he de alabarle, Salvación mía y Dios mío.
Plan de lectura de la Biblia
Registrar y configurar su plan de lectura de la Biblia que desea ver su progreso y el siguiente capítulo para leer aquí!