Versículos de la Biblia sobre la Evangelización
«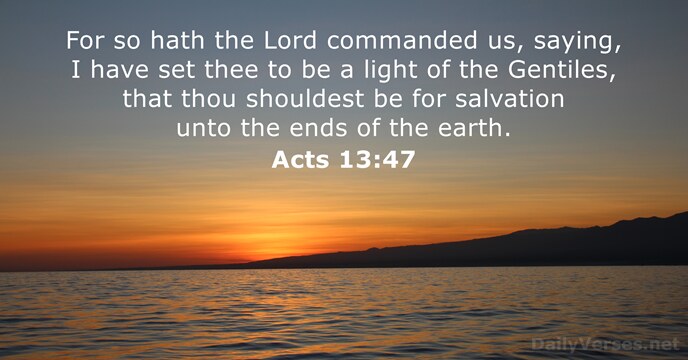 »
Porque así nos ha mandado el Señor, diciendo: "Te he puesto para luz de los gentiles, a fin de que seas para salvación hasta lo último de la tierra."

For so hath the Lord commanded us, saying, I have set thee to be a light of the Gentiles, that thou shouldest be for salvation unto the ends of the earth.

Y les dijo: —Id por todo el mundo y predicad el evangelio a toda criatura.

And he said unto them, Go ye into all the world, and preach the gospel to every creature.

Pero de ninguna cosa hago caso ni estimo preciosa mi vida para mí mismo, con tal que acabe mi carrera con gozo, y el ministerio que recibí del Señor Jesús, para dar testimonio del evangelio de la gracia de Dios.

But none of these things move me, neither count I my life dear unto myself, so that I might finish my course with joy, and the ministry, which I have received of the Lord Jesus, to testify the gospel of the grace of God.

Ni se enciende una luz y se pone debajo de una vasija, sino sobre el candelero para que alumbre a todos los que están en casa. Así alumbre vuestra luz delante de los hombres, para que vean vuestras buenas obras y glorifiquen a vuestro Padre que está en los cielos.

Neither do men light a candle, and put it under a bushel, but on a candlestick; and it giveth light unto all that are in the house. Let your light so shine before men, that they may see your good works, and glorify your Father which is in heaven.

Por tanto, id y haced discípulos a todas las naciones, bautizándolos en el nombre del Padre, del Hijo y del Espíritu Santo, y enseñándoles que guarden todas las cosas que os he mandado. Y yo estoy con vosotros todos los días, hasta el fin del mundo. Amén.

Go ye therefore, and teach all nations, baptizing them in the name of the Father, and of the Son, and of the Holy Ghost: Teaching them to observe all things whatsoever I have commanded you: and, lo, I am with you always, even unto the end of the world. Amen.

No me avergüenzo del evangelio, porque es poder de Dios para salvación de todo aquel que cree, del judío primeramente y también del griego.

For I am not ashamed of the gospel of Christ: for it is the power of God unto salvation to every one that believeth; to the Jew first, and also to the Greek.

¡Alabad a Jehová, invocad su nombre, dad a conocer sus obras entre los pueblos!

O give thanks unto the L

ord

; call upon his name: make known his deeds among the people.

Al contrario, santificad a Dios el Señor en vuestros corazones, y estad siempre preparados para presentar defensa con mansedumbre y reverencia ante todo el que os demande razón de la esperanza que hay en vosotros.

But sanctify the Lord God in your hearts: and be ready always to give an answer to every man that asketh you a reason of the hope that is in you with meekness and fear.

Así que la fe es por el oír, y el oír, por la palabra de Dios.

So then faith cometh by hearing, and hearing by the word of God.

Vosotros sois la luz del mundo; una ciudad asentada sobre un monte no se puede esconder.

Ye are the light of the world. A city that is set on an hill cannot be hid.

Además os declaro, hermanos, el evangelio que os he predicado, el cual también recibisteis, en el cual también perseveráis; por el cual asimismo, si retenéis la palabra que os he predicado, sois salvos, si no creísteis en vano.

Moreover, brethren, I declare unto you the gospel which I preached unto you, which also ye have received, and wherein ye stand; By which also ye are saved, if ye keep in memory what I preached unto you, unless ye have believed in vain.

El Espíritu del Señor está sobre mí, por cuanto me ha ungido para dar buenas nuevas a los pobres; me ha enviado a sanar a los quebrantados de corazón, a pregonar libertad a los cautivos y vista a los ciegos, a poner en libertad a los oprimidos.

The Spirit of the Lord is upon me, because he hath anointed me to preach the gospel to the poor; he hath sent me to heal the brokenhearted, to preach deliverance to the captives, and recovering of sight to the blind, to set at liberty them that are bruised.

Para esto él os llamó por medio de nuestro evangelio: para alcanzar la gloria de nuestro Señor Jesucristo.

Whereunto he called you by our gospel, to the obtaining of the glory of our Lord Jesus Christ.

Todo el que quiera salvar su vida, la perderá; y todo el que pierda su vida por causa de mí y del evangelio, la salvará.

For whosoever will save his life shall lose it; but whosoever shall lose his life for my sake and the gospel's, the same shall save it.

Y diréis en aquel día: «Cantad a Jehová, aclamad su nombre, haced célebres en los pueblos sus obras, recordad que su nombre es engrandecido.»

And in that day shall ye say, Praise the L

ord

, call upon his name, declare his doings among the people, make mention that his name is exalted.

Pero tú habla lo que está de acuerdo con la sana doctrina.

But speak thou the things which become sound doctrine.

En esto conocerán todos que sois mis discípulos, si tenéis amor los unos por los otros.

By this shall all men know that ye are my disciples, if ye have love one to another.

Entonces seré engrandecido y santificado, y seré conocido ante los ojos de muchas naciones. Y sabrán que yo soy Jehová.

Thus will I magnify myself, and sanctify myself; and I will be known in the eyes of many nations, and they shall know that I am the L

ord

.

Vosotros sois la sal de la tierra; pero si la sal pierde su sabor, ¿con qué será salada? No sirve más para nada, sino para ser echada fuera y pisoteada por los hombres.

Ye are the salt of the earth: but if the salt have lost his savour, wherewith shall it be salted? it is thenceforth good for nothing, but to be cast out, and to be trodden under foot of men.

Desde entonces comenzó Jesús a predicar y a decir: «¡Arrepentíos, porque el reino de los cielos se ha acercado!»

From that time Jesus began to preach, and to say, Repent: for the kingdom of heaven is at hand.

Respondió Jesús y dijo: —De cierto os digo que no hay nadie que haya dejado casa, o hermanos, o hermanas, o padre, o madre, o mujer, o hijos, o tierras, por causa de mí y del evangelio, que no reciba cien veces más ahora en este tiempo: casas, hermanos, hermanas, madres, hijos y tierras, aunque con persecuciones, y en el siglo venidero la vida eterna.

And Jesus answered and said, Verily I say unto you, There is no man that hath left house, or brethren, or sisters, or father, or mother, or wife, or children, or lands, for my sake, and the gospel's, But he shall receive an hundredfold now in this time, houses, and brethren, and sisters, and mothers, and children, and lands, with persecutions; and in the world to come eternal life.

En esto es glorificado mi Padre: en que llevéis mucho fruto y seáis así mis discípulos.

Herein is my Father glorified, that ye bear much fruit; so shall ye be my disciples.

Pero recibiréis poder cuando haya venido sobre vosotros el Espíritu Santo, y me seréis testigos en Jerusalén, en toda Judea, en Samaria y hasta lo último de la tierra.

But ye shall receive power, after that the Holy Ghost is come upon you: and ye shall be witnesses unto me both in Jerusalem, and in all Judaea, and in Samaria, and unto the uttermost part of the earth.

A ellos, Dios quiso dar a conocer las riquezas de la gloria de este misterio entre los gentiles, que es Cristo en vosotros, esperanza de gloria.

To whom God would make known what is the riches of the glory of this mystery among the Gentiles; which is Christ in you, the hope of glory.

Pues me propuse no saber entre vosotros cosa alguna sino a Jesucristo, y a éste crucificado.

For I determined not to know any thing among you, save Jesus Christ, and him crucified.
Pero corra el juicio como las aguas y la justicia como arroyo impetuoso.
Plan de lectura de la Biblia
Registrar y configurar su plan de lectura de la Biblia que desea ver su progreso y el siguiente capítulo para leer aquí!