Versículos de la Biblia sobre la Paz
«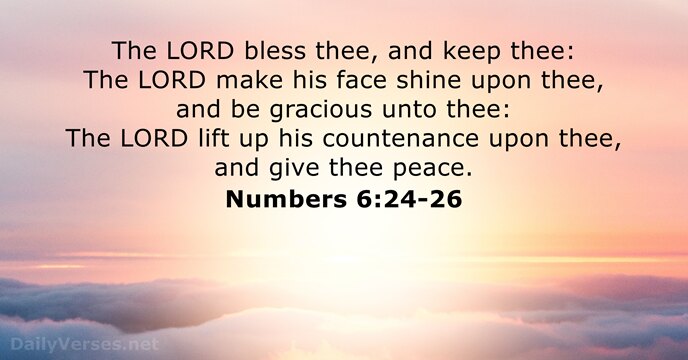 »
Jehová te bendiga, y te guarde; Jehová haga resplandecer su rostro sobre ti, y tenga de ti misericordia; Jehová alce sobre ti su rostro, y ponga en ti paz.

The L

ord

bless thee, and keep thee: The L

ord

make his face shine upon thee, and be gracious unto thee: The L

ord

lift up his countenance upon thee, and give thee peace.

Estas cosas os he hablado para que en mí tengáis paz. En el mundo tendréis aflicción; pero confiad, yo he vencido al mundo.

These things I have spoken unto you, that in me ye might have peace. In the world ye shall have tribulation: but be of good cheer; I have overcome the world.

La paz os dejo, mi paz os doy; yo no os la doy como el mundo la da. No se turbe vuestro corazón, ni tenga miedo.

Peace I leave with you, my peace I give unto you: not as the world giveth, give I unto you. Let not your heart be troubled, neither let it be afraid.

Por nada estéis afanosos, sino sean conocidas vuestras peticiones delante de Dios en toda oración y ruego, con acción de gracias. Y la paz de Dios, que sobrepasa todo entendimiento, guardará vuestros corazones y vuestros pensamientos en Cristo Jesús.

Be careful for nothing; but in every thing by prayer and supplication with thanksgiving let your requests be made known unto God. And the peace of God, which passeth all understanding, shall keep your hearts and minds through Christ Jesus.

Bienaventurados los pacificadores, porque ellos serán llamados hijos de Dios.

Blessed are the peacemakers: for they shall be called the children of God.

Porque: El que quiere amar la vida Y ver días buenos, Refrene su lengua de mal, Y sus labios no hablen engaño; Apártese del mal, y haga el bien; Busque la paz, y sígala.

For he that will love life, and see good days, let him refrain his tongue from evil, and his lips that they speak no guile: Let him eschew evil, and do good; let him seek peace, and ensue it.

Y el mismo Señor de paz os dé siempre paz en toda manera. El Señor sea con todos vosotros.

Now the Lord of peace himself give you peace always by all means. The Lord be with you all.

En paz me acostaré, y asimismo dormiré; Porque solo tú, Jehová, me haces vivir confiado.

I will both lay me down in peace, and sleep: for thou, L

ord

, only makest me dwell in safety.

Tú guardarás en completa paz a aquel cuyo pensamiento en ti persevera; porque en ti ha confiado.

Thou wilt keep him in perfect peace, whose mind is stayed on thee: because he trusteth in thee.

Y la paz de Dios gobierne en vuestros corazones, a la que asimismo fuisteis llamados en un solo cuerpo; y sed agradecidos.

And let the peace of God rule in your hearts, to the which also ye are called in one body; and be ye thankful.

Soportándoos unos a otros, y perdonándoos unos a otros si alguno tuviere queja contra otro. De la manera que Cristo os perdonó, así también hacedlo vosotros.

Forbearing one another, and forgiving one another, if any man have a quarrel against any: even as Christ forgave you, so also do ye.

Misericordia y paz y amor os sean multiplicados.

Mercy unto you, and peace, and love, be multiplied.

Mejor es el que tarda en airarse que el fuerte; Y el que se enseñorea de su espíritu, que el que toma una ciudad.

He that is slow to anger is better than the mighty; and he that ruleth his spirit than he that taketh a city.

Y el fruto de justicia se siembra en paz para aquellos que hacen la paz.

And the fruit of righteousness is sown in peace of them that make peace.

Apártate del mal, y haz el bien; Busca la paz, y síguela.

Depart from evil, and do good; seek peace, and pursue it.

Seguid la paz con todos, y la santidad, sin la cual nadie verá al Señor.

Follow peace with all men, and holiness, without which no man shall see the Lord.

Solícitos en guardar la unidad del Espíritu en el vínculo de la paz.

Endeavouring to keep the unity of the Spirit in the bond of peace.

Mucha paz tienen los que aman tu ley, Y no hay para ellos tropiezo.

Great peace have they which love thy law: and nothing shall offend them.

Pero la sabiduría que es de lo alto es primeramente pura, después pacífica, amable, benigna, llena de misericordia y de buenos frutos, sin incertidumbre ni hipocresía.

But the wisdom that is from above is first pure, then peaceable, gentle, and easy to be intreated, full of mercy and good fruits, without partiality, and without hypocrisy.

Estad quietos, y conoced que yo soy Dios; Seré exaltado entre las naciones; enaltecido seré en la tierra.

Be still, and know that I am God: I will be exalted among the heathen, I will be exalted in the earth.

Lo que aprendisteis y recibisteis y oísteis y visteis en mí, esto haced; y el Dios de paz estará con vosotros.

Those things, which ye have both learned, and received, and heard, and seen in me, do: and the God of peace shall be with you.

Porque el ocuparse de la carne es muerte, pero el ocuparse del Espíritu es vida y paz.

For to be carnally minded is death; but to be spiritually minded is life and peace.

!!Cuán hermosos son sobre los montes los pies del que trae alegres nuevas, del que anuncia la paz, del que trae nuevas del bien, del que publica salvación, del que dice a Sion: !!Tu Dios reina!

How beautiful upon the mountains are the feet of him that bringeth good tidings, that publisheth peace; that bringeth good tidings of good, that publisheth salvation; that saith unto Zion, Thy God reigneth!

Honra es del hombre dejar la contienda; Mas todo insensato se envolverá en ella.

It is an honour for a man to cease from strife: but every fool will be meddling.

Es verdad que ninguna disciplina al presente parece ser causa de gozo, sino de tristeza; pero después da fruto apacible de justicia a los que en ella han sido ejercitados.

Now no chastening for the present seemeth to be joyous, but grievous: nevertheless afterward it yieldeth the peaceable fruit of righteousness unto them which are exercised thereby.
Defended al débil y al huérfano; Haced justicia al afligido y al menesteroso.
Plan de lectura de la Biblia
Registrar y configurar su plan de lectura de la Biblia que desea ver su progreso y el siguiente capítulo para leer aquí!