Versículos de la Biblia sobre la Recompensa
«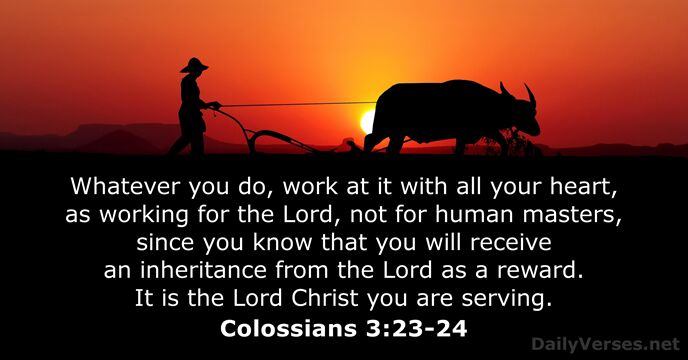 »
Y todo lo que hagáis, hacedlo de corazón, como para el Señor y no para los hombres, sabiendo que del Señor recibiréis la recompensa de la herencia, porque a Cristo el Señor servís.

Whatever you do, work at it with all your heart, as working for the Lord, not for human masters, since you know that you will receive an inheritance from the Lord as a reward. It is the Lord Christ you are serving.

El cual pagará a cada uno conforme a sus obras.

God "will repay each person according to what they have done."

Así que, hermanos míos amados, estad firmes y constantes, creciendo en la obra del Señor siempre, sabiendo que vuestro trabajo en el Señor no es en vano.

Therefore, my dear brothers and sisters, stand firm. Let nothing move you. Always give yourselves fully to the work of the Lord, because you know that your labor in the Lord is not in vain.

No nos cansemos, pues, de hacer bien, porque a su tiempo segaremos, si no desmayamos.

Let us not become weary in doing good, for at the proper time we will reap a harvest if we do not give up.

Su señor le dijo: "Bien, buen siervo y fiel; sobre poco has sido fiel, sobre mucho te pondré. Entra en el gozo de tu señor."

His master replied, 'Well done, good and faithful servant! You have been faithful with a few things; I will put you in charge of many things. Come and share your master's happiness!'

Nunca se aparten de ti la misericordia y la verdad: átalas a tu cuello, escríbelas en la tabla de tu corazón y hallarás gracia y buena opinión ante los ojos de Dios y de los hombres.

Let love and faithfulness never leave you; bind them around your neck, write them on the tablet of your heart. Then you will win favor and a good name in the sight of God and man.

Los regalos de un hombre le abren el camino que lleva a la presencia de los grandes.

A gift opens the way and ushers the giver into the presence of the great.

Bienaventurado el hombre que soporta la tentación, porque cuando haya resistido la prueba, recibirá la corona de vida que Dios ha prometido a los que lo aman.

Blessed is the one who perseveres under trial because, having stood the test, that person will receive the crown of life that the Lord has promised to those who love him.

Antes bien, como está escrito: «Cosas que ojo no vio ni oído oyó ni han subido al corazón del hombre, son las que Dios ha preparado para los que lo aman.»

However, as it is written: "What no eye has seen, what no ear has heard, and what no human mind has conceived"— the things God has prepared for those who love him.

Cuando, pues, des limosna, no hagas tocar trompeta delante de ti, como hacen los hipócritas en las sinagogas y en las calles, para ser alabados por los hombres; de cierto os digo que ya tienen su recompensa.

So when you give to the needy, do not announce it with trumpets, as the hypocrites do in the synagogues and on the streets, to be honored by others. Truly I tell you, they have received their reward in full.

Andad en todo el camino que Jehová, vuestro Dios, os ha mandado, para que viváis, os vaya bien y prolonguéis vuestros días en la tierra que habéis de poseer.

Walk in obedience to all that the L

ord

your God has commanded you, so that you may live and prosper and prolong your days in the land that you will possess.

Riquezas, honor y vida son el premio de la humildad y del temor de Jehová.

Humility is the fear of the L

ord

; its wages are riches and honor and life.

Prosigo a la meta, al premio del supremo llamamiento de Dios en Cristo Jesús.

I press on toward the goal to win the prize for which God has called me heavenward in Christ Jesus.

Dad y se os dará; medida buena, apretada, remecida y rebosando darán en vuestro regazo, porque con la misma medida con que medís, os volverán a medir.

Give, and it will be given to you. A good measure, pressed down, shaken together and running over, will be poured into your lap. For with the measure you use, it will be measured to you.

Pedid, y se os dará; buscad, y hallaréis; llamad, y se os abrirá.

Ask and it will be given to you; seek and you will find; knock and the door will be opened to you.

Y si hacéis bien a los que os hacen bien, ¿qué mérito tenéis? También los pecadores hacen lo mismo.

And if you do good to those who are good to you, what credit is that to you? Even sinners do that.

Pero sin fe es imposible agradar a Dios, porque es necesario que el que se acerca a Dios crea que él existe y que recompensa a los que lo buscan.

And without faith it is impossible to please God, because anyone who comes to him must believe that he exists and that he rewards those who earnestly seek him.

Pero si desde allí buscas a Jehová, tu Dios, lo hallarás, si lo buscas de todo tu corazón y de toda tu alma.

But if from there you seek the L

ord

your God, you will find him if you seek him with all your heart and with all your soul.

Pero tú, cuando ores, entra en tu cuarto, cierra la puerta y ora a tu Padre que está en secreto; y tu Padre, que ve en lo secreto, te recompensará en público.

But when you pray, go into your room, close the door and pray to your Father, who is unseen. Then your Father, who sees what is done in secret, will reward you.

El malvado obra con falsedad; el que siembra justicia obtendrá firme galardón.

A wicked person earns deceptive wages, but the one who sows righteousness reaps a sure reward.

Pero muchos primeros serán últimos, y los últimos, primeros.

But many who are first will be last, and many who are last will be first.

Humillaos, pues, bajo la poderosa mano de Dios, para que él os exalte a su debido tiempo.

Humble yourselves, therefore, under God's mighty hand, that he may lift you up in due time.

Buscad lo bueno y no lo malo, para que viváis; y así Jehová, Dios de los ejércitos, estará con vosotros, como decís.

Seek good, not evil, that you may live. Then the L

ord

God Almighty will be with you, just as you say he is.

Humillaos delante del Señor y él os exaltará.

Humble yourselves before the Lord, and he will lift you up.

Porque la paga del pecado es muerte, pero la dádiva de Dios es vida eterna en Cristo Jesús, Señor nuestro.

For the wages of sin is death, but the gift of God is eternal life in Christ Jesus our Lord.
Si alguno de vosotros tiene falta de sabiduría, pídala a Dios, el cual da a todos abundantemente y sin reproche, y le será dada.
Plan de lectura de la Biblia
Registrar y configurar su plan de lectura de la Biblia que desea ver su progreso y el siguiente capítulo para leer aquí!