11 Bible Verses about Fasting
«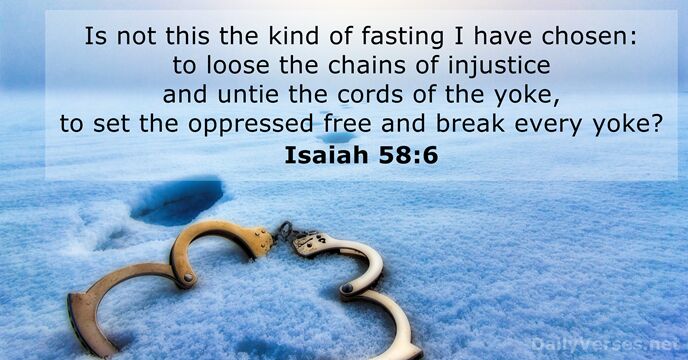 »
"Is not this the kind of fasting I have chosen: to loose the chains of injustice and untie the cords of the yoke, to set the oppressed free and break every yoke?"

Ist nicht vielmehr das ein Fasten, an dem ich Gefallen habe: Ungerechte Fesseln zu lösen, die Knoten des Joches zu öffnen, gewalttätig Behandelte als Freie zu entlassen und dass ihr jedes Joch zerbrecht?

So we fasted and petitioned our God about this, and he answered our prayer.

Und so fasteten wir und suchten in dieser Sache Hilfe von unserem Gott, und er ließ sich von uns erbitten.

But when you fast, put oil on your head and wash your face, so that it will not be obvious to others that you are fasting, but only to your Father, who is unseen; and your Father, who sees what is done in secret, will reward you.

Wenn du aber fastest, so salbe dein Haupt und wasche dein Gesicht, damit du nicht den Menschen als ein Fastender erscheinst, sondern deinem Vater, der im Verborgenen ist! Und dein Vater, der im Verborgenen sieht, wird dir vergelten.

"Even now," declares the L

ord

, "return to me with all your heart, with fasting and weeping and mourning."
Doch auch jetzt, spricht der

HERR

, kehrt um zu mir mit eurem ganzen Herzen und mit Fasten und mit Weinen und mit Klagen!

When you fast, do not look somber as the hypocrites do, for they disfigure their faces to show others they are fasting. Truly I tell you, they have received their reward in full.

Wenn ihr aber fastet, so seht nicht düster aus wie die Heuchler! Denn sie verstellen ihre Gesichter, damit sie den Menschen als Fastende erscheinen. Wahrlich, ich sage euch, sie haben ihren Lohn dahin.

I ate no choice food; no meat or wine touched my lips; and I used no lotions at all until the three weeks were over.

Köstliche Speise aß ich nicht, und weder Fleisch noch Wein kamen in meinen Mund; und ich salbte mich nicht, bis drei volle Wochen um waren.

So after they had fasted and prayed, they placed their hands on them and sent them off.

Da fasteten und beteten sie; und als sie ihnen die Hände aufgelegt hatten, entließen sie sie.

Where for forty days he was tempted by the devil. He ate nothing during those days, and at the end of them he was hungry.

Jesus aber, voll Heiligen Geistes, kehrte vom Jordan zurück und wurde durch den Geist in der Wüste vierzig Tage umhergeführt und von dem Teufel versucht. Und er aß in jenen Tagen nichts; und als sie zu Ende waren, hungerte ihn.

While they were worshiping the Lord and fasting, the Holy Spirit said, "Set apart for me Barnabas and Saul for the work to which I have called them."

Während sie aber dem Herrn dienten und fasteten, sprach der Heilige Geist: Sondert mir nun Barnabas und Saulus zu dem Werk aus, zu dem ich sie berufen habe!

Moses was there with the L

ord

forty days and forty nights without eating bread or drinking water. And he wrote on the tablets the words of the covenant—the Ten Commandments.
Und Mose blieb vierzig Tage und vierzig Nächte dort beim

HERRN

. Brot aß er nicht, und Wasser trank er nicht. Und er schrieb auf die Tafeln die Worte des Bundes, die zehn Worte.

"Go, gather together all the Jews who are in Susa, and fast for me. Do not eat or drink for three days, night or day. I and my attendants will fast as you do. When this is done, I will go to the king, even though it is against the law. And if I perish, I perish."

Geh hin, versammle alle Juden, die sich in Susa befinden! Und fastet um meinetwillen und esst nicht und trinkt nicht drei Tage lang, Nacht und Tag! Auch ich selbst werde mit meinen Dienerinnen ebenso fasten. Und sodann will ich zum König hineingehen, obwohl es nicht nach dem Gesetz ist. Und wenn ich umkomme, so komme ich um!
Who is it that overcomes the world? Only the one who believes that Jesus is the Son of God.
The L

ord

will keep you from all harm—
he will watch over your life;
the L

ord

will watch over your coming and going
both now and forevermore.
Read more
Who is it that overcomes the world? Only the one who believes that Jesus is the Son of God.
Personal Bible reading plan
Create an account to configure your Bible reading plan and you will see your progress and the next chapter to read here!
Read more...