«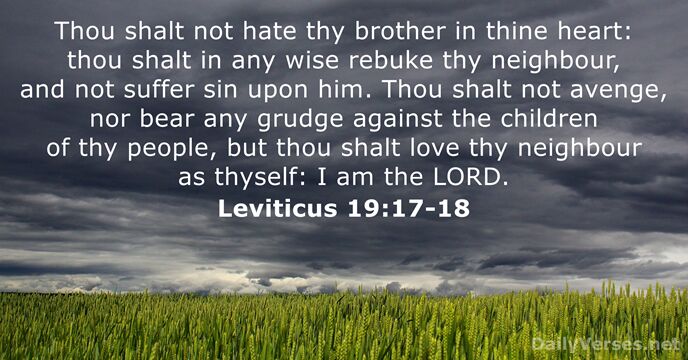 »
Thou shalt not hate thy brother in thine heart: thou shalt in any wise rebuke thy neighbour, and not suffer sin upon him. Thou shalt not avenge, nor bear any grudge against the children of thy people, but thou shalt love thy neighbour as thyself: I am the L

ord

.
Do not hate a fellow Israelite in your heart. Rebuke your neighbor frankly so you will not share in their guilt. Do not seek revenge or bear a grudge against anyone among your people, but love your neighbor as yourself. I am the L

ord

.
And ye shall be holy unto me: for I the L

ord

am holy, and have severed you from other people, that ye should be mine.
You are to be holy to me because I, the L

ord

, am holy, and I have set you apart from the nations to be my own.

And it shall be, when he shall be guilty in one of these things, that he shall confess that he hath sinned in that thing.

When anyone becomes aware that they are guilty in any of these matters, they must confess in what way they have sinned.

Ye shall keep my sabbaths, and reverence my sanctuary: I am the L

ord

.
Observe my Sabbaths and have reverence for my sanctuary. I am the L

ord

.
Six days shall work be done: but the seventh day is the sabbath of rest, an holy convocation; ye shall do no work therein: it is the sabbath of the L

ord

in all your dwellings.
There are six days when you may work, but the seventh day is a day of sabbath rest, a day of sacred assembly. You are not to do any work; wherever you live, it is a sabbath to the L

ord

.
And if a soul sin, and commit any of these things which are forbidden to be done by the commandments of the L

ord

; though he wist it not, yet is he guilty, and shall bear his iniquity.
If anyone sins and does what is forbidden in any of the L

ord

's commands, even though they do not know it, they are guilty and will be held responsible.

If ye walk in my statutes, and keep my commandments, and do them; Then I will give you rain in due season, and the land shall yield her increase, and the trees of the field shall yield their fruit.

If you follow my decrees and are careful to obey my commands, I will send you rain in its season, and the ground will yield its crops and the trees their fruit.

Therefore shall ye keep my commandments, and do them: I am the L

ord

.
Keep my commands and follow them. I am the L

ord

.
Watch and pray, that ye enter not into temptation: the spirit indeed is willing, but the flesh is weak.
Personal Bible reading plan
Create an account to configure your Bible reading plan and you will see your progress and the next chapter to read here!
Read more...