Read this Bible chapter online, click
here
to read.
Bible Verses
«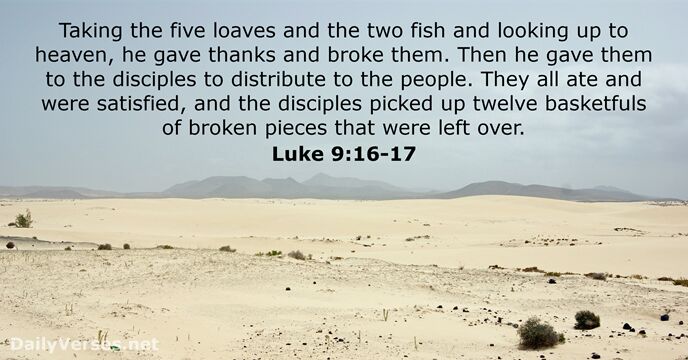 »
| | |
| --- | --- |
| Taking the five loaves and the two fish and looking up to heaven, he gave thanks and broke them. Then he gave them to the disciples to distribute to the people. They all ate and were satisfied, and the disciples picked up twelve basketfuls of broken pieces that were left over. | Toen nam Jezus het brood en de vis. Hij keek omhoog naar de hemel en dankte God voor het voedsel. Daarna brak hij het brood en de vis in stukken. Hij gaf het aan de leerlingen, en zij deelden het uit aan de mensen. Alle mensen konden eten zo veel als ze wilden. Het eten dat overbleef, werd verzameld. Het waren twaalf manden vol. |
| Then he said to them all: Whoever wants to be my disciple must deny themselves and take up their cross daily and follow me. | Jezus zei tegen alle mensen: 'Als je mijn volgeling wilt zijn, dan mag je niet meer aan jezelf denken. Je moet juist bereid zijn om je leven op te geven, elke dag opnieuw. En je moet met mij meegaan.' |
| For whoever wants to save their life will lose it, but whoever loses their life for me will save it. | Als je je leven probeert te redden, zul je het juist voor altijd verliezen. Maar je kunt ook je leven verliezen omdat je mijn volgeling bent. Dan zul je je leven juist voor altijd redden. |
| Then he said to them, "Whoever welcomes this little child in my name welcomes me; and whoever welcomes me welcomes the one who sent me. For it is the one who is least among you all who is the greatest." | Toen zei hij: 'Als je bij mij hoort, dan moet je juist voor de minst belangrijke mensen aandacht hebben. Zoals voor zo'n kind. Want wat je voor de minst belangrijke mensen doet, dat doe je voor mij. En wat je voor mij doet, dat doe je ook voor God, die mij gestuurd heeft. Weet je wie van jullie echt belangrijk is? Dat is degene die zichzelf het minst belangrijk vindt.' |
Receive the Daily Bible Verse:
Cast your cares on the Lord and he will sustain you; he will never let the righteous be shaken.