Bible Verses about Miracles
«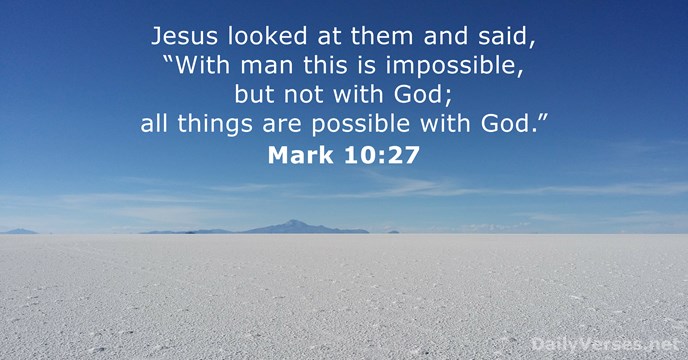 »
Jesus looked at them and said, "With man this is impossible, but not with God; all things are possible with God."

Jesus, porém, olhando para eles, disse: Para os homens é impossível, mas não para Deus, porque para Deus todas as coisas são possíveis.

"'If you can'?" said Jesus. "Everything is possible for one who believes."

E Jesus disse-lhe: Se tu podes crer; tudo é possível ao que crê.

Jesus replied, "What is impossible with man is possible with God."

Mas ele respondeu: As coisas que são impossíveis aos homens são possíveis a Deus.

I am the L

ord

, the God of all mankind. Is anything too hard for me?
Eis que eu sou o S

enhor

, o Deus de toda a carne. Acaso, seria qualquer coisa maravilhosa demais para mim?

Hearing this, Jesus said to Jairus, "Don't be afraid; just believe, and she will be healed."

Jesus, porém, ouvindo-o, respondeu-lhe, dizendo: Não temas; crê somente, e será salva.

For no word from God will ever fail.

Porque para Deus nada é impossível.

For you created my inmost being; you knit me together in my mother's womb. I praise you because I am fearfully and wonderfully made; your works are wonderful, I know that full well.

Pois possuíste o meu interior; entreteceste-me no ventre de minha mãe. Eu te louvarei, porque de um modo terrível e tão maravilhoso fui formado; maravilhosas são as tuas obras, e a minha alma o sabe muito bem.

Jesus looked at them and said, "With man this is impossible, but with God all things are possible."

E Jesus, olhando para eles, disse-lhes: Aos homens é isso impossível, mas a Deus tudo é possível.

He replied, "Because you have so little faith. Truly I tell you, if you have faith as small as a mustard seed, you can say to this mountain, 'Move from here to there,' and it will move. Nothing will be impossible for you."

E Jesus lhes disse: Por causa da vossa pequena fé; porque em verdade vos digo que, se tiverdes fé como um grão de mostarda, direis a este monte: Passa daqui para acolá — e há de passar; e nada vos será impossível.

Taking the five loaves and the two fish and looking up to heaven, he gave thanks and broke them. Then he gave them to the disciples to distribute to the people. They all ate and were satisfied, and the disciples picked up twelve basketfuls of broken pieces that were left over.

E, tomando os cinco pães e os dois peixes e olhando para o céu, abençoou-os, e partiu-os, e deu-os aos seus discípulos para os porem diante da multidão. E comeram todos e saciaram-se; e levantaram, do que lhes sobejou, doze cestos de pedaços.

On a Sabbath Jesus was teaching in one of the synagogues, and a woman was there who had been crippled by a spirit for eighteen years. She was bent over and could not straighten up at all. When Jesus saw her, he called her forward and said to her, "Woman, you are set free from your infirmity." Then he put his hands on her, and immediately she straightened up and praised God. Indignant because Jesus had healed on the Sabbath, the synagogue leader said to the people, "There are six days for work. So come and be healed on those days, not on the Sabbath." The Lord answered him, "You hypocrites! Doesn't each of you on the Sabbath untie your ox or donkey from the stall and lead it out to give it water? Then should not this woman, a daughter of Abraham, whom Satan has kept bound for eighteen long years, be set free on the Sabbath day from what bound her?" When he said this, all his opponents were humiliated, but the people were delighted with all the wonderful things he was doing.

E ensinava no sábado, numa das sinagogas. E eis que estava ali uma mulher que tinha um espírito de enfermidade havia já dezoito anos; e andava curvada e não podia de modo algum endireitar-se. E, vendo-a Jesus, chamou-a a si, e disse-lhe: Mulher, estás livre da tua enfermidade. E impôs as mãos sobre ela, e logo se endireitou e glorificava a Deus. E, tomando a palavra o príncipe da sinagoga, indignado porque Jesus curava no sábado, disse à multidão: Seis dias há em que é mister trabalhar; nestes, pois, vinde para serdes curados e não no dia de sábado. Respondeu-lhe, porém, o Senhor e disse: Hipócrita, no sábado não desprende da manjedoura cada um de vós o seu boi ou jumento e não o leva a beber água? E não convinha soltar desta prisão, no dia de sábado, esta filha de Abraão, a qual há dezoito anos Satanás mantinha presa? E, dizendo ele isso, todos os seus adversários ficaram envergonhados, e todo o povo se alegrava por todas as coisas gloriosas que eram feitas por ele.

I will give thanks to you, L

ord

, with all my heart; I will tell of all your wonderful deeds.
Eu te louvarei, S

enhor

, de todo o meu coração; contarei todas as tuas maravilhas.

Jesus replied, "Truly I tell you, if you have faith and do not doubt, not only can you do what was done to the fig tree, but also you can say to this mountain, 'Go, throw yourself into the sea,' and it will be done."

Jesus, porém, respondendo, disse-lhes: Em verdade vos digo que, se tiverdes fé e não duvidardes, não só fareis o que foi feito à figueira, mas até, se a este monte disserdes: Ergue-te e precipita-te no mar, assim será feito.

But when they saw him walking on the lake, they thought he was a ghost. They cried out, because they all saw him and were terrified. Immediately he spoke to them and said, "Take courage! It is I. Don't be afraid."

Mas, quando eles o viram andar sobre o mar, pensaram que era um fantasma e deram grandes gritos. Porque todos o viram e perturbaram-se; mas logo falou com eles e disse-lhes: Tende bom ânimo, sou eu; não temais.

I fell to the ground and heard a voice say to me, 'Saul! Saul! Why do you persecute me?'

E caí por terra e ouvi uma voz que me dizia: Saulo, Saulo, por que me persegues?

After he said this, he was taken up before their very eyes, and a cloud hid him from their sight.

E, quando dizia isto, vendo-o eles, foi elevado às alturas, e uma nuvem o recebeu, ocultando-o a seus olhos.

After they prayed, the place where they were meeting was shaken. And they were all filled with the Holy Spirit and spoke the word of God boldly.

E, tendo eles orado, moveu-se o lugar em que estavam reunidos; e todos foram cheios do Espírito Santo e anunciavam com ousadia a palavra de Deus.

Therefore the Lord himself will give you a sign: The virgin will conceive and give birth to a son, and will call him Immanuel.

Portanto, o mesmo Senhor vos dará um sinal: eis que uma virgem conceberá, e dará à luz um filho, e será o seu nome Emanuel.

Finally the other disciple, who had reached the tomb first, also went inside. He saw and believed. (They still did not understand from Scripture that Jesus had to rise from the dead.)

Então, entrou também o outro discípulo, que chegara primeiro ao sepulcro, e viu, e creu. Porque ainda não sabiam a Escritura, que diz que era necessário que ressuscitasse dos mortos.

All this took place to fulfill what the Lord had said through the prophet: "The virgin will conceive and give birth to a son, and they will call him Immanuel" (which means "God with us").

Tudo isso aconteceu para que se cumprisse o que foi dito da parte do Senhor pelo profeta, que diz: Eis que a virgem conceberá e dará à luz um filho, e ele será chamado pelo nome de Emanuel. (Emanuel traduzido é: Deus conosco).

This is how the birth of Jesus the Messiah came about: His mother Mary was pledged to be married to Joseph, but before they came together, she was found to be pregnant through the Holy Spirit.

Ora, o nascimento de Jesus Cristo foi assim: Estando Maria, sua mãe, desposada com José, antes de se ajuntarem, achou-se ter concebido do Espírito Santo.
When he had led them out to the vicinity of Bethany, he lifted up his hands and blessed them. While he was blessing them, he left them and was taken up into heaven.
Personal Bible reading plan
Create an account to configure your Bible reading plan and you will see your progress and the next chapter to read here!
Read more...