Bible Verses about Sacrifice
«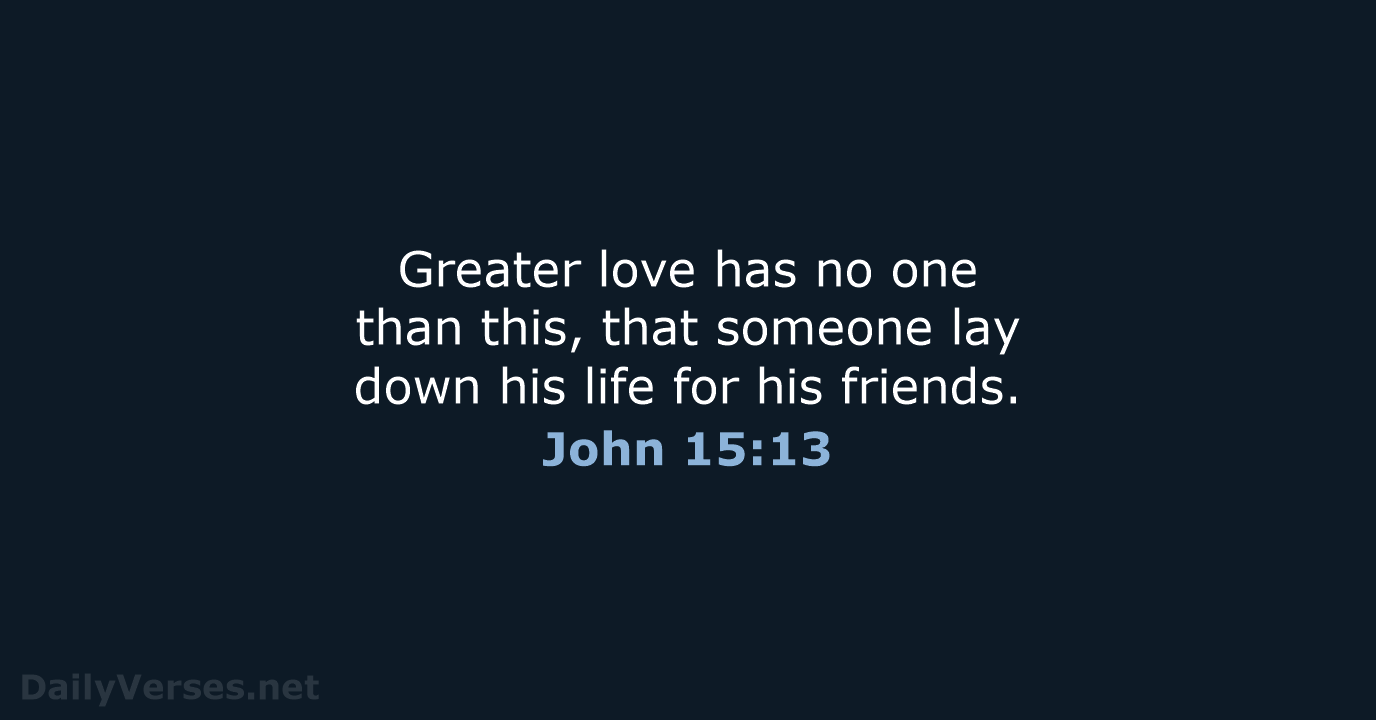 »
Greater love has no one than this, that someone lay down his life for his friends.

Het grootste bewijs van liefde is dat iemand wil sterven voor zijn vrienden.

And walk in love, as Christ loved us and gave himself up for us, a fragrant offering and sacrifice to God.

En leef met elkaar in liefde. Zo leefde Christus ook. Hij hield van ons, en hij is voor ons gestorven. Hij gaf zijn leven als offer, en dat was een geschenk dat God graag aannam.

So Christ, having been offered once to bear the sins of many, will appear a second time, not to deal with sin but to save those who are eagerly waiting for him.

Zo heeft ook Christus zichzelf één keer geofferd. Hij is gestorven voor de zonden van veel mensen. Hij zal opnieuw komen, maar dan niet om de zonden weg te nemen. Nee, hij zal komen om de mensen die op hem wachten, te redden.

For whoever would save his life will lose it, but whoever loses his life for my sake will save it.

Als je je leven probeert te redden, zul je het juist voor altijd verliezen. Maar je kunt ook je leven verliezen omdat je mijn volgeling bent. Dan zul je je leven juist voor altijd redden.

To do righteousness and justice is more acceptable to the L

ord

than sacrifice.

De Heer heeft liever dat je goed en eerlijk leeft, dan dat je offers aan hem brengt.

Go and learn what this means: 'I desire mercy, and not sacrifice.' For I came not to call the righteous, but sinners.

Toen Jezus dat hoorde, zei hij: 'Een dokter is er niet voor gezonde mensen, maar voor zieke mensen. Met mij is het net zo. Ik ben er niet voor goede mensen. Maar ik ben gekomen om aan slechte mensen het goede nieuws te vertellen. Denk eens goed na over deze woorden van God: «Ik wil geen offers, maar ik wil dat jullie goed voor elkaar zijn.»'

For I delivered to you as of first importance what I also received: that Christ died for our sins in accordance with the Scriptures, that he was buried, that he was raised on the third day in accordance with the Scriptures.

Luister! Het goede nieuws dat ik jullie vroeger verteld heb, heb ik niet zelf bedacht. Ik heb het van anderen gehoord. En in de heilige boeken is er ook al over geschreven. Dit is het goede nieuws: Jezus Christus is voor ons gestorven, en daardoor worden onze zonden vergeven. Na zijn dood is hij begraven, maar drie dagen later is hij opgestaan uit de dood. Ook dat staat al in de heilige boeken.

For even the Son of Man came not to be served but to serve, and to give his life as a ransom for many.

Want ook ik, de Mensenzoon, ben niet gekomen om over mensen te heersen. Ik ben er juist om mensen te dienen. Ik zal mijn leven geven om veel mensen te redden.

Who gave himself for us to redeem us from all lawlessness and to purify for himself a people for his own possession who are zealous for good works.

Hij gaf zijn leven om ons te redden. Daardoor heeft hij ons bevrijd van alle schuld. Zo maakte hij van ons zijn heilige volk, een volk dat zijn best doet om goed te leven.

And they stripped him and put a scarlet robe on him, and twisting together a crown of thorns, they put it on his head and put a reed in his right hand. And kneeling before him, they mocked him, saying, "Hail, King of the Jews!"

Toen trokken ze Jezus zijn kleren uit en deden hem een rode mantel aan. Ze maakten een kroon van doorntakken en zetten die op zijn hoofd. En ze gaven hem een stok in zijn rechterhand. Ze knielden voor hem en zeiden spottend: 'Wij groeten u, koning van de Joden!'

He who did not spare his own Son but gave him up for us all, how will he not also with him graciously give us all things?

God liet toe dat zijn eigen Zoon gedood werd. Hij leverde hem uit aan slechte mensen. Dat deed God voor ons allemaal. Maar dan is het zeker dat hij ons ook het eeuwige leven zal geven, het eeuwige leven dat zijn Zoon al gekregen heeft.

Honor the L

ord

with your wealth and with the firstfruits of all your produce.

Je moet offers aan de Heer brengen, en hem het beste van je oogst geven.

Do not present your members to sin as instruments for unrighteousness, but present yourselves to God as those who have been brought from death to life, and your members to God as instruments for righteousness.

Wij zijn vanuit de dood naar het leven gegaan. Doe daarom geen verkeerde dingen meer. Want daarmee leef je in dienst van de zonde. Maar doe het goede, want alleen dan leef je in dienst van God.

For while we were still weak, at the right time Christ died for the ungodly.

Vroeger waren we vijanden van God. Wijzelf konden dat niet veranderen, maar Christus wel: hij is voor ons gestorven.

But I with the voice of thanksgiving will sacrifice to you; what I have vowed I will pay. Salvation belongs to the L

ord

!

Maar ik niet! Ik zal u met offers danken, en een lied voor u zingen. Alles wat ik beloof, zal ik doen. Want alleen u, Heer, brengt redding!

But if we walk in the light, as he is in the light, we have fellowship with one another, and the blood of Jesus his Son cleanses us from all sin.

Maar als we leven in het licht, net zoals God in het licht is, dan zijn we als gelovigen met elkaar verbonden. Onze zonden worden dan vergeven. En we worden helemaal rein door het bloed van Gods Zoon, die voor ons gestorven is.

Even as the Son of Man came not to be served but to serve, and to give his life as a ransom for many.

Zo is het ook met de Mensenzoon. Ik ben niet gekomen om over mensen te heersen. Ik ben er juist om mensen te dienen. Ik zal mijn leven geven om veel mensen te redden.

How much more will the blood of Christ, who through the eternal Spirit offered himself without blemish to God, purify our conscience from dead works to serve the living God.

Maar door dit betere offer, het bloed van Christus, worden we ook diep van binnen rein. Christus had Gods eeuwige Geest in zich. En daarom kon hij zichzelf offeren, terwijl hij zelf niets verkeerds gedaan had. Dankzij dat offer kunnen wij op een goede manier leven en de levende God dienen.

Abba, Father, all things are possible for you. Remove this cup from me. Yet not what I will, but what you will.

Abba, Vader, voor u is alles mogelijk. Houd toch dit zware lijden bij mij weg! Maar doe alleen wat u wilt, niet wat ik wil.

Then Jesus, calling out with a loud voice, said, "Father, into your hands I commit my spirit!" And having said this he breathed his last.

Toen riep Jezus: 'Vader, mijn leven is in uw handen!' Dat waren zijn laatste woorden. Zo stierf hij.

See, we are going up to Jerusalem. And the Son of Man will be delivered over to the chief priests and scribes, and they will condemn him to death and deliver him over to the Gentiles to be mocked and flogged and crucified, and he will be raised on the third day.

We zijn op weg naar Jeruzalem. Daar zal de Mensenzoon uitgeleverd worden aan de priesters en de wetsleraren. Zij zullen besluiten dat hij gedood moet worden. Ze zullen hem uitleveren aan de ongelovigen. Die zullen hem bespotten, en hem met de zweep slaan. Daarna zullen ze hem aan het kruis hangen. Maar drie dagen later zal hij opstaan uit de dood.

The sacrifices of God are a broken spirit; a broken and contrite heart, O God, you will not despise.

U wilt dat ik verdriet en spijt heb, dat is het offer dat u wilt.
So that, as sin reigned in death, grace also might reign through righteousness leading to eternal life through Jesus Christ our Lord.
Personal Bible reading plan
Create an account to configure your Bible reading plan and you will see your progress and the next chapter to read here!
Read more...