Bible Verses about 'Face'
«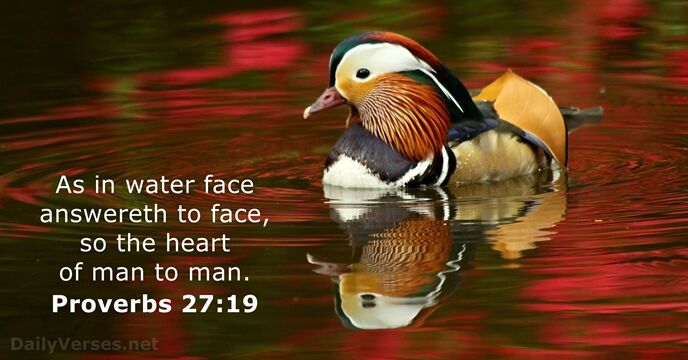 »
As in water face answereth to face,
so the heart of man to man.
Seek the L

ord

, and his strength:
seek his face evermore.
Make thy face to shine upon thy servant:
save me for thy mercies' sake.
Seek the L

ord

and his strength,
seek his face continually.
Turn us again, O L

ord

God of hosts,
cause thy face to shine; and we shall be saved.
The face of the L

ord

is against them that do evil,
to cut off the remembrance of them from the earth.

In the beginning God created the heaven and the earth. And the earth was without form, and void; and darkness was upon the face of the deep. And the Spirit of God moved upon the face of the waters.

For the L

ord

your God is gracious and merciful, and will not turn away his face from you, if ye return unto him.
The L

ord

bless thee, and keep thee:
The L

ord

make his face shine upon thee, and be gracious unto thee:
The L

ord

lift up his countenance upon thee, and give thee peace.

For the eyes of the Lord are over the righteous, and his ears are open unto their prayers: but the face of the Lord is against them that do evil.

And God said, Behold, I have given you every herb bearing seed, which is upon the face of all the earth, and every tree, in the which is the fruit of a tree yielding seed; to you it shall be for meat.

But we all, with open face beholding as in a glass the glory of the Lord, are changed into the same image from glory to glory, even as by the Spirit of the Lord.

If my people, which are called by my name, shall humble themselves, and pray, and seek my face, and turn from their wicked ways; then will I hear from heaven, and will forgive their sin, and will heal their land.

But thou, when thou fastest, anoint thine head, and wash thy face; That thou appear not unto men to fast, but unto thy Father which is in secret: and thy Father, which seeth in secret, shall reward thee openly.

It is he that buildeth his stories in the heaven,
and hath founded his troop in the earth;
he that calleth for the waters of the sea,
and poureth them out upon the face of the earth:
The L

ord

is his name.
For they got not the land in possession by their own sword,
neither did their own arm save them:
but thy right hand, and thine arm,
and the light of thy countenance, because thou hadst a favour unto them.
He is despised and rejected of men;
a man of sorrows, and acquainted with grief:
and we hid as it were our faces from him;
he was despised, and we esteemed him not.

Moreover when ye fast, be not, as the hypocrites, of a sad countenance: for they disfigure their faces, that they may appear unto men to fast. Verily I say unto you, They have their reward.

In like manner also, that women adorn themselves in modest apparel, with shamefacedness and sobriety; not with broided hair, or gold, or pearls, or costly array; But (which becometh women professing godliness) with good works.
Since thou wast precious in my sight, thou hast been honourable, and I have loved thee: therefore will I give men for thee, and people for thy life.
Personal Bible reading plan
Create an account to configure your Bible reading plan and you will see your progress and the next chapter to read here!
Read more...