Bible Verses about 'Saying'
«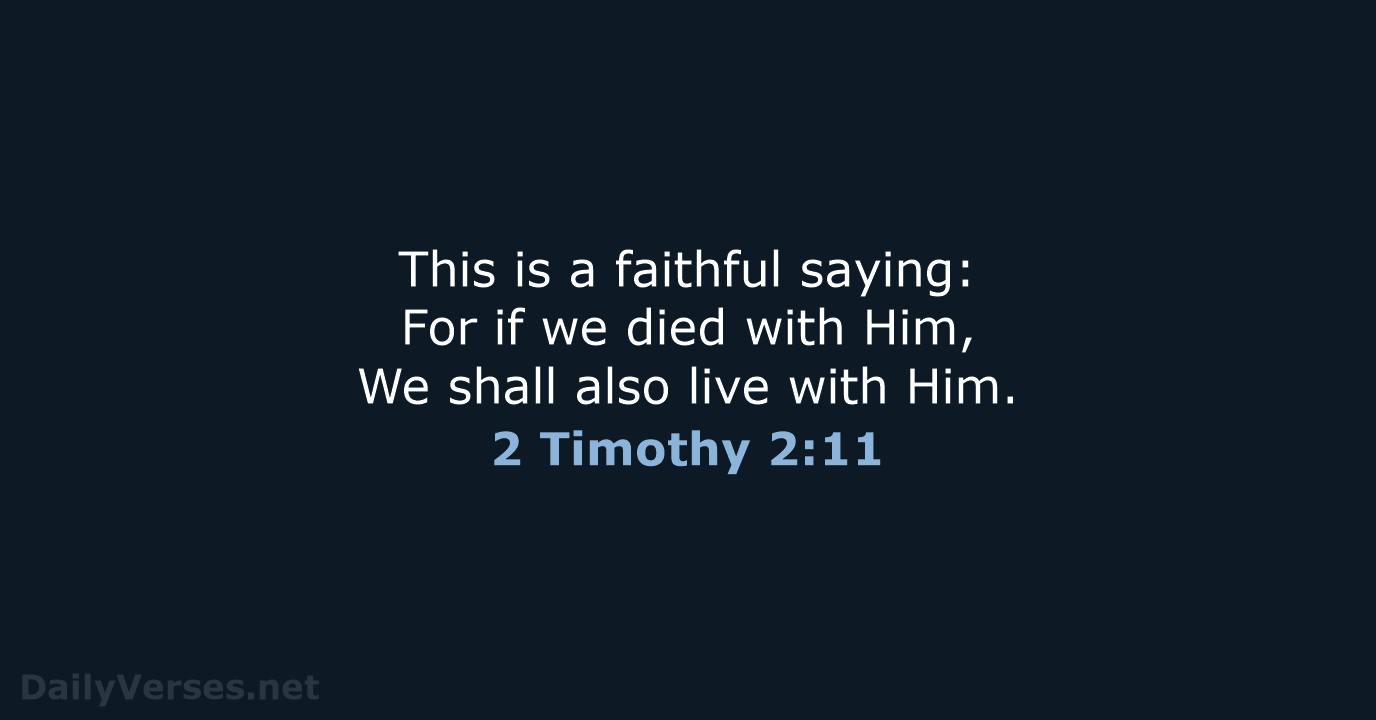 »
This is a faithful saying:
For if we died with Him,
We shall also live with Him.

And I fell to the ground and heard a voice saying to me, 'Saul, Saul, why are you persecuting Me?'

Likewise He also took the cup after supper, saying, "This cup is the new covenant in My blood, which is shed for you."
And He took bread, gave thanks and broke it, and gave it to them, saying, "This is My body which is given for you; do this in remembrance of Me."
For I, the L

ord

your God, will hold your right hand,
Saying to you, 'Fear not, I will help you.'

Then Jesus spoke to them again, saying, "I am the light of the world. He who follows Me shall not walk in darkness, but have the light of life."

But when Jesus heard it, He answered him, saying, "Do not be afraid; only believe, and she will be made well."
On the last day, that great day of the feast, Jesus stood and cried out, saying, "If anyone thirsts, let him come to Me and drink."

If your brother sins against you, rebuke him; and if he repents, forgive him. And if he sins against you seven times in a day, and seven times in a day returns to you, saying, 'I repent,' you shall forgive him.

And they stripped Him and put a scarlet robe on Him. When they had twisted a crown of thorns, they put it on His head, and a reed in His right hand. And they bowed the knee before Him and mocked Him, saying, "Hail, King of the Jews!"
And every creature which is in heaven and on the earth and under the earth and such as are in the sea, and all that are in them, I heard saying:
"Blessing and honor and glory and power
Be to Him who sits on the throne,
And to the Lamb, forever and ever!"

Then Paul said, "John indeed baptized with a baptism of repentance, saying to the people that they should believe on Him who would come after him, that is, on Christ Jesus."

Then the multitudes who went before and those who followed cried out, saying:
"Hosanna to the Son of David!
'Blessed is He who comes in the name of the L

ord

!'
Hosanna in the highest!"
And I heard a loud voice from heaven saying, "Behold, the tabernacle of God is with men, and He will dwell with them, and they shall be His people. God Himself will be with them and be their God. And God will wipe away every tear from their eyes; there shall be no more death, nor sorrow, nor crying. There shall be no more pain, for the former things have passed away."

But while he thought about these things, behold, an angel of the Lord appeared to him in a dream, saying, "Joseph, son of David, do not be afraid to take to you Mary your wife, for that which is conceived in her is of the Holy Spirit."

Therefore, having obtained help from God, to this day I stand, witnessing both to small and great, saying no other things than those which the prophets and Moses said would come— that the Christ would suffer, that He would be the first to rise from the dead, and would proclaim light to the Jewish people and to the Gentiles.

Now after Jesus was born in Bethlehem of Judea in the days of Herod the king, behold, wise men from the East came to Jerusalem, saying, "Where is He who has been born King of the Jews? For we have seen His star in the East and have come to worship Him."

He is not here, but is risen! Remember how He spoke to you when He was still in Galilee, saying, 'The Son of Man must be delivered into the hands of sinful men, and be crucified, and the third day rise again.'

"Do not be like your fathers, to whom the former prophets preached, saying, 'Thus says the L

ord

of hosts: "Turn now from your evil ways and your evil deeds." ' But they did not hear nor heed Me," says the L

ord

.
For so the Lord has commanded us:
'I have set you as a light to the Gentiles,
That you should be for salvation to the ends of the earth.'

While he was still speaking, behold, a bright cloud overshadowed them; and suddenly a voice came out of the cloud, saying, "This is My beloved Son, in whom I am well pleased. Hear Him!"

So all this was done that it might be fulfilled which was spoken by the Lord through the prophet, saying: "Behold, the virgin shall be with child, and bear a Son, and they shall call His name Immanuel," which is translated, "God with us."

For the commandments, "You shall not commit adultery," "You shall not murder," "You shall not steal," "You shall not bear false witness," "You shall not covet," and if there is any other commandment, are all summed up in this saying, namely, "You shall love your neighbor as yourself."

From that time Jesus began to preach and to say, "Repent, for the kingdom of heaven is at hand."

Now when He had spoken these things, while they watched, He was taken up, and a cloud received Him out of their sight.
He has made everything beautiful in its time. Also He has put eternity in their hearts, except that no one can find out the work that God does from beginning to end.
Personal Bible reading plan
Create an account to configure your Bible reading plan and you will see your progress and the next chapter to read here!
Read more...