Bible Verses about the Second coming
«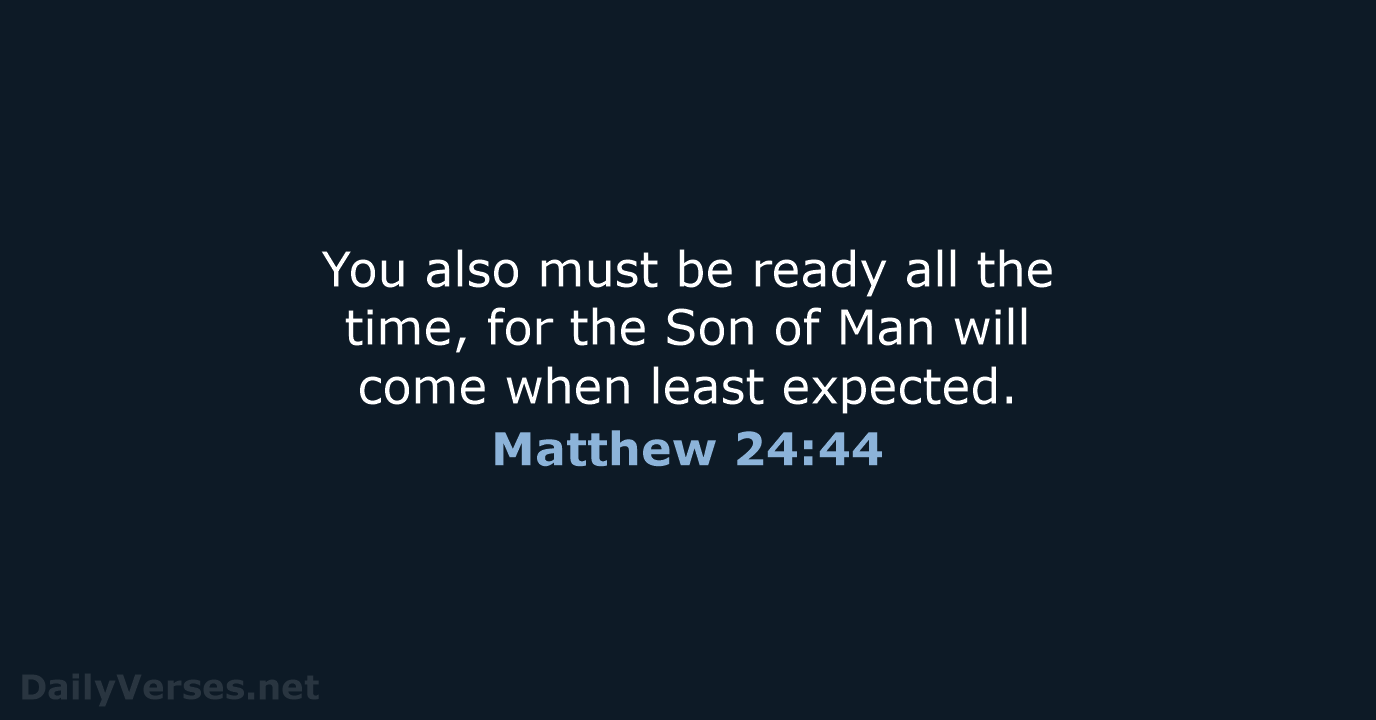 »
You also must be ready all the time, for the Son of Man will come when least expected.

Let us think of ways to motivate one another to acts of love and good works. And let us not neglect our meeting together, as some people do, but encourage one another, especially now that the day of his return is drawing near.

He who is the faithful witness to all these things says, "Yes, I am coming soon!"
Amen! Come, Lord Jesus!

So you, too, must keep watch! For you don't know what day your Lord is coming.

Look, I am coming soon, bringing my reward with me to repay all people according to their deeds.

The end of the world is coming soon. Therefore, be earnest and disciplined in your prayers.

I am coming soon. Hold on to what you have, so that no one will take away your crown.

"I am the Alpha and the Omega—the beginning and the end," says the Lord God. "I am the one who is, who always was, and who is still to come—the Almighty One."

Look! He comes with the clouds of heaven.
And everyone will see him—
even those who pierced him.
And all the nations of the world
will mourn for him.
Yes! Amen!

As they strained to see him rising into heaven, two white-robed men suddenly stood among them. "Men of Galilee," they said, "why are you standing here staring into heaven? Jesus has been taken from you into heaven, but someday he will return from heaven in the same way you saw him go!"

And now, dear children, remain in fellowship with Christ so that when he returns, you will be full of courage and not shrink back from him in shame.

Beware of false prophets who come disguised as harmless sheep but are really vicious wolves.

But you must not forget this one thing, dear friends: A day is like a thousand years to the Lord, and a thousand years is like a day.

And I am certain that God, who began the good work within you, will continue his work until it is finally finished on the day when Christ Jesus returns.

And do not bring sorrow to God's Holy Spirit by the way you live. Remember, he has identified you as his own, guaranteeing that you will be saved on the day of redemption.

So if someone tells you, 'Look, the Messiah is out in the desert,' don't bother to go and look. Or, 'Look, he is hiding here,' don't believe it! For as the lightning flashes in the east and shines to the west, so it will be when the Son of Man comes.
Dear brothers and sisters, I close my letter with these last words: Be joyful. Grow to maturity. Encourage each other. Live in harmony and peace. Then the God of love and peace will be with you.
Personal Bible reading plan
Create an account to configure your Bible reading plan and you will see your progress and the next chapter to read here!
Read more...