Bible Verses about Prophecy
«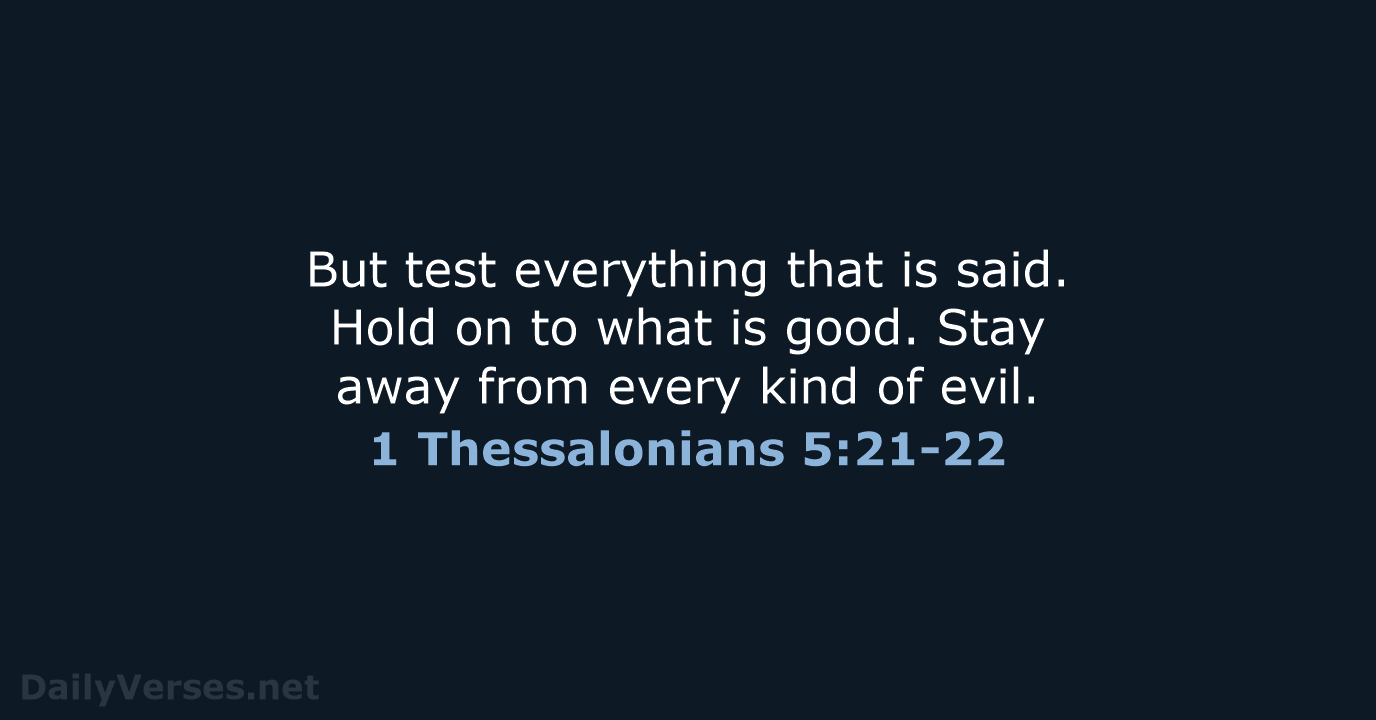 »
But test everything that is said. Hold on to what is good. Stay away from every kind of evil.

If I had the gift of prophecy, and if I understood all of God's secret plans and possessed all knowledge, and if I had such faith that I could move mountains, but didn't love others, I would be nothing.

Above all, you must realize that no prophecy in Scripture ever came from the prophet's own understanding, or from human initiative. No, those prophets were moved by the Holy Spirit, and they spoke from God.

Dear friends, do not believe everyone who claims to speak by the Spirit. You must test them to see if the spirit they have comes from God. For there are many false prophets in the world.

Indeed, the Sovereign L

ord

never does anything
until he reveals his plans to his servants the prophets.
Go back to Hezekiah, the leader of my people. Tell him, 'This is what the L

ord

, the God of your ancestor David, says: I have heard your prayer and seen your tears. I will heal you, and three days from now you will get out of bed and go to the Temple of the L

ord

.'

Beware of false prophets who come disguised as harmless sheep but are really vicious wolves.

Do to others whatever you would like them to do to you. This is the essence of all that is taught in the law and the prophets.

But you belong to God, my dear children. You have already won a victory over those people, because the Spirit who lives in you is greater than the spirit who lives in the world.

As soon as they heard this, they were baptized in the name of the Lord Jesus. Then when Paul laid his hands on them, the Holy Spirit came on them, and they spoke in other tongues and prophesied.

So now you Gentiles are no longer strangers and foreigners. You are citizens along with all of God's holy people. You are members of God's family. Together, we are his house, built on the foundation of the apostles and the prophets. And the cornerstone is Christ Jesus himself.

All right then, the Lord himself will give you the sign. Look! The virgin will conceive a child! She will give birth to a son and will call him Immanuel (which means 'God is with us').

But now God has shown us a way to be made right with him without keeping the requirements of the law, as was promised in the writings of Moses and the prophets long ago. We are made right with God by placing our faith in Jesus Christ. And this is true for everyone who believes, no matter who we are.

Rejoice, O people of Zion!
Shout in triumph, O people of Jerusalem!
Look, your king is coming to you.
He is righteous and victorious,
yet he is humble, riding on a donkey—
riding on a donkey's colt.
All of this occurred to fulfill the Lord's message through his prophet:
"Look! The virgin will conceive a child!
She will give birth to a son,
and they will call him Immanuel,
which means 'God is with us.'"
But you may wonder, 'How will we know whether or not a prophecy is from the L

ord

?' If the prophet speaks in the L

ord

's name but his prediction does not happen or come true, you will know that the L

ord

did not give that message. That prophet has spoken without my authority and need not be feared.

Don't misunderstand why I have come. I did not come to abolish the law of Moses or the writings of the prophets. No, I came to accomplish their purpose.

But you, O Bethlehem Ephrathah,
are only a small village among all the people of Judah.
Yet a ruler of Israel,
whose origins are in the distant past,
will come from you on my behalf.
Dear brothers and sisters, I close my letter with these last words: Be joyful. Grow to maturity. Encourage each other. Live in harmony and peace. Then the God of love and peace will be with you.
Personal Bible reading plan
Create an account to configure your Bible reading plan and you will see your progress and the next chapter to read here!
Read more...