Bible Verses about the Neighbor
«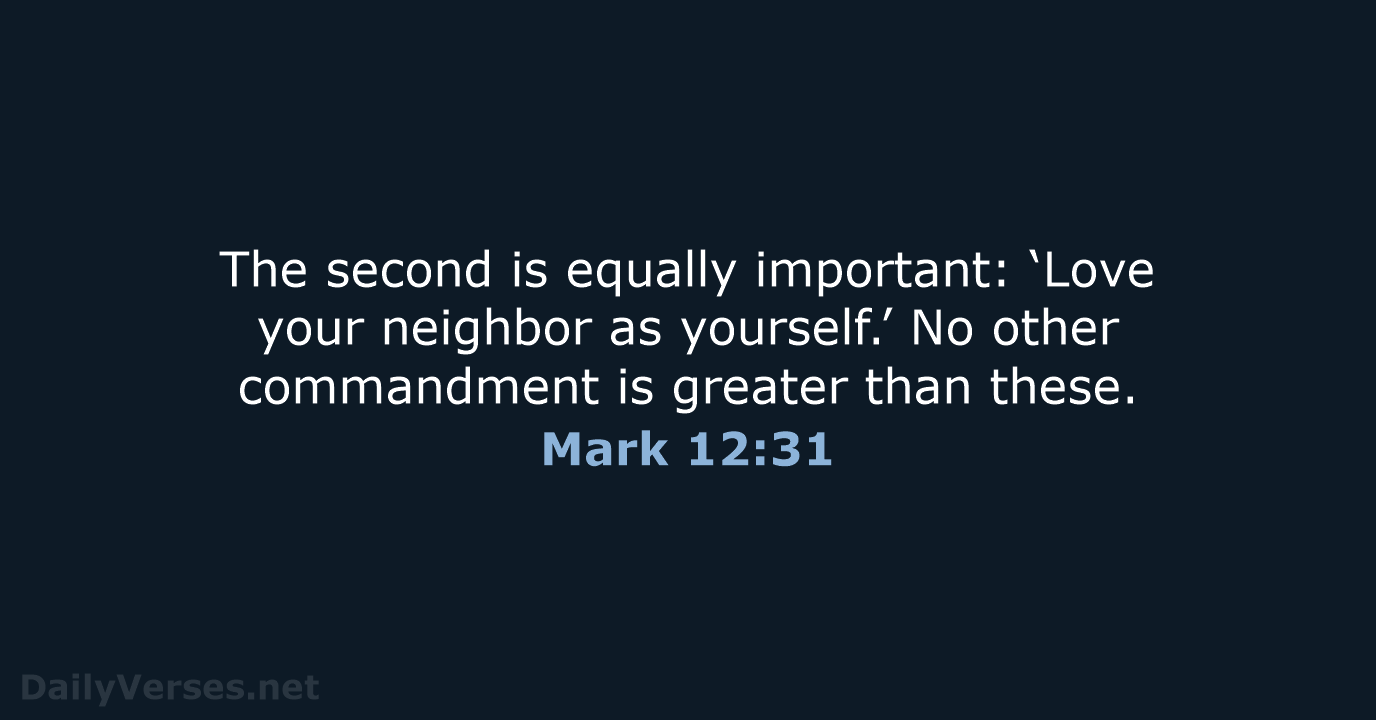 »
The second is equally important: 'Love your neighbor as yourself.' No other commandment is greater than these.

Finally, all of you should be of one mind. Sympathize with each other. Love each other as brothers and sisters. Be tenderhearted, and keep a humble attitude.

Don't be concerned for your own good but for the good of others.

So encourage each other and build each other up, just as you are already doing.

Share each other's burdens, and in this way obey the law of Christ.

For the whole law can be summed up in this one command: "Love your neighbor as yourself."

Keep on loving each other as brothers and sisters. Don't forget to show hospitality to strangers, for some who have done this have entertained angels without realizing it!

Do to others whatever you would like them to do to you. This is the essence of all that is taught in the law and the prophets.

Don't be selfish; don't try to impress others. Be humble, thinking of others as better than yourselves.

We should help others do what is right and build them up in the Lord.

Therefore, whenever we have the opportunity, we should do good to everyone—especially to those in the family of faith.

So let's stop condemning each other. Decide instead to live in such a way that you will not cause another believer to stumble and fall.

Make allowance for each other's faults, and forgive anyone who offends you. Remember, the Lord forgave you, so you must forgive others.

Learn to do good.
Seek justice.
Help the oppressed.
Defend the cause of orphans.
Fight for the rights of widows.

So now I am giving you a new commandment: Love each other. Just as I have loved you, you should love each other.

Love does no wrong to others, so love fulfills the requirements of God's law.

You may think you can condemn such people, but you are just as bad, and you have no excuse! When you say they are wicked and should be punished, you are condemning yourself, for you who judge others do these very same things.

Most important of all, continue to show deep love for each other, for love covers a multitude of sins.

And may the Lord make your love for one another and for all people grow and overflow, just as our love for you overflows.

Love each other with genuine affection, and take delight in honoring each other.

For the commandments say, "You must not commit adultery. You must not murder. You must not steal. You must not covet." These—and other such commandments—are summed up in this one commandment: "Love your neighbor as yourself."

One should be kind to a fainting friend,
but you accuse me without any fear of the Almighty.

This is the message you have heard from the beginning: We should love one another.

Pure and genuine religion in the sight of God the Father means caring for orphans and widows in their distress and refusing to let the world corrupt you.

In the same way, some think one day is more holy than another day, while others think every day is alike. You should each be fully convinced that whichever day you choose is acceptable.
But anyone who does not love does not know God, for God is love.
Personal Bible reading plan
Create an account to configure your Bible reading plan and you will see your progress and the next chapter to read here!
Read more...