Bible Verses about Goodness
«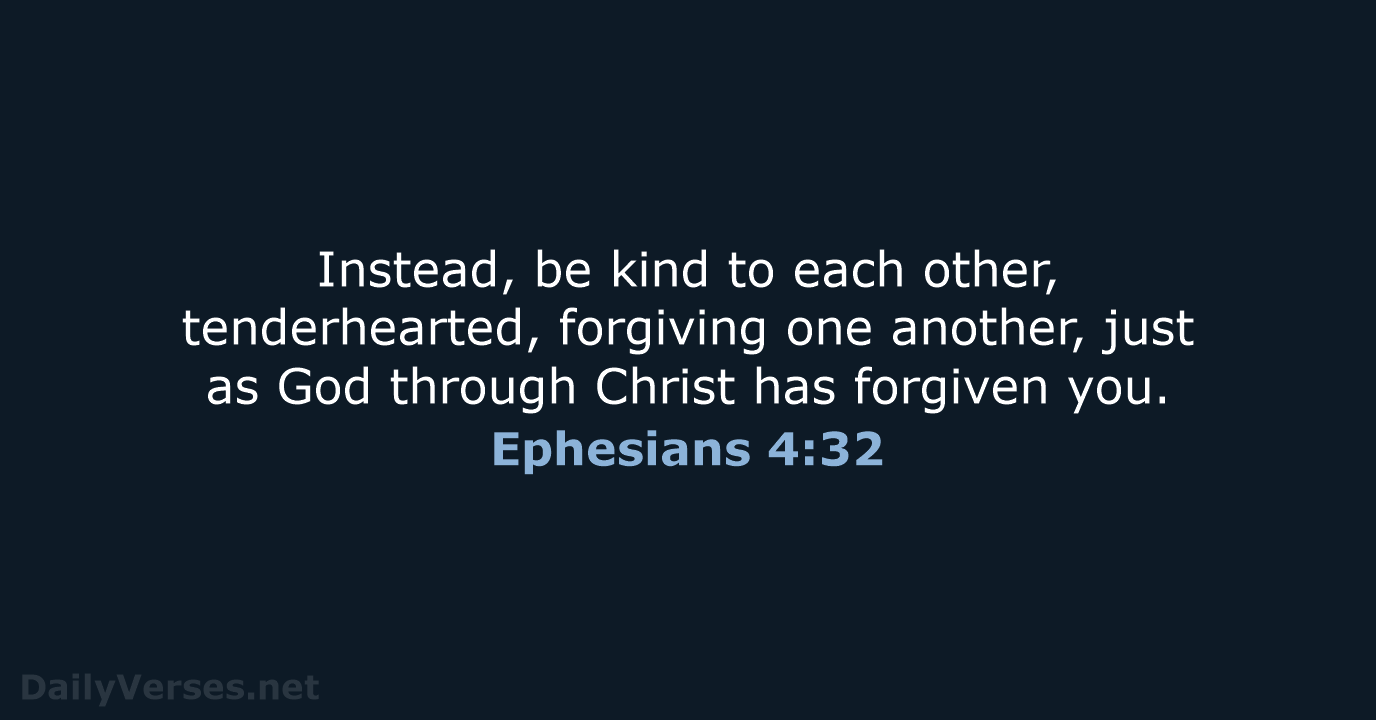 »
Instead, be kind to each other, tenderhearted, forgiving one another, just as God through Christ has forgiven you.

Therefore, whenever we have the opportunity, we should do good to everyone—especially to those in the family of faith.

Don't let evil conquer you, but conquer evil by doing good.

The L

ord

is good,
a strong refuge when trouble comes.
He is close to those who trust in him.
The L

ord

is righteous in everything he does;
he is filled with kindness.

Don't just pretend to love others. Really love them. Hate what is wrong. Hold tightly to what is good.

But the Holy Spirit produces this kind of fruit in our lives: love, joy, peace, patience, kindness, goodness, faithfulness, gentleness, and self-control. There is no law against these things!

You say, "I am allowed to do anything"—but not everything is good for you. You say, "I am allowed to do anything"—but not everything is beneficial.

No one lights a lamp and then puts it under a basket. Instead, a lamp is placed on a stand, where it gives light to everyone in the house. In the same way, let your good deeds shine out for all to see, so that everyone will praise your heavenly Father.

In view of all this, make every effort to respond to God's promises. Supplement your faith with a generous provision of moral excellence, and moral excellence with knowledge, and knowledge with self-control, and self-control with patient endurance, and patient endurance with godliness, and godliness with brotherly affection, and brotherly affection with love for everyone.

Trust in the L

ord

and do good.
Then you will live safely in the land and prosper.
Yet I am confident I will see the L

ord

's goodness
while I am here in the land of the living.

And God will generously provide all you need. Then you will always have everything you need and plenty left over to share with others.

Loyalty makes a person attractive.
It is better to be poor than dishonest.
Turn away from evil and do good.
Search for peace, and work to maintain it.

Don't use foul or abusive language. Let everything you say be good and helpful, so that your words will be an encouragement to those who hear them.

Now, who will want to harm you if you are eager to do good?

This is what the L

ord

says:
"Stop at the crossroads and look around.
Ask for the old, godly way, and walk in it.
Travel its path, and you will find rest for your souls.
But you reply, 'No, that's not the road we want!'"

You must be compassionate, just as your Father is compassionate.

Remember, O L

ord

, your compassion and unfailing love,
which you have shown from long ages past.
Do not remember the rebellious sins of my youth.
Remember me in the light of your unfailing love,
for you are merciful, O L

ord

.
Then you will understand what is right, just, and fair,
and you will find the right way to go.

Don't be fooled by those who say such things, for "bad company corrupts good character."

He gave his life to free us from every kind of sin, to cleanse us, and to make us his very own people, totally committed to doing good deeds.

And I want women to be modest in their appearance. They should wear decent and appropriate clothing and not draw attention to themselves by the way they fix their hair or by wearing gold or pearls or expensive clothes. For women who claim to be devoted to God should make themselves attractive by the good things they do.
Dear brothers and sisters, I close my letter with these last words: Be joyful. Grow to maturity. Encourage each other. Live in harmony and peace. Then the God of love and peace will be with you.
Personal Bible reading plan
Create an account to configure your Bible reading plan and you will see your progress and the next chapter to read here!
Read more...