Bible Verses about Faith
«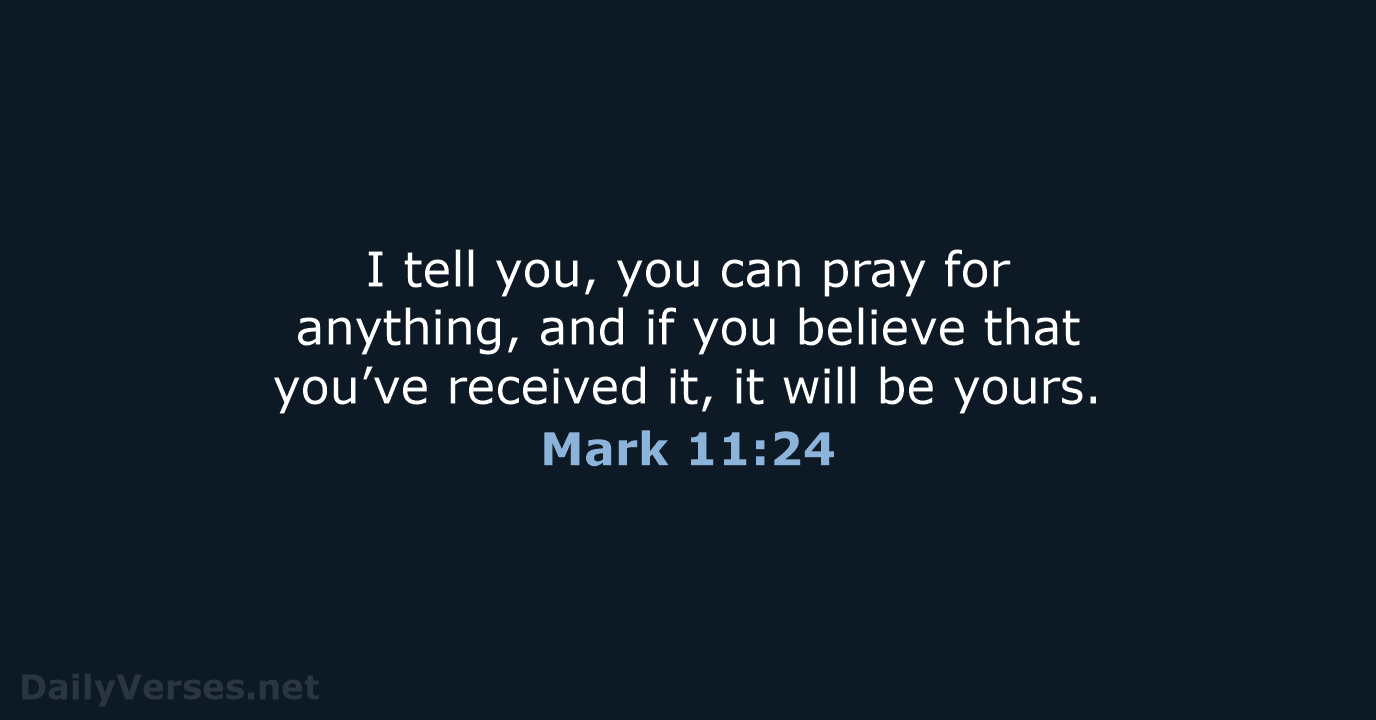 »
I tell you, you can pray for anything, and if you believe that you've received it, it will be yours.

I pray that from his glorious, unlimited resources he will empower you with inner strength through his Spirit. Then Christ will make his home in your hearts as you trust in him. Your roots will grow down into God's love and keep you strong.

Faith shows the reality of what we hope for; it is the evidence of things we cannot see.

For we live by believing and not by seeing.

I pray that God, the source of hope, will fill you completely with joy and peace because you trust in him. Then you will overflow with confident hope through the power of the Holy Spirit.

But when you ask him, be sure that your faith is in God alone. Do not waver, for a person with divided loyalty is as unsettled as a wave of the sea that is blown and tossed by the wind.

And it is impossible to please God without faith. Anyone who wants to come to him must believe that God exists and that he rewards those who sincerely seek him.

Jesus responded, "Didn't I tell you that you would see God's glory if you believe?"

"What do you mean, 'If I can'?" Jesus asked. "Anything is possible if a person believes."

For you know that when your faith is tested, your endurance has a chance to grow.

You love him even though you have never seen him. Though you do not see him now, you trust him; and you rejoice with a glorious, inexpressible joy. The reward for trusting him will be the salvation of your souls.

Jesus told her, "I am the resurrection and the life. Anyone who believes in me will live, even after dying. Everyone who lives in me and believes in me will never ever die. Do you believe this, Martha?"

You can pray for anything, and if you have faith, you will receive it.

For every child of God defeats this evil world, and we achieve this victory through our faith.

Accept other believers who are weak in faith, and don't argue with them about what they think is right or wrong.

But you, Timothy, are a man of God; so run from all these evil things. Pursue righteousness and a godly life, along with faith, love, perseverance, and gentleness.

And Jesus said to him, "Go, for your faith has healed you." Instantly the man could see, and he followed Jesus down the road.

If I had the gift of prophecy, and if I understood all of God's secret plans and possessed all knowledge, and if I had such faith that I could move mountains, but didn't love others, I would be nothing.

Jesus replied, "I am the bread of life. Whoever comes to me will never be hungry again. Whoever believes in me will never be thirsty."

Be on guard. Stand firm in the faith. Be courageous. Be strong.

I have chosen to be faithful;
I have determined to live by your regulations.

For it is by believing in your heart that you are made right with God, and it is by openly declaring your faith that you are saved.

It was by faith that even Sarah was able to have a child, though she was barren and was too old. She believed that God would keep his promise.

This Good News tells us how God makes us right in his sight. This is accomplished from start to finish by faith. As the Scriptures say, "It is through faith that a righteous person has life."

Are any of you sick? You should call for the elders of the church to come and pray over you, anointing you with oil in the name of the Lord. Such a prayer offered in faith will heal the sick, and the Lord will make you well. And if you have committed any sins, you will be forgiven.
I will sing to the Lord as long as I live. I will praise my God to my last breath!
Personal Bible reading plan
Create an account to configure your Bible reading plan and you will see your progress and the next chapter to read here!
Read more...