Bible Verses about the Resurrection
«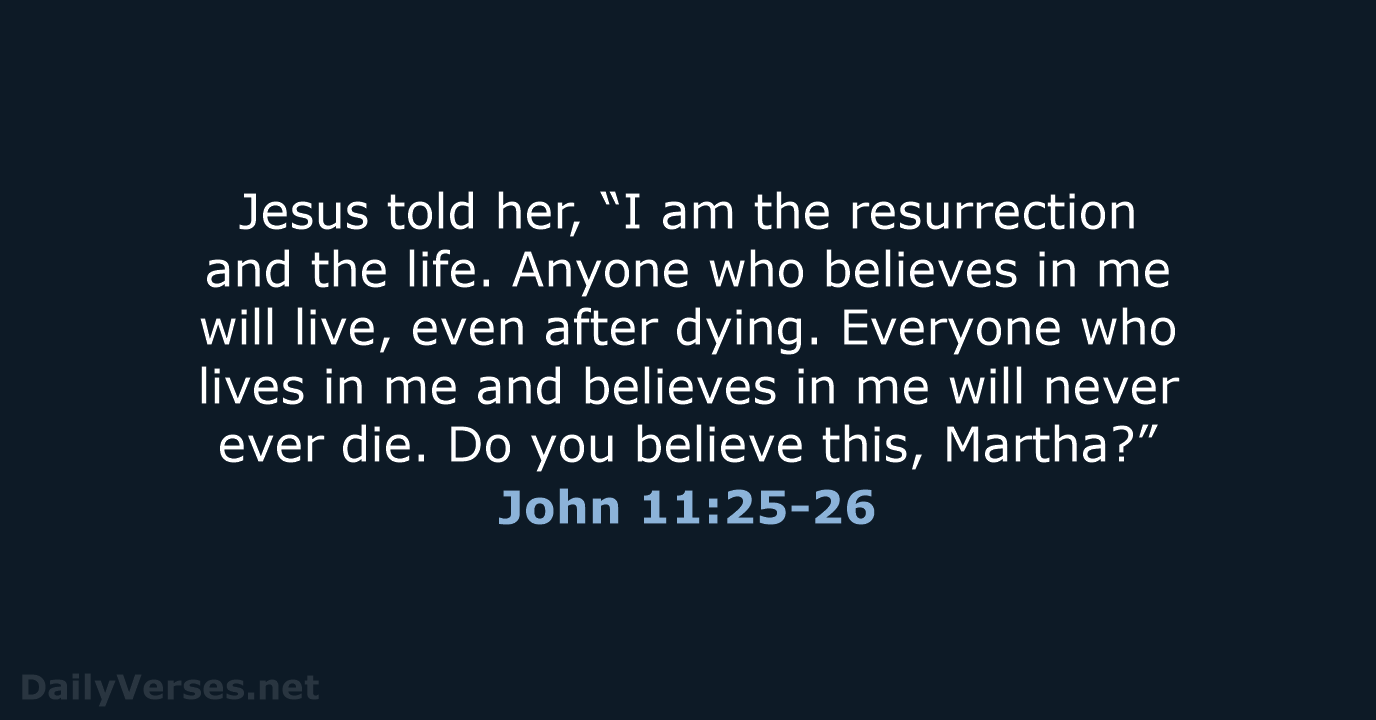 »
Jesus told her, "I am the resurrection and the life. Anyone who believes in me will live, even after dying. Everyone who lives in me and believes in me will never ever die. Do you believe this, Martha?"

But the angel said, "Don't be alarmed. You are looking for Jesus of Nazareth, who was crucified. He isn't here! He is risen from the dead! Look, this is where they laid his body."

He isn't here! He is risen from the dead! Remember what he told you back in Galilee, that the Son of Man must be betrayed into the hands of sinful men and be crucified, and that he would rise again on the third day.

For since we believe that Jesus died and was raised to life again, we also believe that when Jesus returns, God will bring back with him the believers who have died.

Then the angel spoke to the women. "Don't be afraid!" he said. "I know you are looking for Jesus, who was crucified. He isn't here! He is risen from the dead, just as he said would happen. Come, see where his body was lying."

All praise to God, the Father of our Lord Jesus Christ. It is by his great mercy that we have been born again, because God raised Jesus Christ from the dead. Now we live with great expectation.

Either way, Christ's love controls us. Since we believe that Christ died for all, we also believe that we have all died to our old life. He died for everyone so that those who receive his new life will no longer live for themselves. Instead, they will live for Christ, who died and was raised for them.

I passed on to you what was most important and what had also been passed on to me. Christ died for our sins, just as the Scriptures said. He was buried, and he was raised from the dead on the third day, just as the Scriptures said.

So you see, just as death came into the world through a man, now the resurrection from the dead has begun through another man.

Since we have been united with him in his death, we will also be raised to life as he was. We know that our old sinful selves were crucified with Christ so that sin might lose its power in our lives. We are no longer slaves to sin.

I want to know Christ and experience the mighty power that raised him from the dead. I want to suffer with him, sharing in his death.

Now may the God of peace—
who brought up from the dead our Lord Jesus,
the great Shepherd of the sheep,
and ratified an eternal covenant with his blood—
may he equip you with all you need
for doing his will.
May he produce in you,
through the power of Jesus Christ,
every good thing that is pleasing to him.
All glory to him forever and ever! Amen.

"Listen," he said, "we're going up to Jerusalem, where the Son of Man will be betrayed to the leading priests and the teachers of religious law. They will sentence him to die. Then they will hand him over to the Romans to be mocked, flogged with a whip, and crucified. But on the third day he will be raised from the dead."

Then the disciple who had reached the tomb first also went in, and he saw and believed— for until then they still hadn't understood the Scriptures that said Jesus must rise from the dead.

And that water is a picture of baptism, which now saves you, not by removing dirt from your body, but as a response to God from a clean conscience. It is effective because of the resurrection of Jesus Christ.

I saw the dead, both great and small, standing before God's throne. And the books were opened, including the Book of Life. And the dead were judged according to what they had done, as recorded in the books. The sea gave up its dead, and death and the grave gave up their dead. And all were judged according to their deeds.

Blessed and holy are those who share in the first resurrection. For them the second death holds no power, but they will be priests of God and of Christ and will reign with him a thousand years.

But God has protected me right up to this present time so I can testify to everyone, from the least to the greatest. I teach nothing except what the prophets and Moses said would happen— that the Messiah would suffer and be the first to rise from the dead, and in this way announce God's light to Jews and Gentiles alike.

When God raised up his servant, Jesus, he sent him first to you people of Israel, to bless you by turning each of you back from your sinful ways.
Dear brothers and sisters, I close my letter with these last words: Be joyful. Grow to maturity. Encourage each other. Live in harmony and peace. Then the God of love and peace will be with you.
Personal Bible reading plan
Create an account to configure your Bible reading plan and you will see your progress and the next chapter to read here!
Read more...