Bible Verses about Baptism
«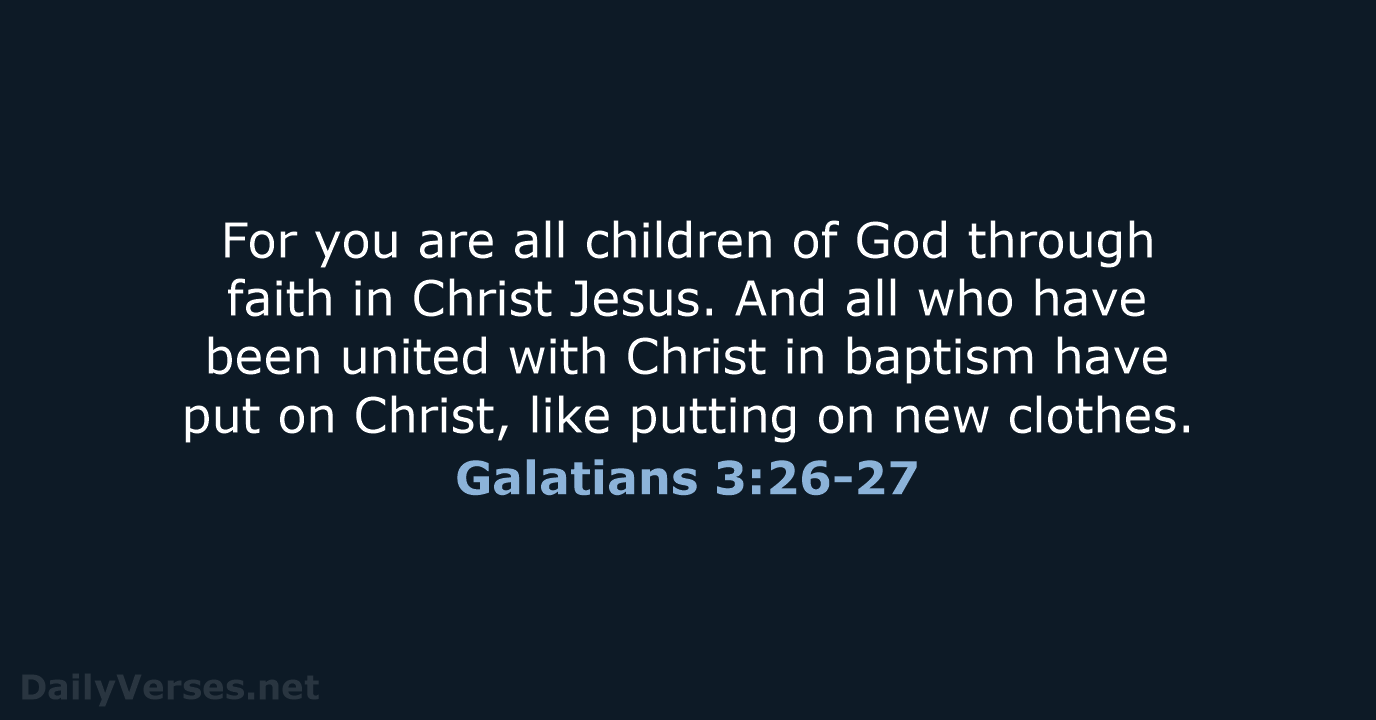 »
For you are all children of God through faith in Christ Jesus. And all who have been united with Christ in baptism have put on Christ, like putting on new clothes.

Therefore, go and make disciples of all the nations, baptizing them in the name of the Father and the Son and the Holy Spirit. Teach these new disciples to obey all the commands I have given you. And be sure of this: I am with you always, even to the end of the age.

And that water is a picture of baptism, which now saves you, not by removing dirt from your body, but as a response to God from a clean conscience. It is effective because of the resurrection of Jesus Christ.

Peter replied, "Each of you must repent of your sins and turn to God, and be baptized in the name of Jesus Christ for the forgiveness of your sins. Then you will receive the gift of the Holy Spirit."

Anyone who believes and is baptized will be saved. But anyone who refuses to believe will be condemned.

Jesus replied, "I assure you, no one can enter the Kingdom of God without being born of water and the Spirit."

What are you waiting for? Get up and be baptized. Have your sins washed away by calling on the name of the Lord.

Or have you forgotten that when we were joined with Christ Jesus in baptism, we joined him in his death?

One day when the crowds were being baptized, Jesus himself was baptized. As he was praying, the heavens opened, and the Holy Spirit, in bodily form, descended on him like a dove. And a voice from heaven said, "You are my dearly loved Son, and you bring me great joy."

Some of us are Jews, some are Gentiles, some are slaves, and some are free. But we have all been baptized into one body by one Spirit, and we all share the same Spirit.

Can anyone object to their being baptized, now that they have received the Holy Spirit just as we did?

I didn't know he was the one, but when God sent me to baptize with water, he told me, 'The one on whom you see the Spirit descend and rest is the one who will baptize with the Holy Spirit.'

As soon as they heard this, they were baptized in the name of the Lord Jesus. Then when Paul laid his hands on them, the Holy Spirit came on them, and they spoke in other tongues and prophesied.

Those who believed what Peter said were baptized and added to the church that day—about 3,000 in all.

Paul said, "John's baptism called for repentance from sin. But John himself told the people to believe in the one who would come later, meaning Jesus."

He saved us, not because of the righteous things we had done, but because of his mercy. He washed away our sins, giving us a new birth and new life through the Holy Spirit.
But anyone who does not love does not know God, for God is love.
Personal Bible reading plan
Create an account to configure your Bible reading plan and you will see your progress and the next chapter to read here!
Read more...